WCM-Q explores legal issues arising from telemedicine boom during pandemic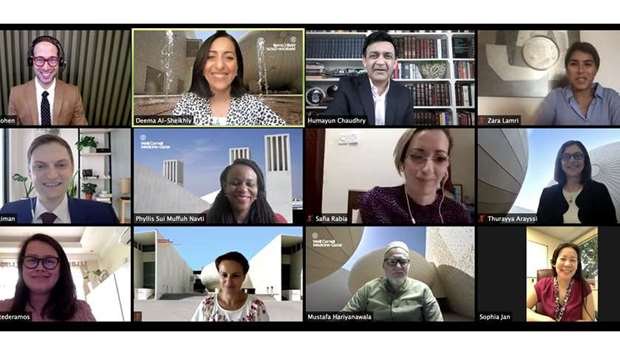 The legal implications of the dramatic rise in the use of telemedicine during the global Covid-19 pandemic were discussed at the latest installment of Weill Cornell Medicine-Qatar's (WCM-Q) Intersection of Law & Medicine series. 
With physical distancing measures in place in many countries to limit the spread of the virus, telemedicine underwent several years' worth of development in just a few weeks as healthcare professionals switched from in-person to virtual appointments. This rapid, large-scale transition allowed healthcare professionals to safely continue to provide care to their patients, but also raised significant legal and ethical issues concerning privacy, safety, liability, and licensing. The Law & Medicine event brought together experts from across Qatar and beyond to discuss the implications of the switch. 
Three expert speakers at the event, which was the first of the series to be held fully online, examined the benefits and risks of telemedicine, the legal hurdles presented by cross-border telemedicine, and the safety and privacy concerns related to telemedicine. The speakers also appraised the regulatory adjustments necessary for operating telehealth in the post-Covid-19 era and discussed the sustainability of telemedicine for healthcare professionals and health institutions moving forward. 
Coordinated and delivered by the Division for Continuing Professional Development at WCM-Q, the event featured presentations by expert speakers Dr. Humayun "Hank" Chaudhry, President and CEO of the Federation of State Medical Boards in the US, Professor Glenn Cohen of Harvard Law School, who is regarded as one of the world's leading experts on the intersection of bioethics and the law, and Dr. Sophia Jan, Division Chief of General Pediatrics and Medical Director of Health Homes Serving Children at Northwell Health in New York State. The course directors were Dr. Thurayya Arayssi, professor of clinical medicine and senior associate dean for medical education and continuing professional development at WCM-Q, and Dr. Barry Solaiman, assistant professor of law in the College of Law and Public Policy at Hamad Bin Khalifa University. 

Dr. Solaiman said: "Telemedicine has been a crucial tool for healthcare professionals during the Covid-19 pandemic to ensure continued care for patients as in-person appointments were cancelled or postponed. However, the sheer speed and scale of the switch to telemedicine has left regulators scrambling to keep up. There is now much work to do to establish a global framework of regulation to ensure telemedicine is used in ways that protect the health, rights, privacy and dignity of both patients and healthcare professionals."

Dr. Arayssi said: "I am extremely grateful to all of our legal and medical expert speakers and participants for sharing their knowledge and experience of this valuable technology with us at the Intersection of Law & Medicine event."
The event was accredited locally by the Qatar Council for Healthcare Practitioners-Accreditation Department (QCHP-AD) and internationally by the Accreditation Council for Continuing Medical Education (ACCME).