UN says coronavirus has disrupted education of 1 billion: Live | News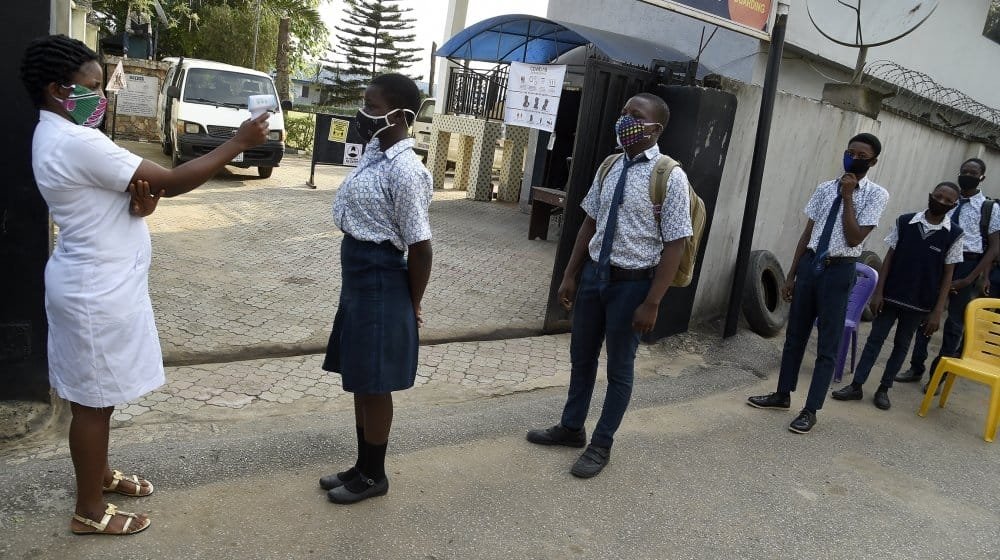 The United Nations chief Antonio Guterres said the COVID-19 outbreak has led to the largest disruption of education in history, with schools closed in more than 160 countries in mid-July, affecting over one billion students.

Millions of people on the main island of Luzon, including the capital Manila, went back into a partial lockdown for the next two weeks.
Latin America broke through five million confirmed cases of COVID-19, a Reuters tally showed, underscoring the region's position as the area of the world's hardest hit by the 

pandemic. It has already reported more than 200,000 deaths.
More than 18.3 million people around the world have been diagnosed with the new coronavirus as of Tuesday, up more than 280,000 in just one day. More than 10.9 million have recovered, and more than 695,000 have died.
Here are the latest updates:
Tuesday, August 4
23:29 GMT – Eighth Brazilian Cabinet minister tests positive for coronavirus
An eighth minister in Brazilian President Jair Bolsonaro's Cabinet has tested positive for the new coronavirus, Reuters news agency reported, as Brazil fights the world's worst outbreak of the coronavirus outside the United States.
Jorge Oliveira, secretary of the presidency, has been working remotely in isolation since his diagnosis, his office said in a statement. Eight of Bolsonaro's 23 Cabinet ministers have now tested positive for COVID-19.
The president and his wife, Michelle, also contracted the disease. Bolsonaro resumed official meetings and travel after a test showed he was no longer infected on July 25.
Brazil has confirmed more than 2.8 million cases of the virus since the pandemic began. The official death toll has risen to 94,665, with 51,603 new cases and 1,154 deaths in the past 24 hours, the Health Ministry said Tuesday.
11:45 GMT – NY Fed finds 'stark' racial disparities in access to aid
Black-owned businesses have been hardest hit by the coronavirus pandemic, and there are stark disparities in their ability to access US government aid, the New York Federal Reserve Bank said.
These businesses, which already suffer from racial differences in access to bank lending, have been hit by a "double-whammy" of a health crisis and financial issues making them almost twice as likely to close their doors than occurs at the national rate, according to a new study.
But in many of the coronavirus hot spots, the share of black-owned firms receiving forgivable loans under the Paycheck Protection Program (PPP) is far lower than the national average, the study shows.
11:28 GMT – Turkey clamps down again after 'severe' jump in virus
Turkey rolled out new inspection and enforcement rules after coronavirus cases jumped above 1,000 for the first time in three weeks, in what the government called a grave rise during peak holiday season.
Top doctors have warned about insufficient testing and urged a tougher message from Ankara, which lifted a partial lockdown in June and has since lobbied hard for countries to allow tourists to visit to help get the economy back on its feet.
11:18 GMT – Defending champ Rafael Nadal to miss US Open amid pandemic
Reigning champion Rafael Nadal will skip the US Open because of the coronavirus pandemic, putting on hold his bid to equal Roger Federer's men's record for Grand Slam titles.
Nadal explained his decision in a series of tweets sent in Spanish and English.
"The situation is very complicated worldwide, the COVID-19 cases are increasing, it looks like we still don't have control of it," Nadal wrote.
After many thoughts I have decided not to play this year's US Open. The situation is very complicated worldwide, the COVID-19 cases are increasing, it looks like we still don't have control of it.


— Rafa Nadal (@RafaelNadal) August 4, 2020
11:05 GMT – COVID-19 devastating to education: UN chief Guterres
The United Nations chief says the COVID-19 pandemic has led to the largest disruption of education in history, with schools closed in more than 160 countries in mid-July, affecting over one billion students.
In addition, UN Secretary-General Antonio Guterres said Tuesday at least 40 million children worldwide have missed out on education "in their critical preschool year".
As a result, Guterres warned that the world faces "a generational catastrophe that could waste untold human potential, undermine decades of progress, and exacerbate entrenched inequalities".
19:40 GMT – Trump's national security adviser returns to work after COVID-19 recovery
President Donald Trump's national security adviser, Robert O'Brien, returned to work at the White House on following his recovery from a mild case of COVID-19, a National Security Council spokesman said.
O'Brien "has already met with the President, who warmly welcomed him back to the West Wing," spokesman John Ullyot said in a statement.
"He has been cleared by doctors after two negative tests for the virus, and has been asymptomatic for over a week," Ullyot said.
19:18 GMT – Bulgaria to allow fans in stadiums for new season
Bulgarian football stadiums can welcome supporters at matches when the Balkan country's league season starts on Friday, the health ministry announced.
According to an order issued after talks between Prime Minister Boyko Borissov, Sports Minister Krasen Kralev and Health Minister Kostadin Angelov, fans will be allowed at stadiums if they take up no more than 50 percent of a venue's capacity.
18:59 GMT – Gambian mayor tests positive for COVID-19
The mayor of Gambia's biggest municipality has tested positive for COVID-19, according to a statement.
Talib Bensouda, 34, is currently receiving treatment, said the statement from the Kanifing municipality. The news comes just two days after three Cabinet ministers also tested positive.
18:35 GMT – Venezuela market at centre of Caracas virus outbreak
Venezuela capital Caracas's largest produce market is at the centre of a worsening COVID-19 outbreak, but cash-strapped merchants refuse to stop hawking food there for the city's five million residents, many of whom are starving.
Three days a week – down from six before the pandemic – some 10,000 people, including retailers and consumers, pack into the state-run Coche Wholesale Market. The produce is trucked out to the city's supermarkets, providing a lifeline amid Venezuela's six-year economic crisis.
Read more here.
18:18 GMT – Ireland delays reopening of bars again after COVID-19 rate doubles
Ireland announced a fresh delay to the full reopening of bars, putting off a move to the final stage out of lockdown by three weeks while also tightening travel restrictions after new COVID-19 infections more than doubled in a week.
"I know that this will come as a blow to pub owners, and I want them to know I have enormous sympathy for their plight. This virus is taking away their ability to earn a living, to provide a key service in the heart of many communities," Prime Minister Michael Martin told a news conference.
18:08 GMT – Proportion of youth with COVID-19 triples in five months – WHO
Young people who are hitting nightclubs and beaches are leading a rise in fresh coronavirus cases across the world, with the proportion of those aged 15 to 24 who are infected rising three-fold in about five months, the World Health Organization said.
An analysis by the WHO of six million infections between February 24 and July 12 found that the share of people aged 15-24 years rose to 15 percent from 4.5 percent.
WHO COVID Debrief on global coronavirus vaccine efforts (4:07)
17:54 GMT – Turkey's COVID cases back over 1,000 for first time in 3 weeks
Turkey's new coronavirus cases surpassed 1,000 for the first time in three weeks according to an official tally, breaching what the government has called a critical threshold to possibly reconsider rules.
The 1,083 new COVID-19 cases reflects a "severe" rise in recent days that raises concerns as Turkey wrapped up a four-day holiday weekend that occurred while many Turks were taking domestic vacations, Health Minister Fahrettin Koca wrote on Twitter.
17:35 GMT – White House: Democrats making 'mockery' of US coronavirus relief talks
Democrats have rejected four offers from the White House in negotiations over another round of economic aid meant to blunt the effects of the coronavirus pandemic and are making a mockery of the talks, White House Press Secretary Kayleigh McEnany said.
"It is Democrats … that are making an absolute mockery of this process," McEnany said at a briefing. "We're still engaging with them, but this president has been clear: He is ready to act on this."
17:20 GMT – US announces clinical trial of antibody treatment for COVID-19
The US has begun late stage clinical trials into a drug formulated to fight COVID-19, officials said.
The medicine is an antibody against the new coronavirus called LY-CoV555, which was identified in the blood sample of a recovered patient by Canada's Abcellera Biologics.
It was then developed synthetically for mass production by US-based Lilly Research Laboratories in partnership with Abcellera.
16:59 GMT – Cancer diagnoses rates fell by half during US lockdown – study
The number of cancers diagnosed weekly in the United States fell by almost 50 percent during March and April compared to the recent average, a study said, the latest to examine the effects of COVID-19 lockdowns.
Emergency room visits additionally appear to have dropped for heart attacks, strokes and even appendicitis – trends that are being confirmed through ongoing studies.
Child vaccinations have also stalled globally, according to the UN, and world health bodies are alarmed by the impact on the fight against HIV, malaria and tuberculosis as screening campaigns, logistics and access to health care have been disrupted.
16:39 GMT – Zimbabwe VP named health minister after virus graft scandal
Zimbabwe's Vice President Constantino Chiwenga was appointed health minister, the presidency said, one month after his predecessor was sacked over corruption allegations related to coronavirus testing kits.
Former health minister Obadiah Moyo is suspected of illegally awarding a $20m contract for coronavirus testing.
16:20 GMT – Greece reports 121 new coronavirus cases, highest in weeks
Greece's top scientific adviser warned against complacency on Tuesday over risks lurking from the coronavirus after the country reported its highest single-day increase in infections in weeks.
Authorities reported 121 new coronavirus cases on Tuesday after a steady rise over the past 10 days. Tuesday's tally was the highest since April 22, bringing the total number of infections in the country to 4,855 since the start of the outbreak in late February.
16:12 GMT – Germany lifts travel warning for four Turkish regions
Germany lifted its travel warning for several coastal regions of Turkey, ceding partially to weeks of campaigning by Ankara, whose tourism industry relies heavily on German visitors.
The warning will be lifted with immediate effect for the four coastal provinces of Antalya, Izmir, Aydin and Mugla, government spokeswoman Ulrike Demmer said in Berlin.
"Turkey has developed a special tourism and hygiene concept for these four regions in order to realise safe tourism under the conditions of the pandemic," Demmer said.
15:40 GMT – India starts phase two trials for virus vaccines
Indian health authorities say phase two clinical trials for coronavirus vaccines developed by Indian companies have started
They involve an inactivated virus vaccine developed by Bharat Biotech and a DNA vaccine candidate developed by Zydus Cadila.
15:30 GMT – WHO urges Russia to follow guidelines on virus vaccine
The World Health Organization urged Russia to follow the established guidelines for producing safe and effective vaccines after Moscow announced plans to start swiftly producing COVID-19 jabs.
Russia said Monday it aims to launch mass production of a coronavirus vaccine in September and turn out "several million" doses a month by next year.
Russia is pushing ahead with several vaccine prototypes. Officials claimed that one trialled by the Gamaleya institute in Moscow has reached advanced stages of development and is about to pass state registration.
15:15 GMT – Lukashenko says he has recovered from COVID-19
The president of Belarus, Alexander Lukashenko, said he recovered from the coronavirus and called on people to adopt a healthy lifestyle to be able to fight COVID-19.
The Belarus leader, who dismissed concerns about the novel coronavirus as "psychosis", had announced last week he had been infected with the virus but was asymptomatic.
14:37 GMT – Paris wants to make mask-wearing mandatory in some outdoor areas – Le Monde
Paris wants to make the wearing of face masks mandatory in certain outdoor areas in order to prevent a new spike of coronavirus infections, French daily Le Monde reported.
The paper said that mayor Anne Hidalgo would put in a formal request with the Paris prefecture about ordering the use of face coverings in specific areas, after the government on Friday gave local authorities the power to order the wearing of masks in outdoor public spaces.
14:10 GMT – Nigerian airline sacks pilots, cuts pay over virus hit
Nigeria's largest airline Air Peace said it had laid off a number of pilots and cut salaries in order to cope with the impact of the coronavirus on its operations.
The private carrier did not disclose the number of pilots affected, but industry sources put the figure at around 70.
Air Peace serves cities in Nigeria as well as elsewhere in West Africa and in the Middle East.
13:45 GMT – Number of cases in Italy higher than expected – study
Six times as many people as officially recorded could have been infected with the coronavirus in Italy, according to a study published by the government.
The study, which was conducted by health authorities and the statistics bureau Istat, found that 1.5 million people, or 2.5 percent, of Italy's population could have developed coronavirus antibodies.
13:15 GMT – Vietnam's new outbreak started in early July – govt
Vietnam's recent coronavirus outbreak in the central city of Danang, which led to over 200 cases and eight deaths, appears to have started early in July, the government said, amid concern the virus may have been spreading undetected earlier.
"After having conducted antibody tests on 5,000 samples collected from infected patients and their relatives, it can be concluded that the outbreak appears to have started in early July," Dang Duc Anh, Director of the National Institute of Hygiene and Epidemiology said in a government statement.
Vietnam has registered 670 COVID-19 cases with eight deaths.
---
Hello, this Usaid Siddiqui in Doha taking over from my colleague Arwa Ibrahim.
---
12:30 GMT – Macron announces bonus package for home care workers
French President Emmanuel Macron said the country's 320,000 home care workers would each be granted a COVID-19 bonus of 500 euros ($587), a package worth 160 million euros ($188m).
"These men and women were the forgotten ones of the COVID bonus," Macron said during a news conference in the southern city of Toulon, adding the French state would put up 80 million euros and the local governments the other half of the package.
11:46 GMT – Coronavirus cases spike in Netherlands
New confirmed coronavirus cases nearly doubled in the Netherlands over the past week to 2,588, health authorities said, continuing a steady surge continuing since lockdown measures were eased at the start of July.
The new cases registered in the week through August 4 were up 95 percent from 1,329 in the week through July 28, the National Institute for Public Health and the Environment said in its weekly report.
11:09 GMT – Indonesia reports 1,922 new coronavirus cases, 86 deaths
Indonesia has recorded 1,922 new coronavirus infections, bringing the total number of cases in the Southeast Asian country to 115,056, official data by the country's COVID-19 task force showed.
The data also showed there were 86 additional deaths, taking the overall number of fatalities to 5,388.
10:46 GMT – Hong Kong reports 80 new cases, mostly local transmission
Hong Kong has reported 80 new coronavirus cases, including 75 that were locally transmitted, as authorities raced to contain a third wave of the outbreak which has seen infections soar over the past month.
Since late January, Hong Kong has reported more than 3,600 infections and 40 related deaths.
10:33 GMT – Philippines reports 6,352 coronavirus cases, Southeast Asia's biggest daily jump
The Philippines' health ministry has reported 6,352 new coronavirus infections, marking the biggest daily jump in cases in Southeast Asia and after posting a record rise in five of the past six days.
In a bulletin, the ministry said total confirmed cases had increased to 112,593, while deaths rose by 11 to 2,115. 
10:07 GMT – Poland reports record increases in COVID cases as coal mines hit
Poland has reported its fourth record daily increase in coronavirus cases in a week, with more than 30 percent of cases coming from the Silesia region in the south, which has been grappling with another outbreak among coal miners.
The daily record, with 680 new infections and six deaths, comes as Poland considers introducing stricter restrictions, including mandatory testing for travellers returning to Poland and quarantine for those coming from certain countries.
09:46 GMT – Second COVID wave 'highly likely' to hit France this year, scientists say 
A second wave of the novel coronavirus is "highly likely" to hit France in the autumn or winter seasons, the government's top scientific body warned, as authorities seek to contain an increase in new cases over the past two weeks.
After strict lockdown measures pushed down infection rates, many European countries are now watching numbers creep back up, a consequence of easing curbs to try to limit economic damage and greater social mixing in the holiday season.
"The situation is precarious and we could at any moment tip into a scenario that is less under control, like in Spain," the French scientific committee said in a statement published by the health ministry.
09:04 GMT – Taiwan provisionally approves dexamethasone as coronavirus treatment
Taiwan has provisionally approved the use of dexamethasone, a cheap and widely-used steroid, to treat the new coronavirus, as the island faces a shortfall of the antiviral drug remdesivir after the United States bought nearly all global supplies.
Taiwan Centres for Disease Control Deputy Director-General Chuang Jen-hsiang told reporters that medical experts had decided to provisionally allow dexamethasone to be listed as a COVID-19 treatment but that procedures still needed to be completed before it could be given to any patients.
Taiwan has reported 476 cases of the new coronavirus, including seven deaths. Most of the cases are imported and almost all have recovered. It has kept numbers low thanks to early and effective prevention work.
08:10 GMT – UK risks twice-as-big second COVID wave without better testing, study finds 
The UK will face a second wave of COVID-19 this winter twice as widespread as the initial outbreak if it reopens schools without a more effective test-and-trace system in place, according to a study published.
Researchers from University College London and the London School of Hygiene and Tropical Medicine modelled the impact of reopening schools either on a full- or part-time basis, thus allowing parents to return to work, on the potential spread of the virus.
They concluded a second wave could be prevented if 75 percent of those with symptoms were found and tested and 68 percent of their contacts were traced, or if 87 percent of people with symptoms were found and 40 percent of their contacts tested.
07:36 GMT – Russia reports more than 5,100 new coronavirus cases 
Russia has reported 5,159 new cases of the coronavirus, pushing its national tally to 861,423, the fourth largest in the world.
The country's coronavirus crisis response centre said 144 people had died in the past 24 hours, bringing the official death toll to 14,351.
07:15 GMT – Germany already dealing with second coronavirus wave, says doctors' union
Germany is already contending with a second wave of the coronavirus and risks squandering its early success by flouting social distancing rules, the head of the German doctors' union said in a newspaper interview published.
The number of daily confirmed coronavirus cases has ticked up steadily in recent weeks, with health experts warning lax adherence to hygiene and distancing rules among some of the public is spreading the virus across communities.
"We are already in a second, shallow upswing," Susanne Johna, president of Marburger Bund, which represents doctors in Germany, told the Augsburger Allgemeine newspaper.
06:54 GMT – 
Pizza restaurant launches Spain's first virtual waiter app
A restaurant on Spain's northeastern Mediterranean coast is pioneering a dining experience that allows customers to avoid most face-to-face contact with staff and minimise the risk of coronavirus contagion.
Customers at Funky Pizza, in Palafrugell on the Costa Brava popular with tourists, can browse the menu, order and pay via the "Funky Pay" app on their phones – the first time a purpose-designed app has been integrated into a restaurant's ordering system in Spain.
A waiter does bring the order to the table. Staff manage the orders from screens behind the bar.
"Through this system we have tried to keep physical distance with our clients, which is what people are looking for during COVID," said restaurant owner Carlos Manich.
06:20 GMT – Indigenous Australian group blocks Uluru access route over pandemic fears
Australia has closed the national park, home to its revered indigenous site of Uluru, after some in the community blocked an access route for fear that visitors could carry in coronavirus infections.
The country is battling a new wave of the deadly virus, with southeastern Victoria state reeling from hundreds of infections, while Indigenous Australians are seen at greater risk as they suffer a higher incidence of other health woes.
"It's up to tourists to stay away if they come from hotspots or are sick," Thalia Bohl-Van Den Boogaard, the representative of a group of Indigenous Australians protesting against the visits, told Reuters by telephone.
05:52 GMT – Philippines orders millions to stay home as global virus cases soar
More than 27 million people on the main island of Luzon, including the capital Manila, went back into a partial lockdown for the next few weeks.
People have been told to stay home unless they need to go out to buy essential goods, for exercise or for work after the number of recorded infections surged past 100,000.
With only 24 hours' notice of the shutdown, many found themselves stranded in Manila and unable to get back to their hometowns after public transport and domestic flights were halted.
—
Hi, this is Arwa Ibrahim in Doha, taking over the blog from my colleague Ted Regencia.
—
05:21 GMT – South Korea reports 34 new COVID-19 cases, mostly from abroad
South Korea has reported 34 more cases of the coronavirus, with the number of imported cases almost twice that of local infections, Yonhap news agency reported on Tuesday.
The 21 imported cases and 13 local infections raised country's total COVID-19 infections to 14,423, according to the Korea Centers for Disease Control and Prevention (KCDC).
The accumulated number of imported cases reached 2,482 in South Korea.
But the country reported no additional deaths, with the death toll remaining at 301, while the number of patients fully cured of the virus reached 13,352, up 72 from the previous day.
05:00 GMT – Trump nursing home plan limits supply of free COVID-19 tests
The Trump administration's plan to provide every nursing home with a fast COVID-19 testing machine comes with an asterisk: The government will not supply enough test kits to check staff and residents beyond an initial couple of rounds.
A programme that sounded like a game changer when it was announced last month at the White House is now prompting concerns that it could turn into another unfulfilled promise for nursing homes, whose residents and staff represent a tiny share of the US population but account for as many as four in 10 coronavirus deaths, according to some estimates.
"I think the biggest fear is that the instruments may be delivered but it won't do any good, if you don't have the test kits," said George Linial, president of Leading Age of Texas, a group that represents nursing homes.
The weekly cost of testing employees could range from more than $19,000 to nearly $38,000, according to estimates by the national organisation.
The Trump administration said nursing homes could cover the cost of ongoing testing from a $5bn pot provided by Congress, and allocated to the facilities by the White House.
04:30 GMT – UN chief warns world facing 'generational catastrophe' on education
UN Secretary-General Antonio Guterres has warned that the world faces a "generational catastrophe" because of school closures amid the coronavirus pandemic and said that getting students safely back to the classroom must be "a top priority", according to Reuters news agency.
Guterres said that as of mid-July schools were closed in some 160 countries, affecting more than 1 billion students, while at least 40 million children have missed out on pre-school.
This came on top of more than 250 million children already being out of school before the pandemic and only a quarter of secondary school students in developing countries leaving with basic skills, he said in a video statement.
"Now we face a generational catastrophe that could waste untold human potential, undermine decades of progress, and exacerbate entrenched inequalities," said Guterres as he launched a U.N. "Save our Future" campaign.
Read more here.
04:00 GMT – China and Hong Kong report fewer coronavirus cases
Both mainland China and Hong Kong reported fewer new cases of COVID-19 on Tuesday as strict measures to contain new infections appear to be taking effect, according to AP news agency.
Mainland China announced 36 new cases across the country, down from 43 the previous day. Of those, 28 were in the northwestern region of Xinjiang and two in Liaoning province in the northeast.
Another six cases were brought by Chinese arriving from overseas. No new deaths were registered , leaving China's total at 4,634 among 84,634 cases reported since the virus was first detected in the central Chinese city of Wuhan late last year.
Hong Kong reported 78 new cases over the previous 24 hours, the first time in almost two weeks that new cases had fallen into double-digits.
03:35 GMT – US adds more the 48,000 new COVID-19 cases, 582 deaths
The United States has added 48,395 new coronavirus cases pushing the total number to 4.73 million, according to a Reuters news agency tally.
Reuters also reported another 582 deaths, adding to the total of almost 156,000.
03:20 GMT – Germany's confirmed coronavirus cases rise by 879 to 211,281
The number of confirmed coronavirus cases in Germany increased by 879 to 211,281, Reuters reported on Tuesday quoting data from the Robert Koch Institute (RKI) for infectious diseases.
The reported death toll rose by eight to 9,156, the tally showed.
02:45 GMT – Australia's Victoria deploys military, imposes fine for breach of isolation orders
Australia's second-most populous state Victoria said on Tuesday that it will deploy its military and that anyone who has contracted COVID-19 and caught outside their home in breach of isolation orders will face fines of as much as 20,000 Australian dollars ($14,250), according to the Reuters news agency.
Victoria state earlier this week imposed a nightly curfew, tightened restrictions on people's movement and ordered large parts of the local economy to close to slow the spread of coronavirus.
But state Premier Daniel Andrews said nearly a third of those who had contracted COVID-19 were not home when checked on by officials, requiring tough new penalties to stop community transmission.
Andrews also said 500 military personnel will this week deploy to Victoria to bolster enforcement of self-isolation orders.
02:05 GMT – Filipino doctors to Duterte: We never called for revolt
A organisation representing thousands of doctors in the Philippines has issued a new statement saying they have not called for a revolution against the administration of President Rodrigo Duterte.
The doctors also said that there was no threat from their group to leave patients "since our oath instructs us to first do no harm to anyone who needs our help".
This after a furious Duterte, dared medical workers early on Monday to "revolt" against him, after they demanded a new lockdown order to help the spread of the coronavirus.
As of the end of Monday, there were over 106,000 cases reported in the Philippines and more than 2,000 deaths. The Philippine capital, Manila, and four nearby provinces have been placed under a new lockdown starting on Tuesday until August 18.
01:50 GMT – Italy reports 159 new coronavirus cases
The number of new confirmed cases of the coronavirus in Italy has fallen below 200 for the first time in a week, with 159 new cases registered, according to AP news agency quoting the health ministry.
That brings the total number of cases in Italy to 248,229 and deaths to 35,166 as of the end of Monday.
Lazio, the central region that includes Rome, now has the highest number of patients hospitalised for COVID-19 in Italy's 20 regions. Health officials said nine of the region's new cases were brought by travelers from abroad.
Two clusters of infections have also been traced to popular seaside areas near Rome. Monday figures tend to be lower since they often don't include tallies from the weekend.
01:26 GMT – Australia's Victoria reports 439 new coronavirus cases
Australia's state of Victoria reported at least 439 new coronavirus cases on Tuesday.
Victoria has declared a state of disaster and imposed strict lockdown following the surge in cases of the disease, also known as COVID-19.
Australia has reported over 18,300 cases and 221 deaths.
01:00 GMT – Mexico reports 4,767 new coronavirus cases, 266 more deaths
Mexico's health ministry has reported 4,767 new confirmed coronavirus cases and 266 additional fatalities, bringing the total in the country to 443,813 cases and 48,012 deaths, according to Reuters news agency.
The government has said the real number of infected people is likely significantly higher than the confirmed cases.
00:31 GMT – Hong Kong to build temporary hospitals for COVID-19: report
The South China Morning Post has reported that Hong Kong is planning to build at least two temporary hospitals as part of its response to contain the spread of the coronavirus in the semi-autonomous Chinese city.
The report said that the temporary hospitals could accommodate as many as 2,400 beds.
The latest development comes as cases continue to rise over the last few days. The city has reported at least 3,589 cases, with 38 related deaths. However, the latest number of cases reported was much lower that previous days, when reported new infections hit over 100 daily.
00:05 GMT – Chief of staff to Brazil's Bolsonaro tests positive for coronavirus
Brazilian President Jair Bolsonaro's chief of staff, Army General Walter Souza Braga Netto, has tested positive for COVID-19, his office said on Monday, becoming the seventh Brazilian minister to have contracted the disease.
Braga Netto is doing well and has no symptoms, according to Reuters News Agency quoting a statement from the government.
Netto will remain in isolation until a new examination and medical evaluation is carried out, and will continue to work remotely.
Last week, Bolsonaro's wife and one of his ministers tested positive for COVID-19. Bolsonaro also contracted the disease, but his latest test showed he was no longer infected.
00:01 GMT – Latin America hits five million COVID-19 cases
Latin America has broken through five million confirmed cases of COVID-19, a Reuters tally showed, underscoring the region's position as the area of the world hardest hit by the novel coronavirus pandemic.
The more than 10,000 new cases Colombia's health ministry reported on Monday pushed the region past the 5 million mark, a day after the Andean nation reported a record 11,470 cases.
Mexico has also racked up record numbers of new confirmed infections in recent days, registering more than 9,000 daily cases for the first time on Saturday, a day after Mexico overtook the UK as the country with the third-highest number of deaths caused by the coronavirus pandemic.
The region, which has now topped 200,000 deaths, is struggling to stall the spread of the virus, with infections picking up pace in many countries even as governments look to ease lockdowns and revive economic growth.
_______________________________________________________________
Hello and welcome to Al Jazeera's continuing coverage of the coronavirus pandemic. I'm Ted Regencia in Kuala Lumpur, Malaysia.
For all the key coronavirus-related developments from yesterday, August 3, click here.