Turkey lifts lockdown for seniors, minors: Live updates | News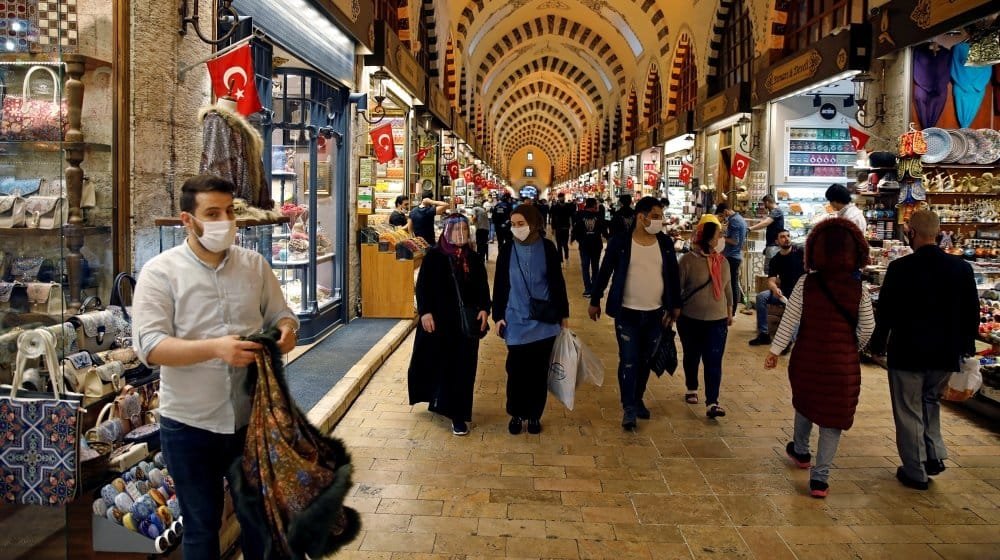 Turkish President Recep Tayyip Erdogan has said Turkey is lifting stay-at-home orders for people aged over 65 and for minors as part of a further easing of restrictions.

The coronavirus crisis will lead the airline industry into record annual losses of $84bn as 2020 will be marked as the "worst year in the history of aviation", the 

International Air Transport Association

has predicted.

More than seven million people have now been confirmed to have the coronavirus with more than 408,000 dying from the disease, according to data from Johns Hopkins University. The US, the UK and Brazil have recorded the highest death tolls. The US, Brazil and Russia have the most cases.
Here are the latest updates:
Tuesday, June 9
20:46 GMT –
Peru's cases surpass 200,000

Peru's Health Ministry has confirmed coronavirus cases have surpassed 200,000, with 5,738 deaths.
A spokesman for the ministry confirmed a total of 203,736 coronavirus cases.
The country registered its first case on March 6 and has seen a surge amid a rigorous testing regime, but also high levels of poverty and informal labour complicating self-isolation efforts.
20:40 GMT –
WHO recommends Pakistan reimpose intermittent lockdowns as cases jump
The World Health Organization has recommended Pakistani authorities to reimpose "intermittent lockdowns" of targeted areas, stating the country did not meet the global body's conditions for lifting restrictions.
A surge of new cases has hit Pakistan after the government lifted its lockdown on May 9, pointing to economic pressures.
So far, 108,316 cases and 2,172 deaths have been recorded, with a single-day record of 105 fatalities marked on Monday.

More than one in five people have tested positive for coronavirus over the last two weeks, compared with one in 10 before the lockdown was lifted, government statistics showed.
"WHO strongly recommends the government adapt the two weeks off and two weeks on strategy," said the letter signed by WHO's Head of Mission in Pakistan Dr Palitha Mahipala.
20:05 GMT –
China, scientists dismiss Harvard study suggesting coronavirus was spreading in Wuhan in August
Beijing has dismissed as "ridiculous" a Harvard Medical School study of hospital traffic and search engine data that suggested the coronavirus may already have been spreading in China last August, and scientists said it offered no convincing evidence of when the outbreak began.
Dr Eric Topol, director of the Scripps Research Translational Institute, said the research method is not validated and is "very indirect and imprecise".
Topol, who was not involved with the research, said he doubts the outbreak began in August, based on the evidence he has seen so far. He and others pointed to genetic evidence suggesting the virus made the leap from animal host to humans sometime in the fall.
19:35 GMT –
Merkel, Macron urge EU to prepare for next pandemic
The leaders of France, Germany and four other EU member states have said Europe has fallen short against the coronavirus outbreak and urged Brussels to consider ways to better prepare for the next pandemic.
They added that Europe's response to the outbreak in which 184,256 people have died has "raised questions" about the EU's preparedness for pandemics and has shown the need for a Europe-wide approach.

In a letter and policy paper addressed to European Commission chief Ursula von der Leyen, the leaders said: "We hope that the paper can serve as an inspiration for fruitful, further discussions at European level on how to ensure the EU's preparedness for future pandemics."
19:04 GMT –
Deaths in France remain under 100 for seventh day in a row
France's death toll has risen by 87 or 0.3 percent to 29,296, the highest daily toll since June 2, but remains under 100 for the seventh day in a row, health ministry data has showed.
On Monday, 54 coronavirus deaths were reported, on Sunday 13.
18:50 GMT –
Germany to extend travel warnings for non-European countries until August 31
Germany plans to extend its travel warnings for non-European countries until August 31, government sources have told Reuters, adding that Berlin was also strongly advising against any cruises due to the special risk.

18:18 GMT – Turkey lifts stay-at-home orders for seniors, minors

Turkish President Recep Tayyip Erdogan has said Turkey is lifting stay-at-home orders for people aged over 65 and for minors as part of a further easing of restrictions.
He said that a stay-at-home order for those aged under 18, in place for two months, was lifted on condition that young children were accompanied by parents, while those over 65 years of age were allowed to be out between 10am and 8pm.
17:50 GMT –
WHO expert clarifies remarks on asymptomatic transmissions

A top World Health Organization (WHO) expert has tried to clear up "misunderstandings" about comments she made on Monday that were widely understood to suggest that people without COVID-19 symptoms rarely transmit the coronavirus.
"What I was referring to yesterday were very few studies, some two or three studies that have been published, that actually try to follow asymptomatic cases," Maria Van Kerkhove, the WHO's technical lead on the pandemic said.

"That's a very small subset of studies," she continued. "I used the phrase 'very rare', and I think that that's (a) misunderstanding to state that asymptomatic transmission globally is very rare. What I was referring to was a subset of studies."
She said a sub-set of people do not develop symptoms, but can still infect others, and as many as 40 percent of transmissions may be by asymptomatic cases.
17:21 GMT –
UK says retailers can reopen on June 15
UK retailers will be allowed to reopen on June 15 with social distancing guidelines, business minister Alok Sharma has said.
"This is the latest step in the careful restarting of our economy and will enable high streets up and down the country to spring back to life," Sharma told reporters.
17:19 GMT –
WHO Americas director says concerned pandemic surging in new areas in Latin America

The World Health Organization's regional director for the Americas Carissa Etienne has said that data has raised concerns that coronavirus cases are surging in new places in Latin America, as some areas show "exponential" rises.
Etienne cited a rising number of cases in countries including Mexico, Panama, Costa Rica, Brazil, Peru, Chile, Venezuela, Haiti and Surinam.
16:07 GMT –
Azerbaijan extends restrictions until July 1
Azerbaijan has extended coronavirus lockdown restrictions, including the closure of borders, until July 1, the government has said.
It said internal flights could resume from June 15 but that all people must stay at home in big cities, including the capital Baku, on June 14 and 15 after the number of infections rose.

More:
16:00 GMT –
Brazil must publish data in full, Supreme Court justice says

Brazil's Supreme Court has ruled the Health Ministry must revert to releasing the full set of data on coronavirus death infection rates it had previously made available.
Over the weekend, the Health Ministry abruptly removed troves of detailed coronavirus data and said it would no longer publish cumulative totals, causing outrage.
Last week, it delayed the release of the numbers late into the evening and past Brazil's main news programme.
In a statement on the Supreme Court website, Justice Alexandre de Moraes said the ministry must "fully re-establish the daily dissemination of epidemiological data on the COVID-19 pandemic, including on the agency's website, under the terms presented until last Thursday".
15: 35 GMT –
UK death toll rises by 286
The UK's death toll from confirmed cases of coronavirus rose by 286 to 40,883, according to government data.

15:25 GMT –
Austria to open borders to Italy, more than 20 European countries
Austria will reopen its borders to Italy and more than 20 other European countries next week, officials have said, a move that should ease tensions with Rome after Vienna singled its southern neighbour out for continued coronavirus-related checks.
Details of the decision will be finalised at a ministerial meeting on Wednesday, officials said on condition of anonymity.
15:08 GMT –
Eiffel Tower to reopen to public on June 25: operator
The Eiffel Tower, one of the most visited sites in Paris, will reopen to the public on June 25 more than three months after closing due to the lockdown, its operators have said.
The landmark will emerge from its longest closure since World War II with limited visitor numbers at first, and face masks mandatory for all over the age of 11, the Eiffel Tower website said.
14:43 GMT – Coronavirus threatens Kenya goal to end
female genital mutilation
The pandemic has put Kenya's goal of ending female genital mutilation (FGM) by 2022 in jeopardy, campaigners against the practice warned, amid reports of "mass cuttings" involving hundreds of girls being held while schools are closed.

Domtila Chesang, an anti-FGM campaigner in West Pokot county which borders Uganda, said she had received reports of up to 500 girls undergoing FGM since schools closed on March 16.
"Girls are not going to school, they are just sitting at home. Some are coming of age. Parents are facing an uncertain future due to loss of income caused by the coronavirus, so they are having the girls cut and will marry them off," said Chesang.
"We cannot respond and campaign the way we used to as our movements are restricted and a lot of it is hidden. It's very unlikely Kenya will meet the target of ending FGM by 2022. The coronavirus is a major setback."

14:33 GMT –
Patients most infectious when they first show symptoms: WHO
Studies show people with the coronavirus are most infectious when they first show symptoms, Maria van Kerkhove, an epidemiologist and the World Health Organization's technical lead on the pandemic has said in a briefing.
She said a sub-set of people do not develop symptoms, but can still infect others, and as many as 40 percent of transmissions may be by asymptomatic cases.
14:25 GMT –
Emirates lays off thousands of pilots, cabin crew, plans more job cuts
Emirates has laid off hundreds of pilots and thousands of cabin crew as it manages a cash crunch, five company sources have said.
More redundancies were expected at Emirates this week including both Airbus A380 and Boeing 777 pilots, the sources told Reuters on the condition of anonymity.
The workforce of 4,300 pilots and nearly 22,000 cabin crew could shrink by almost a third from its pre-coronavirus levels, three of the sources said.
14:10 GMT – Mexico cases have not yet peaked: health ministry
Mexico has not yet reached its peak number of daily coronavirus cases, Deputy Health Minister Hugo Lopez-Gatell has said.
"We still haven't reached maximum point," Lopez-Gatell said at a news conference. "For several more weeks, we will keep announcing there are more cases today than yesterday.
13:48 GMT –
Airline industry headed for $84bn loss this year: IATA
The coronavirus crisis will lead the airline industry into record annual losses of $84bn as 2020 will be marked as the "worst year in the history of aviation", the sector's main global body has predicted.
Airline passenger traffic is expected to rise 55 percent in 2021 from a low level this year, while remaining 29 percent below its 2019 level, the International Air Transport Association (IATA) said in an updated forecast.
13:45 GMT
Hello, this is Mersiha Gadzo in Doha taking over the live updates from my colleague Hamza Mohammed.

12:25 GMT – Qatar records five deaths from COVID-19
Qatar's ministry of public health reported 1,721 new cases of infection on Tuesday, taking the country's total to 71,897. The death toll jumped by five to 62, the ministry added.
At least 1,634 people recovered from COVID-19 in the last 24 hours, the ministry said. So far,47,569 people have recovered from the virus. 
12:00 GMT – Romania must extend "state of alert" by a month: President
Romania's current state of alert enforced on May 15 to fight the new coronavirus, must be extended by another 30 days until the middle of July, President Klaus Iohannis said.
Iohannis ordered a strict lockdown in early March to rein in the outbreak and but replaced the state of emergency with a softer state of alert mode last month. The move must be approved by parliament to take full effect.
Romania has so far recorded 20,749 coronavirus cases of whom 14,910 recovered and 1,345 died. Over the past 24 hours it recorded 145 new cases.
11:30 GMT – Philippines coronavirus death toll hits 1,017
The Philippine health ministry recorded six new coronavirus deaths and 518 additional infections.
The ministry said total deaths have increased to 1,017 while confirmed cases have reached 22,992. 
10:35 GMT – Nigeria says more than half of Kano's mysterious deaths due to COVID-19
As many as 60 percent of the "mysterious" deaths in Nigeria's northern Kano state were likely due to the new coronavirus, the government's health minister said.
Nigeria's tCOVID-19 ask force sent a team to the northern economic hub in late April to investigate and conduct "verbal autopsies" after local newspaper the Daily Trust reported a spike in deaths to around 150 people in Kano city.
Minister of Health Osagie Ehanire said the investigation found a total of 979 deaths recorded in eight municipal local government areas in Kano state at a rate of 43 deaths per day, compared with the typical death rate of roughly 11 deaths per day.
"With circumstantial evidence as all to go by, investigation suggests that between 50-60 percent of the deaths may have been triggered by or due to COVID-19, in the face of pre-existing ailments," Ehanire said.
He said the peak in deaths occurred in the second week of April, and that by the beginning of May, the death rate had gone back down to the normal rate.
10:00 GMT – Indonesia reports 1,043 new COVID-19 cases, biggest daily rise
Indonesia's health ministry reported 1,043 new coronavirus infections, its biggest daily rise, taking the total number of infections to 33,076.
There were also 40 new deaths, bringing total fatalities to 1,923, said Achmad Yurianto, a ministry official. 
The Southeast Asian country has tested more than 281,650 for the virus as of Tuesday, data by its COVID-19 task force showed. 
09:40 GMT – Some students from mainland China to be allowed to resume classes in Hong Kong 
Hong Kong will let some students from mainland China return to resume classes from June 15, the government said, in a selective easing of coronavirus border restrictions.
School buses will be arranged and students will be subject to health checks, including temperature screening and submission of health declaration forms in Hong Kong and bordering Shenzhen as they commute to school, the statement said.
Hong Kong has reported 1,108 coronavirus cases and four deaths.
09:10 GMT – UK: Around 64,000 deaths recorded during pandemic – ONS
About 64,000 more people than usual have died in the United Kingdom during this year's coronavirus pandemic, an expert from the Office for National Statistics said.
Epidemiologists say excess mortality – deaths from all causes that exceed the five-year average for the time of year – is the best way of gauging the number to have died from a disease outbreak because it is internationally comparable. 
08:45 GMT – France announces $16.9bn in aid to aviation industry
France's government announced 15 billion euros ($16.9 bn) in rescue money for the pandemic-battered aerospace industry, including plane maker Airbus and national airline Air France.
In exchange for the aid, companies will be required to invest more and faster in electric, hydrogen or other lower-emission aircraft, as France aims to make its aviation industry the "cleanest in the world."
"We will do everything to support this French industry that is so critical for our sovereignty, our jobs and our economy," Finance Minister Bruno Le Maire said.
08:00 GMT – Russia records more than 8,500 new COVID-19 cases
Russia reported 8,595 new cases of the novel coronavirus, bringing the number of infections nationwide to 485,253.
The authorities said that 171 people had died from the virus in the last 24 hours, pushing the total death toll to 6,142. 
07:45 GMT – New Delhi reverses limits on COVID-19 testing, sickbeds after pressure
New Delhi has reversed orders that limited the scope of coronavirus testing and reserved hospital beds for city residents as the Indian capital's caseload continues to surge. The number of infected jumped to 29,943 on Tuesday of India's 266,598 total cases nationwide.
Since coming to power in 2013, the government led by Chief Minister Arvind Kejriwal has prioritised investing in healthcare, making Delhi's the best healthcare in India, drawing patients from across the country. On Sunday, Kejriwal announced that hospital beds for COVID-19 patients would be reserved for Delhi residents and testing limited to those with symptoms of the disease.
But the central government of Prime Minister Narendra Modi objected and, late Monday, the Delhi government set them aside, Kejriwal tweeting that "making arrangements for treatment for people from across the country during the Covid-19 pandemic is a major challenge. But maybe it's God's will that we have to serve everyone in the country."
07:20 GMT – COVID-19 may have been spreading in China in August: Harvard research
The novel coronavirus might have been spreading in China as early as August 2019, according to Harvard Medical School research based on satellite images of hospital travel patterns and search engine data.
The research used high-resolution satellite imagery of hospital parking lots in Wuhan – where the disease emerged in late 2019 – and data for symptom-related queries on search engines for things such as "cough" and "diarrhoea".
"Increased hospital traffic and symptom search data in Wuhan preceded the documented start of the SARS-CoV-2 pandemic in December 2019," according to the research.
"While we cannot confirm if the increased volume was directly related to the new virus, our evidence supports other recent work showing that emergence happened before identification at the Huanan Seafood market."
"These findings also corroborate the hypothesis that the virus emerged naturally in southern China and was potentially already circulating at the time of the Wuhan cluster," according to the research.
It showed a steep increase in hospital parking lot occupancy in August 2019.
"In August, we identify a unique increase in searches for diarrhoea which was neither seen in previous flu seasons or mirrored in the cough search data," according to the research. 
06:45 GMT – Tanzania president declares country 'coronavirus-free'
Tanzanian President John Magufuli declared the East African country "coronavirus-free," local media reported. 
President John Magufuli attributed the claimed success over the worldwide pandemic to prayers and fasting that the people of Tanzania have offered to God.
"It gives me joy to be the leader of a country that puts God first, God loves Tanzania," Jamvi TV in Tanzania reported.
"The works of the devil will always be defeated in Tanzania because Tanzanians love God and that is why even the corona has been defeated by God," Magufuli told a Catholic congregation in the capital Dodoma.
06:30 GMT – Mexico reopens its economy after COVID-19 lockdown
Mexico is reopening its economy after it implemented measures to prevent the spread of COVID-19. But the numbers of bodies piling up in morgues and crematoriums in the capital don't seem to match the numbers that President Andres Manuel Lopez Obrador says are helping to flatten the curve.
06:00 GMT –
Hello, this is Hamza Mohamed in Doha taking over from my colleague Kate Mayberry in Kuala Lumpur.
05:30 GMT –
I am now handing the blog to my colleagues in Doha. A quick recap of developments in the past few hours: Deaths have jumped in Brazil where there is anger and confusion over the data being released, Pakistan hs reported its deadliest-ever day with 105 deaths from coronavirus, and Jakarta's governor Anies Baswedan has told Al Jazeera he's confident the Indonesian capital is in control of the outbreak there.
05:15 GMT – New Zealanders hug, shop and party after restrictions lifted
New Zealanders are enjoying their return to normal life after the last of the country's coronavirus restrictions were removed at midnight.
"It's really helped generate that absolute buzz and that feeling of more normality really," cafe owner Katy Ellis told Reuters of the removal of social distancing guidelines.
Cities came back to life as people returned to their offices and browsed the shops with public transport crowded once again.
"People are shopping, dining and just hanging about holding hands," Steve Price told the news agency from Wellington. "It's so lovely to see."
Not just light at the end of the tunnel: double rainbow on Day 1 of Level 1 (Waipu, NZ) pic.twitter.com/U46BKwZmgd


— Chris Chang (@ChrisChang) June 9, 2020
05:05 GMT – Pakistan records deadliest day yet in outbreak
Pakistan has recorded its deadliest day of the coronavirus outbreak so far, with at least 105 people dead, according to Al Jazeera correspondent Asad Hashim.
The country also registered 4,646 new cases taking the overall number of cases to 108,317.
Pakistan has seen a sustained spike in cases since late May. In an address to the nation on Monday, Prime Minister Imran Khan said his government expected cases to peak in late July. He also defended his decision to keep the economy open, arguing that lockdowns were "not a solution" to the pandemic. 
03:55 GMT – Antibodies found in US Navy sailors on aircraft carrier: study
A US Navy investigation into the spread of coronavirus on board the Theodore Roosevelt has found 60 percent of the roughly 400 sailors on the aircraft carrier who volunteered to be tested had antibodies for the virus, according to Reuters. 
All 4,800 sailors on the ship were previously tested for COVID-19 and about a quarter were positive. In April, the navy and the Centers for Disease Control (CDC) and Prevention began tests to look for specific antibodies to get a more accurate understanding of the virus's spread on the ship.
Three officials cautioned that the results of the study, which could be released as early as Tuesday, could not be generalised to the entire crew. They noted the number of volunteers was less than half the 1,000 sought. Those who participated were also tested again for COVID-19 and asked to complete a survey.
One sailor died and a number of others were hospitalised as a result of the outbreak. The ship's captain was also fired after a letter he wrote calling for stronger protections for crew was leaked.
US Navy relieves commander of coronavirus-hit ship over memo leak
03:45 GMT – Jakarta's governor confident coronavirus under control as city reopens
Jakarta's governor Anies Baswedan has told Al Jazeera's Jessica Washington that he is confident coronavirus is under control and that the Indonesian capital can cope with a relaxation of lockdown measures that began on Monday,
The governor said that the situation was much better than in March and April and the authorities wanted to be at the stage where the city was "safe, healthy and productive". You can read more of the interview here. 
03:20 GMT – Venzuela says COVID-19 aid from Iran has arrived
Venezuela's government has said a shipment of humanitarian aid from Iran arrived in the country on Monday.
Most of the supplies were test-kits, Plann ing Minister Ricardo Menendez told state television. Iran's ambassador said the materials would "strengthen Venezuela's fight against the coronavirus." 
02:40 GMT – California cinemas could be open again on Friday
Cinemas in California could be open again by Friday if they follow capacity guidelines and other measures to curb the spread of coronavirus, and get the approval of local officials.
CInemas, which have closed all over the world, will have to limit attendance to 25 percent of capacity or 100 people, whichever is lower.
Movie studios are hoping enough cinemas will be open for a season of summer blockbusters with Disney's hotly-awaited epic 'Mulan' slated for a July 24 release. 
01:15 GMT – University of Washington forecasts 145,000 US deaths by early August
Researchers at the University of Washington estimate that 145,728 people in the US could die of COVID-19 by August – an increase of 5,000 deaths since their last forecast only a few days ago.
The US has confirmed almost 111,000 deaths according to data from Johns Hopkins University. 

00:00 GMT – Antibodies found in more than half the residents of Bergamo
More than half the residents tested for coronavirus in Italy's northern province of Bergamo have been found to have coronavirus antibodies.
Health authorities said of 9,965 people tested between April 23 and June 3, 57 percent had antibodies indicating they had come into contact with the virus. The results were based on a "random" sample that officials said was sufficiently broad to give an indication of how many people had been infected in the province.
Bergamo was at the centre of Italy's coronavirus outbreak.
23:45 GMT – Brazil reports 679 new deaths amid data controversy
Brazil has reported 679 deaths from coronavirus and 15,654 new cases amid growing controversy about its data and allegations of political manipulation.
The Health Ministry removed data from its website over the weekend and stopped releasing cumulative totals in relation to the disease's spread. In a statement on Monday, it said the changes were made because of mistakes in the dataset from two states that were later corrected.
The move has fuelled calls for an inquiry in a country where right-wing President Jair Bolsonaro has dismissed the virus as a "little flu" and raged against lockdowns.
"By changing the numbers the Ministry of Health covers the sun with a sieve," said Rodrigo Maia, the speaker of the lower house. "The credibility of the statistics needs to be urgently recovered. A ministry that manipulates numbers creates a parallel world in order not to face the reality of the facts."
23:30 GMT – UN reiterates importance of investing in health
Tijjani Muhammad-Bande, the president of the UN General Assembly, has stressed the importance of investing in health which he said was an "investment in human capital, social and economic development, and the empowerment of people."
The UN adopted a landmark political declaration on universal health coverage last September.
—-
Hello and welcome to Al Jazeera's continuing coverage of the coronavirus pandemic. I'm Kate Mayberry in Kuala Lumpur.
Read all the updates from yesterday (June 8) here.