Italy PM to be questioned over coronavirus response: Live updates | News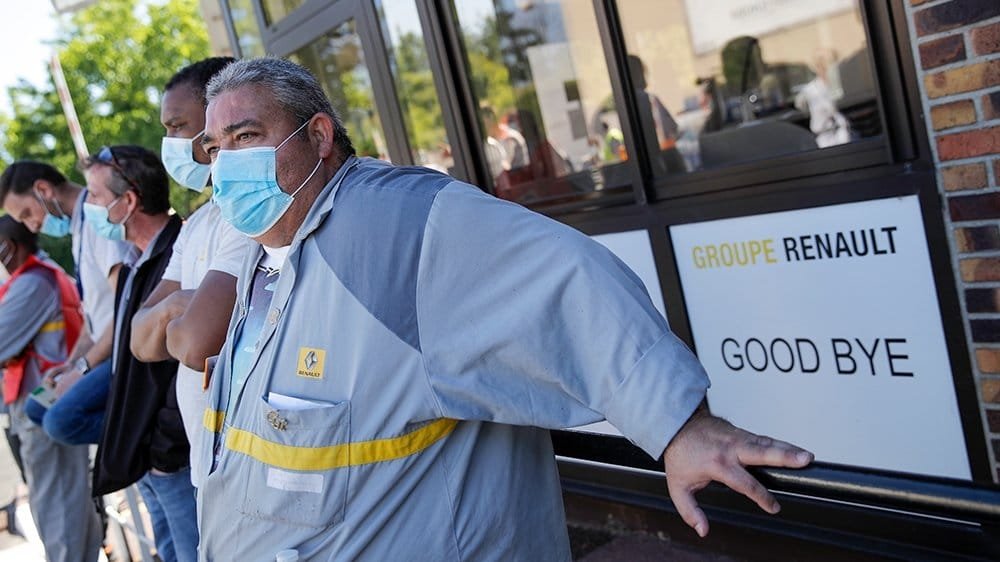 The global economy is set to contract by 6 percent in 2020, according to the OECD.
India recorded 9,985 cases in one day and 274 deaths, as the country emerges from a two-month lockdown.
Concerns are growing about a second wave of coronavirus infections in the US, with 22 states reporting weekly increases in coronavirus cases.
China has dismissed as "ridiculous" a Harvard Medical School study that suggested the coronavirus could have been circulating in Wuhan as early as August. Scientists have also said it offers no convincing evidence of when the outbreak began.
Nearly 7.2 million people have now been confirmed to have the coronavirus and nearly 409,000 have died, according to data from Johns Hopkins University. The United States, the United Kingdom and Brazil have recorded the highest death tolls. The US, Brazil and Russia have the most cases.
Here are the latest updates:
Wednesday, June 10
18:10 GMT – New deaths in France sharply down, but cases rise
France's new death toll from COVID-19 was only one-third of the tally the day before but the total of new confirmed infections rose again, one month out of a strict lockdown.
The health ministry said the death toll was up by only 23 – versus an average daily increase of 53 over the previous 15 days – to 29,319, the fifth-highest total in the world. On Tuesday, 87 COVID-19 deaths were reported.
But the number of new confirmed cases was 545; that figure had stayed below the 500 threshold during the previous three days. Over the last 15 days France has reported a daily average of 639 new confirmed cases.
17:54 GMT – Italy PM says prosecutors to question him over virus response
Prime Minister Giuseppe Conte said he will be questioned by prosecutors on Friday over the way the coronavirus outbreak was handled in the northern Italian city of Bergamo, one of the areas most badly affected by the epidemic.
"I am not at all worried," Conte told reporters outside the prime minister's office in Rome. "We will speak on Friday and I will pass on all the facts I am aware of," he said, adding that he was not under investigation himself.
The prosecutors are looking into why badly hit areas around Bergamo were not closed down early in the outbreak, and have already questioned the regional governor of Lombardy, which includes Bergamo, and Lombardy's health chief.
16:59 GMT – UK's Johnson says lockdown led by scientific evidence after timing criticised
British Prime Minister Boris Johnson said the decision on the timing of the coronavirus lockdown was made on the basis of scientific evidence and it was too early to say whether restrictions were brought in too late.
Earlier on Wednesday, Neil Ferguson, a former member of the government's Scientific Advisory Group for Emergencies (SAGE), said Britain's death toll from COVID-19 could have been halved if lockdown had been introduced a week earlier.
"We made the decisions at the time on the guidance of SAGE, including Professor Ferguson, that we thought were right for this country," Johnson said.
"Of course we've got to learn lessons, but I just think that it is at this stage premature, there's still too much that we don't know." 
16:17 GMT – Impact of seasons on coronavirus unclear, WHO's Ryan says
It is unclear how the arrival of winter in the southern hemisphere will impact the novel coronavirus, the head of the World Health Organization's emergencies programme Mike Ryan said.
"We don't know how the coronavirus is going to be," Ryan said during a virtual press conference. "Right now, we have no data to suggest that the virus will behave more aggressively or transmit more efficiently or not," Ryan said, adding that the impact of summer's arrival in the northern hemisphere was also unclear.
"We cannot rely on an expectation that the season or the temperature will be the answer to (the disease's spread)," he said. 
16:04 GMT – Italy reports 71 deaths, 202 new cases
Deaths from the COVID-19 epidemic in Italy climbed by 71, against 79 the day before, the Civil Protection Agency said, while the daily tally of new cases fell to 202 from 283 on Tuesday.
The total death toll now stands at 34,114, the agency said, the fourth highest in the world after those of the United States, Britain and Brazil.
The number of confirmed cases amounts to 235,763, the seventh highest global tally behind those of the United States, Russia, Brazil, Spain, Britain and India.
15:08 GMT – Nobel winner Mukwege quits local DR Congo virus team over problems
Nobel winner Denis Mukwege said he had resigned as head of a coronavirus taskforce in an eastern province of DR Congo, blaming organisational problems, outpaced strategy and slow testing.
In a statement, he said there had been "weaknesses in organisation and clarity between the various teams in charge of the response to the pandemic in South Kivu."
"We are at the start of an exponential … curve [in infections] and we can no longer apply a strategy that would be purely preventive," Mukwege said.
"I have decided to resign … in order to devote myself entirely to my medical duties and to treat the influx of patients at Panzi hospital." 
15:07 GMT – Guatemala says returns of its nationals restarting from US
Guatemala's foreign ministry said the country will begin receiving flights of Guatemalan migrants returned from the United States twice a week after they were suspended during the coronavirus health emergency.
"We're informing you that this week we will receive two flights of returned nationals. They will be smaller groups of approximately 50 people," said foreign ministry spokeswoman Patricia Letona.
14:42 GMT – Poland to open EU borders on Saturday, PM says
Poland will open its borders with fellow European Union countries on Saturday and allow international flights from next Tuesday, the prime minister said, as the country unfreezes its economy despite an increase in coronavirus cases.
Poland closed its borders to foreigners in March to stop the spread of the coronavirus. However, it has been progressively loosening restictions on public life, with shopping centres, hotels and restaurants all reopening in May.
"In some countries…this pandemic is still behaving in a very disturbing way, so for now we limit this decision [opening borders] to European Union countries," Morawiecki said.
This doctor in New Jersey made a mobile COVID-19 testing station to reach areas that have been forgotten. pic.twitter.com/JgiVivaEQd

— Al Jazeera English (@AJEnglish) June 10, 2020
14:39 GMT – Italian prosecutors to question PM over handling of virus: sources
Italian Prime Minister Giuseppe Conte and the country's health and interior ministers are to be questioned by prosecutors looking into how the government handled the pandemic, news agencies reported.
Sources close to the probe were cited as saying Conte, Health Minister Roberto Speranza and Interior Minister Luciana Lamorgese would be asked in particular about the failure to designate hotspot areas so-called "red zones", allowing the virus to spread.
14:26 GMT – France to see 800,000 job losses in coming months: minister
France is likely to suffer 800,000 job losses in coming months, the finance minister warned, as the economy reels from the effects of a lockdown.
"Our evaluation is that 800,000 jobs will be lost in the coming months, or 2.8 percent of total employment," Bruno Le Maire told a finance committee in parliament. 
"The shock is considerable and calls for massive public policies to support and accompany all those affected," Le Maire said. 
Such measures include the furlough scheme, tax breaks for companies and financial incentives to hire apprentices, he said. 
14:23 GMT – Major League Soccer to restart season on July 8
Major League Soccer will restart the season on July 8, after being shut down for almost three months by the outbreak, by staging a tournament without fans at Disney World in Orlando, Florida, it said.
"We are pleased to team up with Disney to relaunch the 2020 MLS season and get back to playing soccer," MLS Commissioner Don Garber added in a statement.
"The opportunity to have all 26 clubs in a controlled environment enables us to help protect the health of our players, coaches and staff as we return to play."
All 26 clubs will take part in what is being billed as the "MLS is Back Tournament" that will run until Aug. 11.
14:19 GMT – Cases in Africa top 200,000
The number of COVID-19 cases in Africa has reached 202,782, the Africa Centres for Disease Control and Prevention (Africa CDC) said.
According to the latest data, 5,516 fatalities have been recorded in 54 countries so far, while recoveries have increased to 90,779.
The total number of active cases on the continent now stands at 106,487, Africa CDC said.
14:06 GMT – Bank of England's Bailey sees some signs of recovery
Bank of England Governor Andrew Bailey said he could see some early signs of an economic recovery in Britain as the government's lockdown restrictions are lifted, but warned there was still likely to be long-term damage.
"If there is any such thing as a normal recession … this one will be different. There will be elements of a faster recovery, because the first stage of the recovery is literally lifting restrictions and allowing people to go out," he said.
"And we see … evidence of elements of that recovery starting," he added at a panel discussion hosted by the World Economic Forum.
Hello, this is Farah Najjar taking over from my colleague Usaid Siddiqui.
12:53 GMT – Olympic Games will not be done with splendour – Tokyo 2020 CEO
Toshiro Muto, the CEO of Tokyo 2020, said the rearranged Olympics Games will "not be done with grand splendour", but will be simplified.
The Games, originally scheduled to start next month, were postponed for a year in March due to the coronavirus pandemic.
12:40 GMT – Sri Lanka to hold virus-delayed polls in August
Sri Lanka will hold parliamentary elections on August 5, more than three months late because of the coronavirus, the election commission said on Wednesday after health authorities gave their approval.
The island nation has been steadily lifting lockdown restrictions, although a night-time curfew remains. Schools will reopen later this month and foreign tourists will be allowed in from August 1.
A mock election will be held this weekend to test new health measures that will be implemented at polling booths and counting centres, commission chairman Mahinda Deshapriya said.
12:20 GMT – How Afghan refugees are helping Turkey fight coronavirus
Afghan refugees are contributing to Turkey's fight against the coronavirus, producing soap and 1,000 face masks a day to protect people from the pandemic.
A group of about 12 refugees living in the Turkish city of Kayseri have teamed up with local volunteers to produce and deliver these essential supplies to state hospitals, migrant health centres and local NGOs.
Read more here.
11:59 GMT – Europe to accelerate trials of gene-engineered COVID-19 vaccines: Sources
European officials aim to speed up trials for coronavirus vaccines containing genetically modified organisms, two EU sources told Reuters News Agency, in a move that could help vaccines developed by companies like AstraZeneca and Johnson & Johnson.
The European Commission is expected to put forward the plans as early as next week. They are part of a wider EU strategy aimed at securing enough doses of a possible vaccine for the bloc as it fears lagging behind the United States and China.
The reform is expected to reduce member states' power to impose extra requirements on drug companies when they conduct clinical trials on medicines and vaccines containing genetically modified organisms (GMOs), according to the sources.
11:38 GMT – Austria lifting checks at Italian border and for most EU arrivals
Austria is lifting checks at its border with Italy and ending quarantine requirements for more than 20 European countries as of June 16, Foreign Minister Alexander Schallenberg said.
The western European nation draws many of its visitors from neighbouring Germany, with which it has already reopened its border, so the move will have a greater effect on Austrians, who will be able to return from summer destinations like Italy and Croatia without having to go into quarantine or show a negative test.
11:17 GMT – UK must be able to raise Hong Kong, COVID-19 issues with China, says Johnson
British Prime Minister Boris Johnson has said the UK must able to speak out about "serious concerns" about the origins of COVID-19, Hong Kong and the country's critical national infrastructure with China.
"We must feel absolutely free to raise those issues loud and clear with Beijing and that's what we will continue to do," Johnson told Parliament.
10:55 GMT – Virus pummels global economy, jobs – even without second wave
The virus crisis has triggered the worst global recession in nearly a century – and the pain is not over yet even if there is no second wave of infections, an international economic report has warned.
Hundreds of millions of people have lost their jobs, and the crisis is hitting the poor and young people the hardest, worsening inequalities, the Organization for Economic Cooperation and Development said in its latest analysis of global economic data.
"It is probably the most uncertain and dramatic outlook since the creation of the OECD," Secretary-General Angel Gurria said, adding that OECD could not "make projections as we normally do".
10:35 GMT – Decades of debt: UK's finance chief told to make gradual pay-offs
United Kingdom Chancellor of the Exchequer Rishi Sunak is being asked by members of the ruling Conservative party to take his time to pay off the record debt the country is racking up as it tries to weather the coronavirus pandemic. By that, they mean decades.
With the economy on course for its deepest recession for at least a century, the government is now paying the wages of more than 10 million workers to stave off mass unemployment.
Read more here.
10:15 GMT – Avoiding Australia: Economic pain if Chinese students stay away
Australia's economy, facing its first recession in 30 years because of the coronavirus, would suffer if Chinese students heeded a warning from their government to stay away because of racist incidents, Australia's trade minister said.
International education is Australia's fourth-largest foreign exchange earner, worth 38 billion Australian dollars ($26bn) annually, and more critical to the economy than beef or barley, products hit with Chinese import bans and tariffs last month.
Read more here.
09:55 GMT – Pope expresses concern about children in poverty amid virus
Pope Francis has appealed for help to protect children who are being forced to work to help their families living in extreme poverty during the coronavirus pandemic.
Speaking from the Papal library at the Vatican during his weekly audience, the Pope said in some circumstances this amounted to child slavery or imprisonment.
Pausing from his prepared text, the Pope added: "We are all responsible for this."
There have been 12 cases of COVID-19 among the employees and residents of the small Vatican city-state.
09:40 GMT – Denmark sees no rise in COVID-19 cases after further easing of lockdown
Denmark, the first country outside Asia to ease its coronavirus lockdown, said the spread of COVID-19 has not accelerated since it entered its second phase of reopening society last month.
The Nordic country allowed restaurants, cafes and malls to resume business during May in the second phase of easing lockdown restrictions. In April, it had allowed daycare centres, schools, hairdressers and some small businesses to reopen.
"The level of contagion in society is still very low," the Danish health authority said in a report on Wednesday, adding that the number of confirmed new infections had continued to fall despite more tests being carried out.
09:18 GMT – Pangolin removed from list of traditional medicines in China
China has removed the pangolin from a list of traditional medicines as it heightens protections for the endangered scale-covered mammals.
The pangolin has been excluded from the official Chinese Pharmacopoeia list this year, along with other substances including pills containing bat faeces, the state-owned publication The Paper reported on Tuesday.
The mammal is thought by some scientists to have been the intermediary host for the new coronavirus, which was first discovered in the central Chinese city of Wuhan in December.
08:55 GMT – Potential COVID-19 vaccine from China shows promise in animal tests
A potential COVID-19 vaccine being developed by Chinese researchers showed promise in trials in monkeys, triggering antibodies and raising no safety issues, researchers have said, and a human trial with more than 1,000 participants is under way.
The vaccine candidate, called BBIBP-CorV, induced high-level neutralising antibodies that can block the virus from infecting cells in monkeys, rats, guinea pigs and rabbits, researchers said in a paper published in online by the medical journal Cell on Saturday.
08:35 GMT – Malaysia to reopen schools in stages from June 24: Minister
Malaysia will begin reopening schools from June 24, its education minister said on Wednesday, as the country enters recovery mode after three months of strict curbs on movement and businesses to contain the spread of the novel coronavirus.
Southeast Asia's third-largest economy began lifting most coronavirus restrictions from Wednesday, after the government declared that the outbreak was under control.
08:15 GMT – Africa's coronavirus cases have surpassed 200,000.
Coronavirus cases in Africa have topped 200,000, according to the Africa Centers for Disease Control and Prevention.
The 54-nation continent has 202,782 reported cases and 5,516 related deaths.
While Africa still represents a tiny percentage of the world's total COVID-19 cases, well under 5 percent, officials in South Africa and elsewhere have expressed concern as the number of infections continues to climb.
South Africa leads the continent with 52,991 cases, with almost two-thirds of them in the Western Cape province centred on the city of Cape Town.
07:55 GMT – Turkish unemployment falls to 13.2 percent in Feb-April despite coronavirus
Turkey's unemployment rate fell to 13.2 percent in the February-April period from 13.6 percent a month earlier, data showed, falling despite an economic slowdown driven by measures to counter the coronavirus outbreak.
The government imposed a three-month ban on layoffs in April to mitigate the effect of the pandemic and President Recep Tayyip Erdogan said on Tuesday the government had prepared a comprehensive package to boost employment.
The unemployment rate stood at 14.1 percent in the same period last year.
07:45 GMT – US says consulate in China's Wuhan to reopen in near future
The United States will soon resume operations at its consulate in the Chinese city of Wuhan, where the novel coronavirus outbreak began late last year, the US embassy has said.
The US ambassador to China, Terry Branstad, "intends to resume operations in Wuhan in the near future", Frank Whitaker, minister counsellor for Public Affairs at the embassy, said in an email to Reuters, without giving a specific date.
The US State Department withdrew consulate staff and their families in late January after the Chinese government put the city under lockdown to curb the spread of the virus.
07:20 GMT – Bulgaria extends epidemic emergency until end of June
Bulgaria will extend the epidemic emergency until the end of June to fight the spread of the coronavirus after an increase in new registered cases, Prime Minister Boyko Borissov has said.
The Balkan country has eased most of the restrictive measures it imposed in the middle of March, allowing restaurants and shopping malls to reopen.
06:50 GMT – Hairdressers, beauty salons reopen in Malaysia
Malaysia reopened nearly all economic and social activities on Wednesday after nearly three months of lockdown successfully brought down virus infections.
Malaysians can now travel for domestic holidays, get their hair cut and visit street markets, while schools and religious activities will gradually resume.
Night clubs, pubs, karaoke, theme parks and reflexology centres will stay shut during the recovery period.
Contact sports or those that involve many spectators such as football, and activities involving mass groups, are still banned.
06:30 GMT – Applications for asylum in EU plummet during pandemic
Asylum applications in Europe fell to the lowest level in April in more than 10 years as borders closed to prevent the spread of the coronavirus, European Union figures show, compounding the challenges of people fleeing conflict and persecution.
The number of asylum applications declined to 8,730 during April, an 86 percent drop from 61,421 in February, according to figures obtained by Reuters from the European Asylum Support Office (EASO).
The EU had shut its external borders in March and many of its 27 member states suspended the registration of applications.
06:11 GMT – India surge continues with nearly 10,000 cases
The number of coronavirus cases in India continued to rapidly increase on Wednesday, with officials reporting nearly 10,000 new cases over the past 24 hours.
The spike has come as the government moves forward with reopening restaurants, shopping malls and religious places in most of its states after a more than two-month-old lockdown.
The government has already partially restored train services and domestic flights and allowed shops and manufacturing to reopen. Subways, hotels and schools and colleges, however, remain shuttered nationwide.
The Health Ministry on Wednesday reported a 24-hour increase of 9,985 cases and 274 deaths. India has recorded 276,583 positive cases, the fifth highest in the world, and 7,745 deaths.
06:00 GMT –
I'm now handing over the blog to my colleagues in Doha. A quick update on developments over the past few hours … The US appears to be facing the risk of a second wave of infections, Brazil has restored its coronavirus data after a political storm and a court order, and Mexico and Argentina are seeing daily surges in cases.
05:45 GMT – Gone by July: Upbeat prognosis from Australia
A senior medical official in New South Wales says Australia will have largely eradicated the coronavirus by July when community sports are due to resume.
"Our view has been that we had hoped that by June/July that we would see coronavirus largely disappearing from the country, so this is pretty much on track," said Bill Rawlinson, a senior medical virologist with New South Wales Health.
Australia's latest data shows seven new cases – three in NSW and four in the state of Victoria.
04:45 GMT – Global Peace Index report uploaded
The IEP has now uploaded its Global Peace Index report to social media.
The Global Peace Index 2020 is now available for download

In the 2020 report:

⭕ Rankings & trends
⭕ Regional overviews
⭕ Civil unrest
⭕ Positive Peace & pandemics
⭕ Ecological Threat Register

Download now → https://t.co/IRRl4mLJ2i pic.twitter.com/wlZj1AZrwa

— Global Peace Index (@GlobPeaceIndex) June 10, 2020
04:00 GMT – Coronavirus shock to fuel years of poverty, unrest
The Insitute for Economics and Peace (IEP) says the shock of the coronavirus will fuel poverty and unrest for years to come, undoing decades of progress in socio-economic development.
The Australian-based think tank says the countries that will suffer the most will be those that are politically-fragile whose economies are generally less robust.
"The worst is still to come," said Steve Killelea, the head of the IEP at the launch of its annual Global Peace Index.
IEP says heavily-indebted countries will find it hard to get the money they need to rebuild their economies once lockdowns are relaxed, raising the risk of riots and unrest. Cuts in overseas aid could also hurt countries such as Afghanistan, Yemen and South Sudan.
03:55 GMT – Fujifilm to spend $928m to expand Danish facility for COVID-19 drug
Japan's Fujifilm is to spend $928 million to expand a facility in Denmark where it plans to produce COVID-19 treatments.
Fujifilm says the investment will help expand production lines for bulk drug substances, as well as viral vaccines.
02:15 GMT – California, Arizona see coronavirus cases spike
Cases of coronavirus are spiking and leading to more hospital admissions in parts of California and Arizona, raising the risk of authorities tightening public health restrictions to curb the virus' spread.
More than 18 million people in California, including residents of Los Angeles, Santa Clara and Fresno are now on a state watch list of places at risk, according to Reuters.
"Many of the cases that are showing up in hospitals are linked to gatherings that are taking place in homes – birthday parties and funerals," said Olivia Kasirye, the public health director of Sacramento County.
Reuters reports 22 states across the US recorded weekly increases in coronavirus cases on Tuesday. Arizona, Utah and New Mexico all recorded rises of 40 percent or more over the week, it said.
01:20 GMT – Argentina daily coronavirus cases top 1,000 for first time
Argentina has confirmed more than 1,000 new daily cases of coronavirus for the first time.
Argentina's Health Ministry on Tuesday said it had logged 1,141 new cases in the past 24 hours, as well 24 deaths, pushing its totals to 24,761 cases and 717 deaths since the outbreak began in early March.
Latin America has become the new epicentre of the global outbreak although Argentina's caseload remains significantly lower than neighbours Chile and Brazil.
Argentina last week extended a mandatory lockdown in Buenos Aires, which accounts for the country's highest concentration of confirmed infections. Other areas have moved to "mandatory and preventive social distancing."
23:50 GMT (Tuesday) – Mexico warns peak could be weeks away
Mexico's deputy health minister says it could be weeks before the country, which has already started to reopen its economy, sees a peak in coronavirus cases.
"We still haven't reached the maximum point," Hugo Lopez-Gatell said at a news conference, saying numbers would continue to rise each day. The country is forecasting up to 35,000 deaths up to October.
The health ministry said 596 people died from COVID-19 on Tuesday, bringing the total to 14,649.
23:30 GMT (Tuesday) – Brazil restores data after court challenge to its removal
Brazil has restored data on its COVID-19 outbreak to its official national website after a Supreme Court judge ordered the government to reinstate cumulative totals and state breakdowns.
The decision to remove the data triggered an outcry and accusations that the government, under far-right President Jair Bolsonaro, was trying to mask the extent of the outbreak.
On Tuesday evening, Brazil had a total of 739,503 confirmed cases with 38,406 deaths. It has the second-highest caseload in the world after the US and the third-highest death toll after the United States and the United Kingdom.
—-
Hello and welcome to Al Jazeera's continuing coverage of the coronavirus pandemic. I'm Kate Mayberry in Kuala Lumpur.
Read all the updates from yesterday (June 9) here.