Sudanese brave harrowing desert journeys to safety in Egypt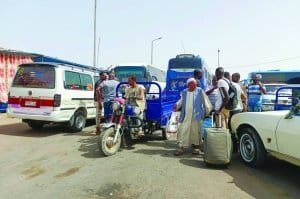 As Sudan has descended into bloody chaos, hundreds of families have headed for Egypt on bumpy and harrowing 1,000-kilometre road trips through the desert, braving military checkpoints along the way.
Some of those who have made it across the Egyptian border to safety spoke of their fears as the cramped buses, with infants and elderly people on board, sped through the night along pitch-black and potholed roads.
Most of the refugees left with few belongings, food, water or cash on the treacherous journeys, having paid small fortunes for scarce bus tickets out of the war zone amid crippling fuel shortages.
The most dangerous part, said one man, was just to get to the bus in Khartoum, a city of 5mn that has been rocked by heavy fighting between army and paramilitary forces including artillery and air strikes.
"We crossed 25 checkpoints just to get to the bus station at the edge of Khartoum," said the man, who asked not be named citing security concerns.
He had spent the previous day and sleepless night frantically organising everything for his family, holed up at their home in the capital under the noise of a steady barrage of gunfire. Next came an excruciating wait until the 45-seat bus was finally full enough to leave Khartoum, at a time fighters and looters have been roaming the city.
During the nail-biting wait, the price of a seat more than tripled from $115 to $400 per person, the equivalent of a civil servant's monthly salary.
Even when full, "some buses don't leave for an entire day", the man said, as the drivers scramble for fuel that has become "eight times more expensive" since the fighting began.
A three-day ceasefire declared yesterday appeared to be largely holding, as foreign countries pushed on with mass evacuation efforts of embassy staff and citizens.
But deep fear reigned of what will come next in Sudan in the power struggle between army chief Abdel Fattah al-Burhan and the RSF, led by General Mohamed Hamdan Daglo, a conflict that has killed over 450 people.
In Cairo, Sudanese medical student Noon Abdelbassit, 21, said she had arrived on Sunday, two days and two nights after setting out from Khartoum.
She said she made the journey of over 2,000 kilometres in total with "10 relatives, aged four to 70", completing the Egyptian leg by train.
On their way out of the embattled Sudanese capital, their bus was stopped "twice by the army and once by the Rapid Support Forces", she said.
"We worried that they would get on board with their weapons or hurt someone," she said, recounting the sense of relief when "they just checked who was on board and asked a few questions".
Once out of the capital, the passengers felt they could finally breathe as they headed north for 13 hours to the border crossing at Argeen.
There were no more roadblocks by men with guns, but also nowhere to get food or water on the "pitch black" road.
"There was nothing to the left or right" as far as the eye could see, said Abdelbassit.
Once at the border, the refugees still have a long way to go. The first major town, Aswan, is 300 kilometres to the north, and Cairo is another 20-hour bus ride away. One Sudanese man in his 30s said he had arrived overnight with his family after "a long and exhausting journey", then waited under the blazing morning sun for the crossing to open.
"There are a lot of people here, so it's better to arrive early in the morning to avoid waiting for a long time," he said.
Those who have made it to the Egyptian border send words of advice back to those heading out, urging them to calculate their time of arrival at the crowded Argeen border crossing.
Back in Khartoum, 22-year-old student Musab al-Hadi is part of a small group helping those planning to flee.
"When they call us trying to find safe passage to Egypt, the first thing we do is assess if they have enough food and water" for the trip, he said.
Border bureaucracy can spell an additional headache.
Under normal circumstances, only Sudanese women, children and men over 50 are allowed visa-free entry into Egypt, where 4mn Sudanese people live, according to the UN.
The others — namely men aged under 50 — have to head to the Egyptian consulate in Wadi Halfa, another border crossing, to obtain a visa.
As the brutal unrest has flared in Sudan, Egyptian social media users began calling for those fleeing to be allowed in without extra paperwork.
"Egypt is your second home and you are our family," one user insisted.
A local charity has listed emergency numbers for fresh arrivals in need of "baby formula or medical services". If the conflict drags on, many more are sure to come, said Cameron Hudson of the Washington-based Center for Strategic and International Studies.
"A massive exodus of civilians" should be expected once a first lasting ceasefire takes hold, he said, warning of a scenario where "millions of people try to cross borders".