Russia-Ukraine live news: Truce bid to evacuate civilians fails | Russia-Ukraine war News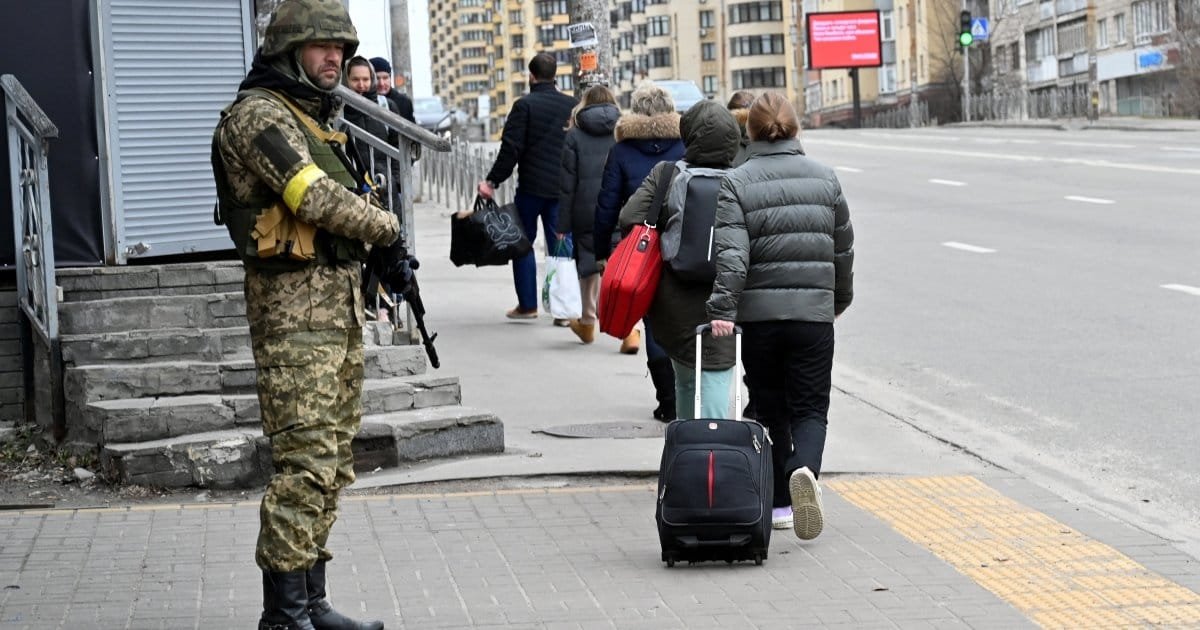 Russian forces declare a ceasefire to allow humanitarian corridors out of the Ukrainian cities of Mariupol and Volnovakha.
But in Mariupol, local officials say the evacuation has been put in hold, accusing Russian forces of ceasefire violations. Russia's defence ministry accuses Ukrainian "nationalists" of preventing civilians from leaving.
Multiple news outlets say they will pause their work inside Russia, citing a new law that could mean jail for those found to be intentionally spreading "fake" news.
Russia says it is blocking Facebook and restricting access to Twitter, citing restrictions on Russian media.
More than 1.2 million people have fled Ukraine to neighbouring countries, according to the United Nations.
Here are all the latest updates:
No reason for martial law in Russia: Putin
The Russian leader says there is nothing that warrants imposing martial law in Russia at this point.
Putin's comment followed days of speculation that the introduction of martial law could be imminent.
The Russian president said that "martial law is imposed in a country … in the event of external aggression, including in specific areas of hostilities. But we don't have such a situation, and I hope we won't".
---
UN: More than 350 civilians confirmed killed in Ukraine
At least 351 civilians are confirmed to have been killed in Ukraine, a United Nations monitoring mission said.
Many of the civilian casualties were due to explosive weapons with a wide impact area, including shelling from heavy artillery and multi-launch rocket systems, and from missile and air strikes, monitors from the Office of the UN High Commissioner for Human Rights (OHCHR) revealed.
"OHCHR believes that the real figures are considerably higher, especially in Government-controlled territory and especially in recent days, as the receipt of information from some locations where intensive hostilities have been going on was delayed and many reports were still pending corroboration," it said.
---
Germany to build LNG terminal
Germany has said it would build a liquefied natural gas terminal on its North Sea coast, to reduce its dependency on Russian gas imports.
"It is necessary to reduce our dependence on Russian gas as quickly as possible" in light of Moscow's aggression, Economy and Climate Minister Robert Habeck said in a statement.
Germany getting serious abt energy independence @KfW @RWE_AG & @Gasunie just signed a Memorandum of Understanding to build an LNG Terminal in Brunsbüttel 🇩🇪 It will be built with perspective to import green hydrogen @BMWK Robert Habeck welcomed the project https://t.co/btiI8Yop7m

— Jörg Kukies (@joergkukies) March 5, 2022
---
Italy's public TV RAI says suspends reporting
Italy's public television channel RAI has announced an immediate suspension of its operations from Russia after Moscow passed a bill allowing jail terms on media outlets publishing "false information" about the military.
"Following the approval of the law which gives heavy sentences for publishing information considered false by the authorities, RAI is spending from today the journalistic services of its own reporters and correspondents in the Russian Federation," the channel said in a statement.
---
Putin: Nations thinking to impose no-fly zone party to conflict
The Russian president has warned that any nation contemplating imposing a no-fly zone over Ukraine would be considered by Moscow be participating in "armed conflict".
"Any movement in this direction will be considered by us as participation in an armed conflict by that country," Putin said during a meeting with Aeroflot employees.
He said a no-fly zone would have "colossal and catastrophic consequences not only for Europe but also the whole world".
Read more here.
---
Blinken speaks with Chinese FM: State Dept
US Secretary of State Blinken spoke with his Chinese counterpart Wang Yi about "Moscow's premeditated, unprovoked, and unjustified war against Ukraine," a State Department spokesperson said in a statement.
"The Secretary noted the world is watching to see which nations stand up for the basic principles of freedom, self-determination and sovereignty," read the statement.
"He underscored that the world is acting in unison to repudiate and respond to the Russian aggression, ensuring that Moscow will pay a high price," it added.
---
'Great sense of panic'
Al Jazeera's Charles Stratford, reporting from the side of the road about 30km (19 miles) south of Zaporizhzhia, said locals in the area reported Russian shelling only about 10km (6 miles) away.
"Many of the villagers are absolutely terrified. They say the situation has deteriorated dramatically since that ceasefire failed," he said, referring to the partial ceasefire declared earlier in the day in Mariupol and Volnovakha.
"There was heavy shelling this morning," he added, noting it was not possible to confirm whether "it was either incoming or outgoing.
"But certainly there is a great sense of panic here."
---
Hundreds rally in Kherson against Russian forces
Hundreds of people have rallied in the southern Ukrainian city of Kherson to protest against the Russian occupation there.
As protesters took to the streets, local media reported that some armed men fired shots in the air to disperse the crowd.
A video distributed by Ukraine's Defense Forces showed people waving Ukrainian flags and chanting "Kherson is Ukraine."
Courageous Kherson inspires Ukraine and the world! Thousands of peaceful Ukrainians protest Russian occupation in front of armed Russian soldiers. What a spirit. I call on everyone around the globe: express your support for the fearless Ukrainians in Kherson! #CourageousKherson pic.twitter.com/olZoMs6ebm

— Dmytro Kuleba (@DmytroKuleba) March 5, 2022
---
Russia caps individuals' money transfers abroad: Kommersant
Russia's central bank has capped the amount of money Russians can send to family and relatives abroad at $5,000 per month, the Kommersant newspaper has reported, citing a letter from the regulator.
The Russian authorities have taken a series of measures to curb capital outflows amid Western sanctions.
---
Poland won't recognise territorial changes that follow aggression: Rau
Poland will not recognise any territorial changes brought about by "unprovoked, illegal aggression", Foreign Minister Zbigniew Rau has said following talks with US Secretary of State Antony Blinken.
---
Poroshenko calls on West for Ukraine no-fly zone
Former Ukrainian President Petro Poroshenko has called on the West to provide his country with more weapons to fight Russian invasion forces.
He was speaking during a visit to Ukrainian troops who were helping civilians from the outskirts of the capital Kyiv to reach the city centre to be evacuated by train. The troops guided civilians across a river where a bridge had been destroyed by the fighting.
Poroshenko also demanded that Putin be prosecuted by the International Criminal Court in the Hague for launching the invasion, and reiterated calls for a no-fly zone over Ukraine.
---
German broadcasters ARD, ZDF stop reporting from Russia: Statement
German public broadcasters ARD and ZDF have said they were stopping their reporting from Russia after Moscow announced its new legislation.
The broadcasters will "suspend their reporting from their Moscow bureau for the time being", they said in a statement, following similar decisions by other news media including BBC News and Bloomberg News.
---
Blinken visits Poland as Russia's war in Ukraine intensifies
US Secretary of State Antony Blinken is visiting eastern Poland near the border with Ukraine.
Blinken was in the city of Rzeszow for talks with top Polish officials and was to go to a frontier post to meet Ukrainian refugees later in the day.
Blinken met Polish Prime Minister Mateusz Morawiecki and Foreign Minister Zbigniew Rau a day after attending a NATO foreign ministers' meeting in Brussels at which the alliance pledged to step up support for eastern flank members like Poland.
---
UK to streamline sanctioning Russian oligarchs
The UK will make it easier to sanction Russian oligarchs and align those sanctions with the EU and the US, the government has said.
The UK has been criticised for not doing enough to clamp down on oligarchs' ill-gotten gains which are frequently invested in luxury real estate in London, a popular destination.
Amendments will be introduced to the Economic Crimes bill, which the government now wants to be passed by the lower House of Commons on Monday, "to crack down on corrupt elites and ramp up pressure on Putin's regime", a statement said.
The amendments will "allow us to move harder and faster" with sanctions, Economic Secretary to the Treasury John Glen said.
---
Russia's Aeroflot to halt flights abroad, except Belarus, from March 8
Russia's flagship carrier Aeroflot will stop all flights abroad with the exception of those to Belarus from March 8, the TASS news agency has quoted the company as saying.
Russia's state aviation authority on Saturday recommended that Russian airlines with foreign-leased aircraft to suspend flights of passengers and cargo abroad from Russia from March 6 and from foreign countries to Russia starting on March 8.
---
Negotiations under way to ensure evacuation: Mariupol city authorities
Negotiations are under way with Russia on how to "ensure a safe humanitarian corridor," Mariupol city authorities have said on Telegram.
The evacuation of people from Mariupol has been postponed because Russian forces are not abiding by Saturday's ceasefire agreement, they said.
"We ask all residents of Mariupol to return to their places of refuge."
---
Russia accuses Ukrainian 'nationalists' of thwarting humanitarian corridors: RIA
Russia's defence ministry has said no one made use of two humanitarian corridors set up near Ukraine's cities of Mariupol and Volnovakha and accused Ukrainian "nationalists" of preventing civilians from leaving, RIA news agency has reported.
In remarks that contrasted starkly with comments from Ukrainian officials, the ministry said that the Russian forces had come under fire after it had set up the humanitarian corridors during a partial ceasefire.
---
Number of Ukraine refugees could grow to 1.5 million this weekend: UNHCR
The situation in Ukraine remains dire and the number of refugees fleeing the Russian invasion could potentially rise to 1.5 million by the end of the weekend from a current 1.3 million, the head of the UN refugee agency has said.
"This is the fastest moving refugee crisis we have seen in Europe since the end of World War Two," UNHCR head Filippo Grandi told Reuters in a telephone interview.
Grandi said most refugees at the moment were linking up with friends, family and other connections already living in Europe, but warned future waves would be more complex.
---
Russia's Lavrov not optimistic about talks
Russian Foreign Minister Sergei Lavrov has said the angry statements of Zelenskyy were not inspiring optimism about the fate of talks to end hostilities in Ukraine.
Earlier, Ukrainian Foreign Minister Dmytro Kuleba said he was open to talks with Lavrov, but only if such negotiations were "meaningful".
Lavrov also said that Russia was checking information that Ukrainian authorities may not be allowing civilians to be evacuated from the city of Mariupol via humanitarian corridors agreed earlier.
---
Ukrainian MP reiterates call for 'no-fly zone'
Speaking to Al Jazeera from Kyiv, Ukrainian MP Serhii Babak has thanked the countries that have provided humanitarian and military aid to Ukraine but reiterated a call for the establishment of a "no-fly zone".
He also said Ukrainians were fighting for their country.
"I am a scientist, I am a doctor of engineering in science, but now I am sleeping with my machine gun and I am holding it every day. And I will defend as well as any other member of parliament and citizen of Ukraine – we will defend our country," he added.
"Everybody is a soldier [now] in Ukraine."
---
Stoicism is Kyiv's new normal
Kyiv, Ukraine – "If you switch off the emotions, the scale of damages is minimal," a woman who lives on the 15th floor of a new apartment building in central Kyiv, told me.
Over the past week, she saw the fires and plumes of smoke caused by Russian cruise missiles that hit the central railway station in Ukraine's capital, as well as a television tower and a residential building.
Her own building towers over Kyiv and seems as vulnerable as a wheat stalk in a storm. Her family slept in their "bathroom shelter" for several days.
Read the full story here.
---
UK urges its nationals to consider leaving Russia
The UK has urged its nationals to consider leaving Russia.
"If your presence in Russia is not essential, we strongly advise that you consider leaving by remaining commercial routes," the British government said in a statement.
On Monday, the UK advised its citizens against all travel to Russia due to a lack of available flight options and increased economic volatility.
---
Mariupol evacuation on hold
Mariupol officials say they are delaying the evacuation of civilians, accusing Russian troops of breaking the ceasefire.
"Due to the fact that the Russian side does not adhere to the ceasefire and has continued shelling both of Mariupol itself and its environs and for security reasons, the evacuation of the civilian population has been postponed," city officials said in a statement on social media.
There was no immediate comment by the Russian army.
---
Zaporizhzhia, a city 'preparing for siege'
Al Jazeera's Charles Stratford, reporting from Dnipro, said there are three points in Mariupol where buses are gathering for people to get on board, to take them to the city of Zaporizhzhia, located at least 300km (186 miles) to the north.
"Zaporizhzhia is a city that can only really be described as preparing for siege itself – tank traps, checkpoints, thousands of civil defence volunteers in and around the city," Stratford said.
"We know there are Russian forces around an hour, even less than that, south of Zaporizhzhia.
"This corridor that is being set up will take people across country, we understand, northwest through rural areas."
---
Foreign students fleeing Russia's war on Ukraine hope to return
In the early morning at Zahony train station near the Hungary-Ukraine border, trains arrive every few hours from the Ukrainian city of Chop.
Among those disembarking from the dark blue trains, which pull into the Hungarian border town every few hours, are hundreds of students, many of them from countries such as Nigeria, India, Egypt and Morocco, who have spent recent years studying in Ukraine.
Read the full story here.
---
Erdogan to speak to Putin on Sunday: Spokesperson
Turkish President Recep Tayyip Erdogan will speak to Russia's Vladimir Putin on Sunday to discuss the war in Ukraine, spokesman Ibrahim Kalin has said, adding Turkey was ready to help resolve the crisis.
Speaking to reporters in Istanbul, Kalin repeated Turkey's offer to host talks between Ukraine and Russia and called for an immediate halt to fighting, and reiterated that Turkey could not abandon ties with either Moscow or Kyiv.
---
Kremlin says the West is behaving like bandits
The Kremlin has said the West is behaving like bandits but that Russia was far too big to be isolated as the world is much larger than just the United States and Europe.
Kremlin spokesman Dmitry Peskov also told reporters that if the US imposed sanctions on Russia's energy exports then it would roil energy markets.
---
Ukraine will import gas from Poland from March 6
Ukraine from March 6 will be able to import gas from Poland, including gas from Polish LNG terminals, the Ukrainian state-run gas transit system operator has said.
The two transit operators agreed on the introduction of guaranteed capacity for gas imports and "this allows the physical import of gas from Poland, including from the LNG terminal, on a guaranteed basis", the Ukrainian company said on social media.
Ukraine, one of Europe's biggest gas consumers, has not imported gas from Russia since 2015 and buys it in Europe.
---
Rate of Russian strikes has relented: UK defence ministry
The rate of Russian strikes in Ukraine has been lower over the past 24 hours than in previous days, according to a briefing from the UK defence ministry.
The "overall rate of Russian air and artillery strikes observed over the past 24 hours has been lower than in previous days," the ministry said on Twitter.
Ukraine continues to hold Kharkiv, Chernihiv and Mariupol and there have been reports of street fighting in Sumy, it said.
"It is highly likely that all four cities are encircled by Russian forces," the update said.
---
Italy's foreign minister and Eni CEO fly to Qatar for energy talks
Italian Foreign Minister Luigi Di Maio is flying to Qatar with the head of energy group Eni to discuss energy cooperation in light of the Ukraine crisis, the ministry has said.
The trip follows a visit by the two to Algeria on Monday, where they sought an increase in gas supplies from the North African country as Europe steps up its efforts to tap alternative flows.
---
US, Germany, Netherlands to deploy more military in Lithuania: Defence minister
Germany will deploy air defence capabilities to Lithuania and the US will send a troop battalion armed with tanks, Lithuania's defence minister has said.
The deployments, which are also due to include more troops from the Netherlands, are separate to troops coming for military exercises Lithuania is set to host in March, Arvydas Anusauskas told reporters.
The deployments and exercises will increase the total number of foreign NATO troops in Lithuania to 4,000 by March-end from 3,000 now, the minister said.
Lithuania had asked NATO to add more troops and equipment following Russia's invasion of Ukraine.
---
Russia, Belarus discuss humanitarian corridors: RIA
Russian Foreign Minister Sergey Lavrov has discussed with his Belarusian counterpart Vladimir Makei plans to set up humanitarian corridors that would allow foreigners to leave Ukraine, RIA news agency cited Belarus's foreign ministry as saying.
---
Russian forces are not observing full ceasefire on Mariupol evacuation route: City council
The city council of Ukraine's Mariupol city has said Russian forces are not observing an agreed ceasefire along the whole length of a planned route for the evacuation of civilians that was due to take place on Saturday.
"We are negotiating with the Russian side to confirm the ceasefire along the entire evacuation route," it said in a statement.
---
Haas F1 Team terminates contract with Russian driver Mazepin: Team
Russian Nikita Mazepin will not race in Formula One this season after the US-owned Haas F1 Team said it has terminated the driver's contract.
The team also ended its title sponsorship deal with Russian potash producer Uralkali, owned by Mazepin's father.
---
Russian central bank allows exporters not to sell FX earnings
Russia's central bank has told the country's exporters they need not sell foreign currency earnings on Saturday as the Moscow Exchange is closed.
Russia told companies on February 28 they must convert 80 percent of their foreign currency revenues on the domestic market, part of measures to support the rouble currency after Western countries imposed sanctions on Moscow.
---
EU suspends Russia and Belarus from Council of the Baltic Sea States
The EU has said it had joined members of the Council of the Baltic Sea States (CBSS) in suspending Russia and Belarus from the council's activities.
"This decision is a part of the European Union's and like-minded partners response to Russia's invasion of Ukraine and the involvement of Belarus in this unprovoked and unjustified aggression," it said.
"The EU agrees with the other members of the CBSS (Denmark, Estonia, Finland, Germany, Iceland, Latvia, Lithuania, Norway, Poland and Sweden) that the suspension of Russia and Belarus will remain in force until it is possible to resume cooperation based on respect for fundamental principles of international law," it said.
---
'No other option but to … leave Mariupol safely': Mayor
Mariupol Mayor Vadym Boychenko has said "there is no other solution" but to allow residents to leave the city safely, "given that our hometown is constantly under ruthless fire from the occupiers".
"This is not an easy decision, but, as I have always said, Mariupol is not its streets or houses. Mariupol is its population, it is you and me," Boychenko was quoted as saying in a statement.
---
'Fill vehicles as much as possible': Mariupol city hall on evacuation
Mariupol city council has said in a statement that civilians will be able to proceed towards the city of Zaporizhzhia and will be able to use specially arranged bus routes as well as their own cars.
"A huge request to all drivers leaving the city, to contribute as much as possible to the evacuation of the civilian population – take people with you, fill vehicles as much as possible," the statement said on social media.
The announcement said the evacuation would last for several days to allow the entirety of the civilian population to exit the city.
In the statement, city officials told residents leaving in private vehicles that it was "strictly prohibited" to go off course from the evacuation routes.
---
Russia's invasion of Ukraine: List of key events from day 10
Click here to read the key events so far for Saturday, March 5.
---
More than 66,200 Ukrainians have returned from abroad to fight: Minister
Ukrainian defence minister Oleksii Reznikov has said that 66,224 Ukrainian men have returned from abroad to join the fight against Russia's invasion.
"That's how many men returned from abroad at this moment to defend their country from the horde. These are 12 more combat and motivated brigades! Ukrainians, we are invincible," Reznikov said in an online post.
---
Mariupol humanitarian corridor to open for five hours: RIA
Civilians will be allowed to leave Mariupol, Ukraine between 12:00-17:00 Moscow time (9:00 GMT) on Saturday, Russia's RIA news agency has cited city authorities as saying.
Russia said earlier its troops which have encircled the Sea of Azov port city in Ukraine's south would stop firing and allow civilians to pass.
---
Hundreds in Tokyo protest
Hundreds of people have marched in Tokyo protesting against Russia's invasion of Ukraine.
The crowd shouted, "Stop war. Protect lives." Some held signs that read: "We stand with Ukraine." Others held images of Putin with the words: "Stop Putin."
Russia's shelling of a nuclear plant in Ukraine on Friday and Putin's implied threat of nuclear war have struck a nerve in Japan, which suffered atomic attacks at the end of World War II in Hiroshima and Nagasaki, as well as the worst nuclear catastrophe since Chernobyl in Fukushima in 2011.
---
Russia continues broad offensive in Ukraine: RIA
Russian troops have continued a broad offensive in Ukraine, Russia's RIA news agency quoted the Russian defence ministry as saying.
The ministry confirmed its units have stopped firing and opened humanitarian corridors near the cities of Volnovakha and Mariupol which were encircled by Russian troops.
---
PayPal shuts down its services in Russia
Payments company PayPal Holdings Inc has shut down its services in Russia, citing "the current circumstances," joining many financial and tech companies in suspending operations there.
"Under the current circumstances, we are suspending PayPal services in Russia," President and Chief Executive Dan Schulman said in a statement. He added that the company "stands with the international community in condemning Russia's violent military aggression in Ukraine".
A company spokesperson said PayPal will support withdrawals "for a period of time, ensuring that account balances are dispersed in line with applicable laws and regulations".
---
Ceasefire to let Mariupol residents evacuate: Russian defence ministry
Russia's defence ministry has announced a ceasefire to allow residents of two besieged cities, including the strategic port town of Mariupol, to evacuate.
"Today, March 5, from 10am Moscow time, the Russian side declares a regime of silence and opens humanitarian corridors for the exit of civilians from Mariupol and Volnovakha," the ministry said.
There is no immediate confirmation from Ukrainian forces, and it is not immediately clear how long the evacuation routes would remain open.
---
Russian gas flows to Europe via Ukraine continue unchanged: RIA
Russian state gas company Gazprom was shipping natural gas to Europe via Ukraine in the same volume of 109.5 million cubic metres per day as on Friday, the state-owned RIA news agency has cited Ukraine's pipeline operator company as saying.
---
Russia to allow humanitarian corridors in Ukraine, defence ministry says
Russian forces will stop firing at 10:00 Moscow time to allow humanitarian corridors out of the Ukrainian cities of Mariupol and Volnovakha, according to Russia's defence ministry, Interfax has reported.
---
Musk says Starlink has been told by some governments to block Russian news
SpaceX chief Elon Musk has said that its Starlink satellite broadband service has been told by some governments, not Ukraine, to block Russian news sources.
"We will not do so unless at gunpoint. Sorry to be a free speech absolutist," he said in a tweet.
Starlink has been told by some governments (not Ukraine) to block Russian news sources. We will not do so unless at gunpoint.

Sorry to be a free speech absolutist.

— Elon Musk (@elonmusk) March 5, 2022
Earlier this week, the SpaceX chief warned there is a high chance that Starlink could be "targeted" in Ukraine.
---
The Washington Post to remove bylines by journalists in Russia
Following Russia's new law, The Washington Post will remove bylines and datelines from stories produced by its journalists in Russia, a Washington Post reporter has said.
---
Singapore sanctions Russia over 'unprovoked attack'
Singapore has announced sanctions against Russia that include four banks and an export ban on electronics, computers and military items, in a rare move by the Asian financial hub in response to what it said was Moscow's "dangerous precedent" in Ukraine.
"We cannot accept the Russian government's violation of the sovereignty and territorial integrity of another sovereign state," its foreign ministry said in a statement, which gave no timeframe for when the sanctions would take effect.
"For a small state like Singapore, this is not a theoretical principle, but a dangerous precedent. This is why Singapore has strongly condemned Russia's unprovoked attack."
---
Northern city of Chernihiv comes under renewed bombardment
A large explosion has lit up the night sky in Chernihiv, as Russia pressed on with its assault on the strategic Ukrainian city that lies 143km (88 miles) from the capital, Kyiv.
Homes were heavily damaged by air strikes earlier in the day, when a Russian bombardment killed 47 people, according to local officials.
---
Strategic Ukrainian port Mariupol 'blockaded': mayor
Ukraine's strategic port city of Mariupol is under a "blockade" by the Russian army after days of "ruthless" attacks, its mayor has said, calling for the establishment of a humanitarian corridor.
"For now, we are looking for solutions to humanitarian problems and all possible ways to get Mariupol out of the blockade," said Vadim Boychenko in a message posted on Telegram.
---
Brazil to issue humanitarian visas, permits, for individuals fleeing Ukraine
Brazil's government has said it will issue temporary humanitarian visas and residency permits for Ukrainian nationals and other individuals who have been affected or displaced by the conflict.
The visas will be valid for 180 days and arriving Ukrainians can apply for residency permits lasting two years, according to the text published in the nation's official gazette. Brazil will require, among other documents, a certificate attesting to the person's clean criminal record.
Brazilian media have reported that the country has Latin America's biggest population of Ukrainians and their descendants, ranging between 500,000 and 600,000, according to an estimate from Ukraine's embassy.
---
Ukraine security council urges escapeways
The head of Ukraine's security council has called on Russia to create humanitarian corridors to allow children, women and the elderly to escape the fighting.
Oleksiy Danilov said more than 840 children have been wounded in the war. A day earlier, the Ukrainian government put the death toll among children at 28.
"The question of humanitarian corridors is question number one," Danilov said on Ukrainian television. "Children, women, elderly people – what are they doing here?"
---
UN Security Council to meet Monday on humanitarian crisis: diplomats
The UN Security Council will hold an emergency meeting on the humanitarian crisis triggered in Ukraine by the Russian invasion, diplomats have said.
After this public session, the 15 members of the council will confer behind closed doors to discuss a possible draft resolution, a diplomat speaking on condition of anonymity told AFP news agency.
---
US embassy in Ukraine calls power plant attack 'war crime'
The US embassy in Ukraine has said that attacking a nuclear power plant is a war crime after Russia seized a Ukrainian nuclear facility that is the biggest in Europe.
The statement on the embassy's Twitter account went further than any US characterisation of Russia's actions in Ukraine since it launched its invasion on February 24.
"It is a war crime to attack a nuclear power plant. Putin's shelling of Europe's largest nuclear plant takes his reign of terror one step further," US embassy Kyiv said in its post.
---
US Senate to have call with Zelenskyy
The Ukrainian embassy in Washington has arranged a Zoom call between the US Senate and Ukrainian President Volodymyr Zelenskyy, two Senate aides have said.
The call is scheduled for 09:30 ET (14:30 GMT) on Saturday, they said.
---
Bloomberg News temporarily suspending work in Russia
Bloomberg News has said it was temporarily suspending the work of its journalists inside Russia, citing a new law that could mean jail for those found to be intentionally spreading "fake" news.
"The change to the criminal code, which seems designed to turn any independent reporter into a criminal purely by association, makes it impossible to continue any semblance of normal journalism inside the country," Bloomberg Editor-in-Chief John Micklethwait said in a statement.
---
Zelenskyy condemns NATO for ruling out Ukraine no-fly zone
Zelenskyy has criticized NATO for ruling out a no-fly zone over his country, saying the Western military alliance knew further Russian aggression was likely.
"Knowing that new strikes and casualties are inevitable, NATO deliberately decided not to close the sky over Ukraine," he said in a video published by the presidency.
"Today the leadership of the alliance gave the green light for further bombing of Ukrainian cities and villages, refusing to make a no-fly zone."
---
CNN to stop broadcasting in Russia after new law
CNN will stop broadcasting in Russia, the news channel has said.
"CNN will stop broadcasting in Russia while we continue to evaluate the situation and our next steps moving forward," a spokesperson said.
The decision comes after the Russian parliament approved a proposed law that would allow authorities to imprison people for up to 15 years if they are convicted of spreading intentionally "fake" information about the country's armed forces.
Read more about the Russian law here.
---
Ukraine's Zelenskyy calls for action against 'nuclear terrorism'
Zelenskyy has reiterated remarks made earlier by the country's United Nations envoy, who accused Moscow of "nuclear terrorism" after a fire broke out at a training facility near the Zaporizhzhia nuclear power plant.
"Nuclear terrorism requires decisive action in response," Zelenskyy said in a Twitter post.
He added: "At the #UN Security Council meeting, we called for closing the sky over 🇺🇦 and launching an operation to maintain peace and security. The goal is to save hazardous facilities. The world must not watch, but help!"
---
Canada's public broadcasters CBC/Radio-Canada temporarily suspend reporting from the ground in Russia
The Canadian Broadcasting Corporation (CBC) and Radio-Canada have said they had temporarily suspended their reporting from the ground in Russia, citing a new law that could mean jail for those found to be intentionally spreading "fake" news.
"CBC/Radio-Canada is very concerned about new legislation passed in Russia, which appears to criminalize independent reporting on the current situation in Ukraine and Russia," they said in a statement posted online.
---
Russia blocking access to Facebook
Russia's communications regulator says it is blocking Facebook in response to what it said were restrictions of access to Russian media on its platform.
The regulator, Roskomnadzor, said on Friday there had been 26 cases of discrimination against Russian media by Facebook since October 2020, with access restricted to state-backed channels like RT and the RIA news agency.
The company this week said it had restricted access to RT and Sputnik across the European Union and was globally demoting content from Russian state-controlled outlets' Facebook pages and Instagram accounts, as well as posts containing links to those outlets on Facebook.
Read more here.
---
US 'committed to helping Ukraine defend itself', Biden says
United States President Joe Biden called the Russian invasion of Ukraine an attack on "global peace and stability".
Speaking ahead of a meeting with his Finnish counterpart, Sauli Niinisto, Biden added: "We're committed to helping Ukraine defend itself and support the humanitarian needs of the Ukrainian people."
---
Russia, Ukraine trade barbs at UN over Zaporizhzhia incident
Western and Ukrainian diplomats have accused Russia of recklessly endangering global safety after a fire broke out at a training facility near the Zaporizhzhia nuclear power plant – charges that Moscow dismissed as "lies".
At a UN Security Council meeting on Friday, Kyiv's envoy Sergiy Kyslytsya accused Moscow of "nuclear terrorism" over the incident, saying that Russia's invasion of Ukraine is an attack on "humanity".
Moscow's envoy to the UN, Vasily Nebenzia, however, dismissed reports that Russian troops attacked the Zaporizhzhia plant as "lies" and "disinformation".
Read more here.
---
G7 ministers call on Russia to stop attacks near nuclear plants
The foreign ministers of the G7 released a joint statement condemning the Russian invasion of Ukraine and calling on Moscow to end its "aggression" and immediately withdraw its forces.
"We urge Russia to stop its attacks especially in the direct vicinity of Ukraine's nuclear power plants," the statement said.
"Any armed attack on and threat against nuclear facilities devoted to peaceful purposes constitutes a violation of the principles of international law. We support the initiative of IAEA Director General Grossi announced today for an agreement between Ukraine and Russia to ensure the safety and security of nuclear facilities in Ukraine."
---
Welcome to Al Jazeera's continuing coverage of the Ukraine-Russia crisis.
Read all the updates from Friday, March 4, here.