Pakistan mosque bomber wore police uniform: Police chief | News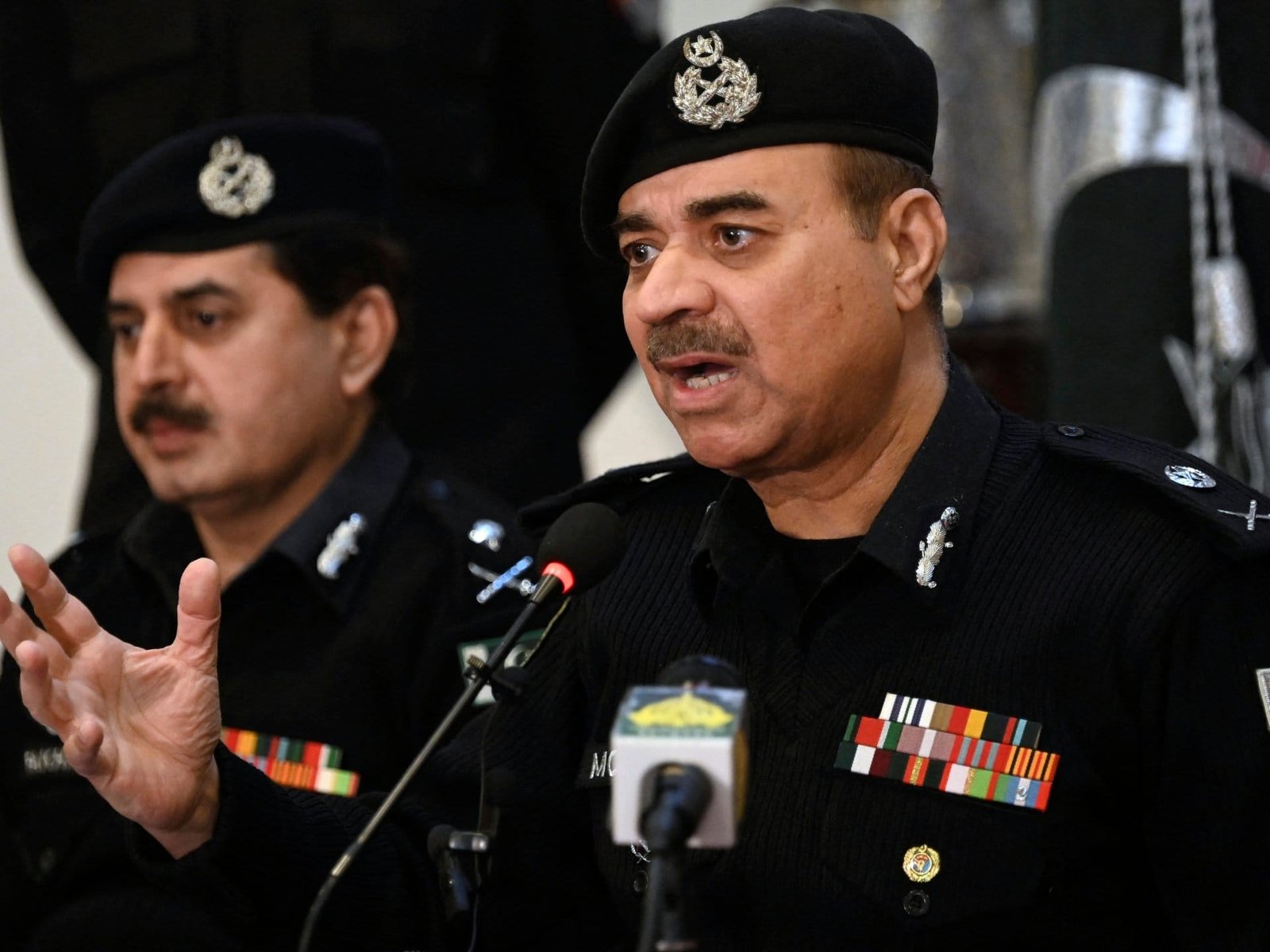 A top police chief in Pakistan's northwestern province of Khyber Pakhtunkhwa has revealed that a suicide bomber who blew himself up on Monday in a deadly attack on a Peshawar mosque had entered the high-security mosque compound disguised as a policeman.
Moazzam Jah Ansari, the police inspector general for the province, in a press conference on Thursday said security camera footage showed the bomber entering the heavily fortified police compound surrounding the mosque on a motorbike.
The policemen deployed at the entrance of the compound failed to "check the bomber because they thought he was their own", he said.
"We have traced the suicide bomber … He was in a police uniform and was wearing a mask and a helmet," Ansari said.
Ansari said that the bomber entered the main gate of the compound and asked police officers for directions to the mosque, where he detonated a bomb which killed at least 101 people, mostly police.
"This means that the attacker was not aware of the area. He was given a target and there is an entire network behind him … he was not a lone wolf," Ansari said.
He said the suicide bomber's remains have been sent for forensic examination.
Another 200 people were also wounded in the bombing at the mosque inside the compound's police lines.
More than 20 people have been arrested in connection with the bombing as Pakistan grapples with mounting security as well as economic challenges. The country has been negotiating with the International Monetary Fund (IMF) for a bailout as it faces an unprecedented balance of payment crisis.
Al Jazeera's Assed Baig, reporting from Peshawar, said the suicide bomber managed to get through a series of checkpoints.
"This is a highly secure area, but as you see there is no facial recognition, no fingerprint recognition, no ID cards that allow you in or out. It's just that police stop you, they take a look at you and allow you in," he said, reporting from the police lines.
Baig said the police had acknowledged there was a security lapse and people were demanding accountability for what happened.
"There's an appeal now for more resources, because they need certain technologies here to make certain areas secure, but also there's an acknowledgement by the police here that in some cases, they are outgunned by the rebels, who are using weapons with thermal sight and night vision."
'A wake-up call'
Meanwhile, on Wednesday, dozens of police across the province protested against the attack, demanding justice for their fallen comrades. They said their protest was against the "system" and the declining law-and-order situation.
Ansari, the police chief, appealed for patience, saying this was a difficult time for the police and they required support from the nation.
He accused Jamaat-ul-Ahrar, a faction of Tehreek-e-Taliban Pakistan (TTP), which had promised to carry out attacks against security personnel since it withdrew from a ceasefire in November, of being responsible for the bombing.
"The TTP claimed responsibility for the blast for which the reasons are clear. But then they disowned it. It seems that they consulted among the group and realised that they will be criticised for attacking a mosque," he said.
Zoha Waseem, an assistant professor at Warwick University and researcher on policing in Pakistan, said the protests by police in various cities of Khyber Pakhtunkhwa were a natural reaction.
"There are several years of death and trauma they are holding. They are underpaid and overworked," she added.
Iftikhar Firdous, the editor of the Khorasan Diary, a research organisation specialising in armed groups in Pakistan, said the period of relative calm in Khyber Pakhtunkhwa in recent years meant police had moved more towards traditional roles.
"The fact that a bomber was able to pass through while wearing a police uniform shows they were not prepared, nor there was any actionable intelligence with them to heighten security protocols," he said.
Firdous, who is based in Peshawar, described the incident as a wake-up call for not only police but the entire security apparatus.
"They should realise that the situation is not good right now. But also, the fact that this incident even took place in such a secure area, shows their reading of the current situation is also not accurate," he added.
Waseem, who has written a book on policing in the port city of Karachi, said each time an incident happened, police acknowledged a "security lapse" without doing anything about it.
"The law enforcement knew that threat level was high. They have known it since TTP vowed to carry out attacks.
"But the police can only prepare so much. If an attacker wants to enter, they will find a way to enter. Prevention and deterrence are only as strong as your policies, and if your policies are flawed there will be casualties," she said.