Russia, Ukraine swap prisoners as battle for Bakhmut rages | Russia-Ukraine war News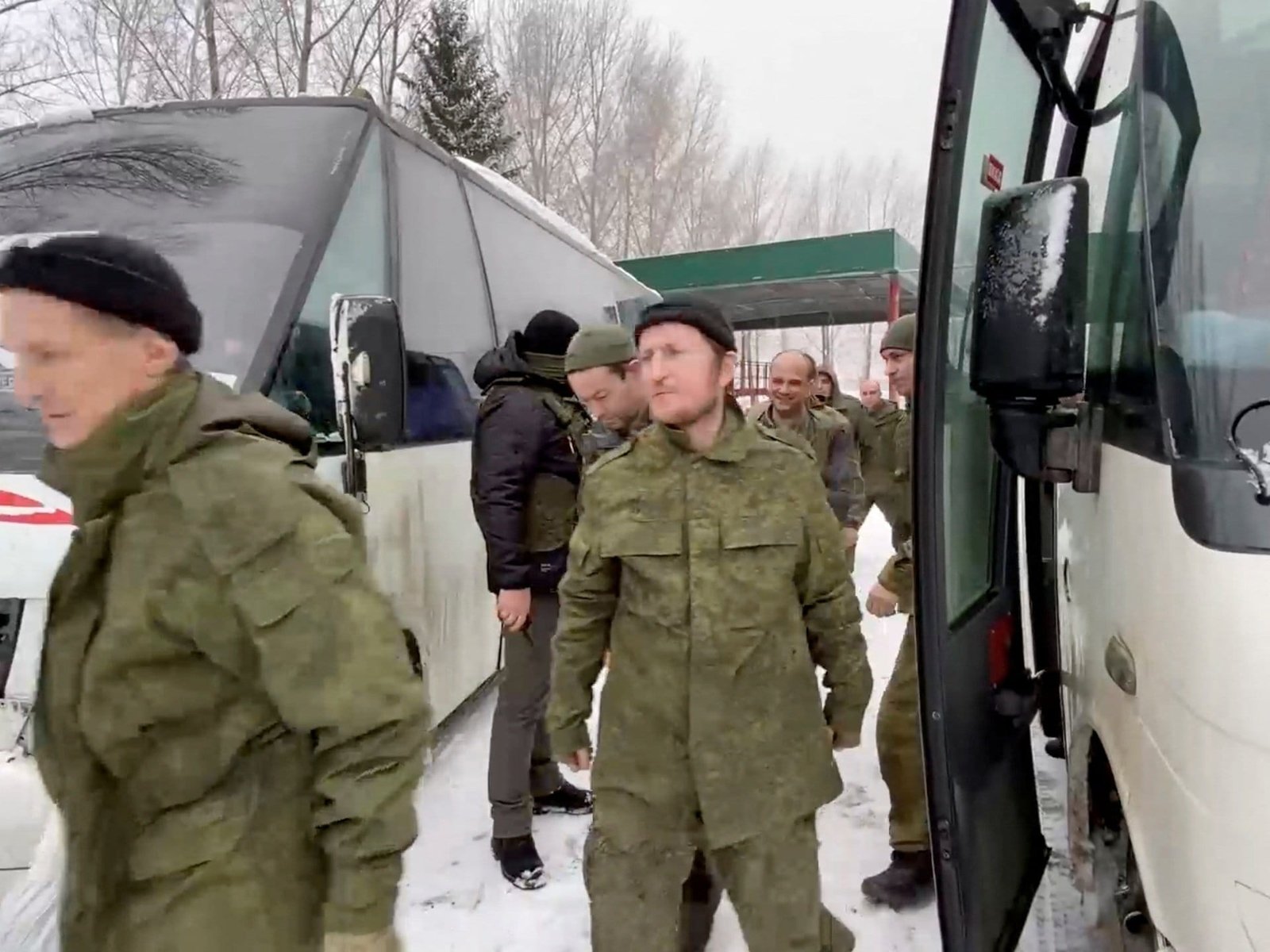 Russia says 63 Russian soldiers were released while Ukrainian authorities say 116 of their servicemen have been freed, amid continued fighting in the east.
Ukraine has released dozens of Russian soldiers as part of a negotiation brokered by the United Arab Emirates (UAE), Russia's defence ministry has said, the same day 116 Ukrainian servicemen were also freed as fighting rages in the eastern city of Bakhmut.
"A complicated negotiations process resulted in 63 Russian servicemen returned from the Ukrainian territory", the ministry said on Saturday, as quoted by TASS news agency. It added that people of a "sensitive category" were also included in the deal, thanks to the mediation of the Gulf country.
The ministry did not provide details on who falls within the "sensitive" group, but experts say that in past exchanges it referred to a wide range of people, including spies and civilians holding sensitive information.
All of the released soldiers are currently in Russia, the ministry said, adding that they were being given medical aid and access to contact their families.
The UAE maintains close ties with Moscow and remains one of the countries not supporting Western sanctions against Russia.
Last October, President Sheikh Mohammed bin Zayed Al Nahyan (MBZ) and Russian President Vladimir Putin met in Saint Petersburg where the Russian leader described relations between the two countries as "an important factor of stability".
While the Russian ministry did not refer to the event as a prisoner exchange in its comments on Saturday, later the same day Ukraine's presidency confirmed the release of 116 Ukrainians, including fighters caught in the battle of Mariupol and Kherson.
The Coordination Headquarters for the Treatment of Prisoners of War posted a message on its Telegram channel saying that the liberation came as part of an operation that took place "in several stages".
A majority of 87 of those freed were from the Ukrainian regular arm forces. Eight servicemen were from military intelligence while others belonged to the navy and the national guards. At least 23 of the released were injured or sick, the Ukrainian office said, adding that some have lost limbs due to frostbite.
The Coordination Headquarters also said that the repatriation of the bodies of British volunteers, Andrew Bagshaw and Christopher Perry, took place as part of the operation.
Prisoners' exchanges between the two countries have become more regular in recent months. In a surprise move in September, more than 300 soldiers were swapped, marking the largest exchange since Moscow's invasion last February. Two more took place in December and the latest in January saw Ukraine and Russia freeing at least 50 prisoners each.
"This marks a successful exchange, a dialogue," said Al Jazeera's Zein Basravi. "As much as the two countries continue to build walls between them during the war, it is exchanges like these that show that there are cracks on the wall and that there is enough daylight to continue to swap prisoners and bodies," Basravi said, reporting from Kyiv.
The release of prisoners on both sides comes as intense fighting continues around Bakhmut in the eastern Donetsk region.
Moscow says Russian forces are encircling the city from several directions and battling to take control of a road that is also an important supply route for Ukrainian forces.
In a defiant comment on Friday night, Ukrainian President Volodymyr Zelenskyy said that no one will surrender Bakhmut. "We will fight as long as we can," he said, standing shoulder to shoulder with European Council President Charles Michel, who was on his second visit to Kyiv in less than three weeks, and European Commission President Ursula von der Leyen.