Mourinho praises Qatar's preparations for 2022 World Cup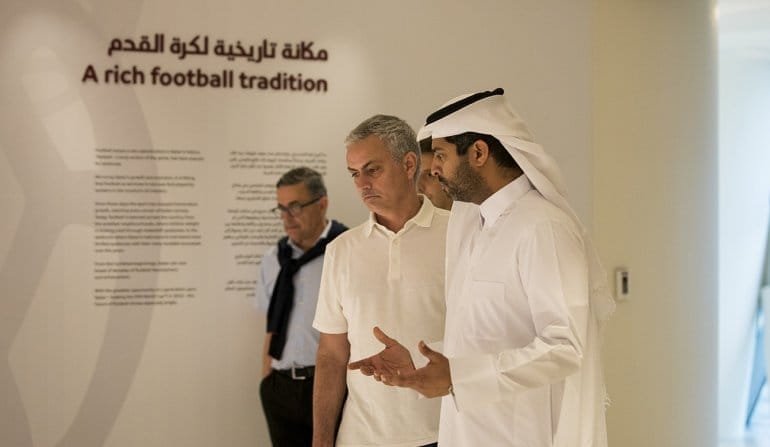 QNA
Doha: Jose Mourinho, one of world football's most successful and high-profile managers, hailed Qatar's preparations for the 2022 FIFA World Cup.
During his visit to Supreme Committee for Delivery and Legacy headquarters, Mourinho said, "I'm very impressed. Knowing your country, I cannot say I am very surprised because I was expecting something amazing. But there were some question marks that a football manager can have before he understands all of the dynamic, and that is what makes me really amazed by the level of organization. I believe that many of us in Europe, players, coaches, clubs, we had some question marks, but when you arrive here you don't have question marks anymore."
"The facilities are amazing. You thought about every detail. The number of training places for all the teams, the beauty and security of all the stadiums, the short distances between every stadium, no travelling, the teams can stay for a month in the same training ground without moving. The weather won't be so hard so I think it's going to be a fantastic event. I just hope that the football itself can give this amazing organization what you deserve," the Portuguese manager added.
"After watching with incredible attention the video that you have, I realized certain things. For example, the concept of the location, the short distances for countries (to travel to Qatar) from around the world, the travelling times (for players and fans), the prime time (viewing) for so many billions because of your place in the globe," Mourinho said.
"Your concept of legacy goes deep. It goes deep because so many countries invest so much in the World Cup, but then after that, there are empty stadiums. No legacy; no influence of the future of other countries. You have thought so much about every detail. It looks to me like legacy is not just a word for you, but really something that you are working on," Mourinho further added.
Mourinho concluded by expressing his aspirations for 2022, which will see Qatar succeed in hosting an exceptional version of the World Cup.