Chile health minister resigns amid coronavirus row: Live updates | News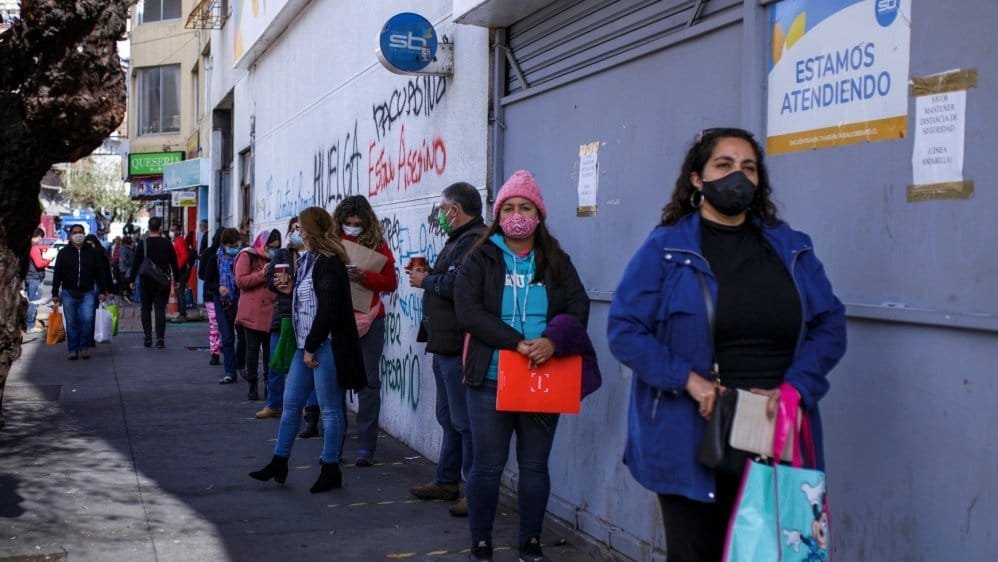 Chile President Sebastian Pinera has replaced Health Minister Jaime Manalich amid controversy over the country's figures for deaths from the coronavirus outbreak.

Authorities in Beijing place parts of the city in lockdown after six new domestic coronavirus cases were reported.

India reported its biggest single-day jump in coronavirus infections as the country passed a grim milestone of 300,000 cases.

Brazil became the country with the second-highest coronavirus death toll in the world with 41,828 fatalities, surpassing the death toll of the United Kingdom and second only to the United States.

More than 7.6 million people have now been confirmed to have the coronavirus and at least 426,000 have died, according to data from Johns Hopkins University.
Here are the latest updates:
Saturday, June 13
23:18 GMT – US state of Florida reports 2,500 new cases
Cases of the coronavirus continue to rise in Florida as the state gradually reopens, with more than 2,500 new confirmed cases reported by state health officials.
The numbers reported by the state Department of Health mark the 10th out of 11 straight days in which new cases have topped 1,000.
The Department of Health said Saturday that Florida had 2,581 new coronavirus cases, the third consecutive daily record. Coronavirus deaths in the state now stand at over 3,000 out of 73,552 confirmed cases since Florida's outbreak started.
Gov. Ron DeSantis and local officials began relaxing rules for businesses, beaches, theme parks and gatherings in May.
.
20:50 GMT – Egypt confirms highest daily rise of new cases and deaths
Egypt has confirmed 1,677 new coronavirus cases and 62 deaths, the health ministry said, the highest daily increase for both counts.
In total, the Arab world's most populous country has registered 42,980 cases including 1,484 deaths, the ministry said in a statement.
20:20 GMT – France daily death toll under 30 for fourth day
France has reported 24 new coronavirus deaths, taking the total to 29,398 and marking the fourth day with under 30 fatalities.
The government also reported the number of people in hospital fell by 215 to 10,909 and those in intensive care units fell by eight to 871, with both tallies continuing weeks-long downtrends
19:40 GMT – Aid workers fear spike in deaths in Darfur related to pandemic
In the sprawling refugee camps of Darfur, the war-scarred western region of Sudan, officials say the elderly are falling sick and dying at astonishing rates. 
Doctors in the region's few functioning hospitals report an influx of patients with symptoms like a lost sense of taste, breathing troubles and fevers. The official causes of their untimely deaths remain "unknown".
However, humanitarian workers and medical personnel believe the coronavirus is spreading unchecked and untracked through Sudan's most marginalized territory, where medical facilities are few and far between and where years of conflict have left some 1.6 million people crammed into refugee camps. 
Nationwide, Sudan has reported 6,879 coronavirus infections and 433 deaths, according to the Health Ministry. Of those, 193 cases and 54 fatalities have been confirmed across Darfur — a figure experts believe is a vast undercount. 
Who should look after refugees during the coronavirus pandemic? I Inside Story
19:00 GMT – Italian federation hopes to allow fans in stadiums in July
The head of Italy's football federation (FIGC) hopes that stadiums can be opened to at least some fans next month if the rate of coronavirus infections continues to drop in the country.
The Italian season restarted after a three-month hiatus on Friday with a Coppa Italia semi-final second leg between Juventus and AC Milan, while Napoli were hosting Inter Milan in the other tie later on Saturday with the final on Wednesday. Serie A will then restart on June 20.
"Yesterday, we took the last step towards dispelling any doubts about the completion of the championships," FIGC president Gabriele Gravina said in an interview with Radio Deejay on Saturday.
"I'm happy but there is still one piece missing, which is the participation of the fans and I hope they can return very quickly. I hope it will be the beginning of July – the first week or mid-July at the latest."
What's the psychological cost of the coronavirus? I Inside Story
18:20 GMT – Chile president replaces health minister amid reporting controversy
Chile President Sebastian Pinera has replaced Health Minister Jaime Manalich amid controversy over the country's figures for deaths from the coronavirus outbreak.
Pinera said Manalich had spared "no effort" in carrying out his "difficult and noble duty" to protect Chileans` health. He replaced him with Oscar Enrique Paris, an academic and medical doctor.
The country now has the highest number of confirmed cases per million people in Latin America, reporting 167,355 cases on Saturday and 3,101 deaths.
There have been frequent reports of spats among health ministry officials, and Manalich has been criticised by opposition politicians, mayors, medical experts and social groups for refusing to release more detailed contagion data or apply lockdowns sooner and for successive changes in criteria for recording deaths and cases.
17:45 GMT – Turkey reports 1,459 new cases
The number of new coronavirus cases in Turkey has risen to 1,459 in the last 24 hours from 1,195 a day earlier, Health Ministry data showed  increasing after travel restrictions were lifted and facilities reopened at the start of the month.
The daily number of cases had previously been below 1,000 since late May. In the last 24 hours, 14 people died, bringing total fatalities to 4,792, the ministry data showed.
There have been a total 176,677 cases of COVID-19 in Turkey. 
How can the aviation industry weather the coronavirus storm?
17:00 GMT – British drugmaker in talks with Japan, Russia, Brazil and China on supply
AstraZeneca is in talks with Japan, Russia, Brazil and China about supply deals for its potential coronavirus vaccine, its chief has said, as the British drugmaker prepares to publish the results of the first phase of tests.
The British regulator the Medicines and Healthcare products Regulatory Agency (MHRA) has approved the start of phase three trials of the vaccine after studies showed sufficient efficacy and safety, Chief Executive Pascal Soriot said on a call with reporters.
His comments came after the company pledged to deliver 400 million doses of its vaccine to European countries, its latest supply deal for the drug as governments around the world scramble to gain access to the drug to combat the pandemic.
16:25 GMT – Italy death toll rises by 78 to 34,301
Deaths from the COVID-19 epidemic in Italy climbed by 78, the Civil Protection Agency has said, while the tally of new cases increased by 346.
The total death toll since the outbreak came to light on February 21 now stands at 34,301, the agency said, the fourth highest in the world after those of the United States, Britain and Brazil.
The number of confirmed cases amounts to 236,651, the seventh highest global tally behind those of the United States, Russia, Brazil, Spain, Britain and India.
15:50 GMT – UK death toll rises by 181 to 41,662
The UK's death toll from confirmed cases of COVID-19 rose by 181 to 41,662 as of 1600 GMT on June 12, according to government data released on Saturday. 
At least 294,375 coronavirus infections have been confirmed in the UK since the outbreak began. 
15:20 GMT – Russia more than doubles April virus death toll
Russia has more than doubled its official coronavirus death toll for April to 2,712 after changing how it classifies fatalities.
Officials warned that May's death toll was likely to be even worse in Russia, which has the world's third largest number of cases with 520,129.
Russia's death toll has been much lower than in other countries with large outbreaks, raising questions over possible under reporting of deaths.
The April figures from Rosstat, the official statistics agency, include 1,270 deaths where the virus was the main cause. But they now also include deaths where the victim tested positive for the virus but it was not the main cause of death.
Project in Russia spreads passion for books amid lockdown
14:50 GMT – Thai researchers capture bats to test for virus 
Thai researchers have caught over 100 bats in a forest cave in an eastern province of Thailand to test them for the coronavirus.
The tests are being conducted over three days from June 11 at Tham  Sador cave in Chantraburi province with researchers from Chulalongkorn Hospital, Kasetsart University and National Parks Department, Supaporn Wacharapluesadee, the deputy chief of the ThaiRed Cross' Emerging Infectious Disease Health Science Centre, told the dpa news agency.
"Thailand has more than 140 species of bats and we see the need to study and learn more about them. We need to understand the coronavirus more and know where the risk may be at so thatpolicies can be made," she said.
Thailand aims to revive tourism amid pandemic
14:20 GMT – Conte calls for 'courage' to save Italy at talks with EU, IMF     
Prime Minister Giuseppe Conte has called for a "courageous plan" when he launched virtual talks with EU and IMF leaders to rescue Italy's economy and society from the "uprecedented shock" triggered by the coronavirus pandemic.     
Conte said the plan was needed to surmount the nation's crisis as Italian opposition figures shunned the hastily organised and roundly criticised emergency talks. The EU's third largest economy is expected to contract by at least 8.3 percent in 2020,
European Union leaders "must show that they have understood that it is about defending mutual interests," Conte said in an opening speech transmitted to leading executives in Brussels.
"We are in the process of living an unprecedented shock with very high human, social and economic costs," Conte said.
Italians concerned over COVID-19 economic impact
13:45 GMT – Rainbow flags in windows mark Vienna pride parade
The coronavirus pandemic forced the cancellation of the 25th annual Vienna Pride march, so supporters of LGBTIQ rights in the Austrian capital took to their windows instead/ 
Many windows, balconies and front doors were decked out in colourful displays, including the rainbow pride flag, with the results posted on social media on Saturday.      
Even 76-year-old Austrian President Alexander Van der Bellen got into the spirit: A video he put on Instagram showed him unfurling the flag and hanging it from his balcony. 
"Let us stand up for respect and acceptance of diversity, as well as against discrimination and racism," he wrote.
Our balcony in #Vienna… ??️‍?#FensterlParade2020 #Corona #Pride pic.twitter.com/RriBn3XEHN


— noyb (@NOYBeu) June 13, 2020
13:15 GMT – Italy, Germany, France and Netherlands sign vaccine contract with Astrazeneca
Italy, Germany, France and the Netherlands have signed a contract with Astrazeneca to supply European citizens with a vaccine against the coronavirus, Italy's health minister has said. 
The contract is for 400 million doses of the vaccine, which was developed with the University of Oxford and whose experimentation phase is already advanced and expected to end in autumn, Roberto Speranza said in a Facebook post.
He added that a first batch of doses would be made available by the end of this year.
The European Commission received a mandate from EU governments on Friday to negotiate advance purchases of promising coronavirus vaccines, the EU's top health official said, but it was unclear whether there would be enough money available. 
---
Hello, this is Joseph Stepansky in Doha taking over from my colleague Hamza Mohamed.
---
12:30 GMT – More than 22,000 fans attend New Zealand rugby match
New Zealand became one of the first nations in the world to welcome hordes of fans back into a packed sports stadium, thanks to the country's remarkable success in eliminating the coronavirus.
A capacity crowd packed the Forsyth Barr Stadium in the city of Dunedin to welcome the return of professional rugby, three months after the sport's professional tournaments were shut down by the coronavirus pandemic.
Almost 20,000 tickets had been sold before the opening Super Rugby Aotearoa match between the local Highlanders and the Hamilton-based Chiefs, and walk-ups filled the stadium to its capacity of 22,800 before kick-off.
There were no restrictions on physical contact. Fans could hug, high-five, congregate in groups before and after the match and fill public transport without wearing masks or social distancing.
New Zealand has almost eradicated COVID-19 after shutting its borders and imposing an early and thorough lockdown. There are no active cases and New Zealand has recorded no new infections in 22 days.
12:00 GMT – Iran to reimpose restrictions if guidelines not followed: President Rouhani
President Hassan Rouhani has said Iran will reimpose restrictions to stem a surge in coronavirus cases if health regulations are not observed.
After gradually relaxing its lockdown since mid-April, Iran has seen a sharp rise of new daily infections in recent weeks.
While compliance with health protocols was as high as 80 percent a month ago, it is now down to 20 percent, Rouhani said in a televised speech.
"If there is no cooperation, we will have to reimpose the restrictions," Rouhani said, adding that adherence to the health protocols was needed "in order to keep businesses open".
With 2,410 new cases on Saturday, the total of cases has now reached 184,955. With the death of 71 people in the past 24 hours, total fatalities stand at 8,730, the health ministry said.
11:50 GMT – Former Pakistan cricket captain tests positive for COVID-19
Former Pakistan captain Shahid Afridi on Saturday said he had tested positive for the novel coronavirus.
"I've been feeling unwell since Thursday; my body had been aching badly. I've been tested and unfortunately I'm COVID positive. Need prayers for a speedy recovery," Afridi, 40, wrote on Twitter.
Afridi played more than 500 international games across all formats after making his debut in 1996.
11:35 GMT – Protest in Nepal over gov't handling of COVID-19 crisis, several arrested 
Nepali police arrested 10 protesters including foreign nationals from Australia, the United States and China as hundreds staged a demonstration in Kathmandu against the government's handling of the virus crisis.
Demonstrators have defied a nationwide lockdown for several days this week to demand better testing and quarantine facilities for returning migrant workers.
     
Police official Sushil Kumar Yadav told AFP news agency that seven of those arrested were foreigners. Three were Chinese, with one each from the United States, Australia, Canada and Norway, he said.
     
"It has not been decided if they will be charged," Yadav added.
11:20 GMT – Qatar reports 1,828 new cases
Qatar's ministry of public health said on Saturday 1,828 people had contracted the virus in the past 24 hours, taking the country's total to 78,416.
At least 1,956 people recovered from the virus over the same period, the ministry said, pushing the total to 55,252.  
Ministry of Public Health announces 1828 confirmed new cases of coronavirus (Covid-19), with 1956 people recovered from the disease in the last 24 hours, bringing the total number of people recovered in the State of Qatar to 55252 cases. #QNA pic.twitter.com/1tj9aR0Tnm


— Qatar News Agency (@QNAEnglish) June 13, 2020
11:00 GMT – India surpasses 300,000 cases, records biggest single-day jump
India reported another record daily spike in coronavirus infections as the country passed a grim milestone of 300,000 cases.
The health ministry reported 11,458 new cases on Saturday and 386 deaths, driving the toll of fatalities up to 8,884.
India's total caseload reached 308,993, the fourth highest in the world, including more than 150,000 recoveries.
The government of Prime Minister Narendra Modi imposed a nationwide lockdown in late March. India's caseload jumped by about 100,000 cases in a week, coinciding with the reopening of shopping centres, houses of worship and restaurants.
10:40 GMT – Pakistan seals off hot spots as record number of cases reported
Pakistani authorities have identified and sealed off nearly 1,300 hotspots to contain the increasing rate of COVID-19 infections in the country.
The sealing of high-risk areas comes as Pakistan reported 6,472 news cases on Saturday, the country's highest single-day total. Pakistan has confirmed a total of 132,405 cases including 2,551 deaths.
Pakistan put its entire population of 220 million under lockdown in March. The government has since eased restrictions, saying it was necessary to save the country's economy, but it has caused a surge in infections.
Prime minister Imran Khan has resisted demands from experts to reinforce the lockdown.
Authorities, however, are now using the term "smart lockdown" to close shops and markets and force people to stay home in areas where confirmed cases have increased in recent weeks. Some residential areas were also sealed in the capital, Islamabad, to contain the spread of the virus.
10:15 GMT – Malaysia reports 43 new cases
Malaysia reported 43 new coronavirus cases, raising the cumulative total to 8,445 infections.
The health ministry also reported one new death, taking total fatalities from the outbreak to 120.
09:45 GMT – Tracking Africa's coronavirus cases
The outbreak of the new coronavirus has reached every nation in Africa, a continent of 1.2 billion people.
As of June 13, the confirmed coronavirus death toll on the continent stood at 6,040, with fatalities including the former President of the Republic of the Congo Jacques Joachim Yhombi-Opango and Somalia's former Prime Minister Nur Hassan Hussein.
There are 225,105 confirmed infections and 102,846 recoveries, according to the Africa Centres for Disease Control and Prevention.
09:00 GMT – Indonesia reports 43 COVID-19 deaths
Indonesia reported 1,014 new coronavirus infections and 43 more deaths, taking the total number of cases to 37,420 and fatalities to 2,091, health ministry official Achmad Yurianto said.
Yurianto said 563 more patients had recovered from the virus, bringing the total number of recovered cases to 13,776.
 All of the new cases were locally transmitted, he added. 
07:45 GMT – Russia records more than 8,700 new cases
Russia reported 8,706 new coronavirus cases, bringing its cumulative infection tally to 520,129.
The authorities said 114 people had died of the virus in the last 24 hours, raising the official national death toll to 6,829. 
06:40 GMT – Lockdown in parts of Beijing due to COVID-19 clusters
Parts of Beijing were placed under lockdown on Saturday as six new domestic coronavirus cases were reported, fuelling fears of a resurgence in local transmission.
People were prevented from leaving their homes at 11 residential estates in south Beijing's Fengtai district after most of the cases were linked to a nearby meat market, city officials said at a news briefing.
Beijing's first COVID-19 case in two months, announced on Thursday, had visited Xinfadi meat market last week and had no recent travel history outside the city.
China's domestic outbreak had been brought largely under control through vast, strict lockdowns that were imposed after the disease was first detected in the central city of Wuhan last year.
Read more here.
---
Hello, this is Hamza Mohamed in Doha, Qatar taking over from my colleague Zaheena Rasheed in Male, Maldives.
---
05:20 GMT – Fauci concerned over coronavirus spikes as US reopens
Anthony Fauci, the top US infectious disease official, cautioned that the "blips" of rising coronavirus hospitalisations being reported by some states could get out of control if robust contact-tracing regimes are not put in place.
About half a dozen US states are grappling with a rising number of coronavirus patients filling hospital beds, with Texas and North Carolina reporting on Friday their highest hospitalisation rates since the pandemic began. 
Fauci, in an interview with CNN, underscored that increased hospitalisations were a worrying trend and a sign that "maybe we need to slow down a little" on reopenings.
"When you start seeing more hospitalisations, that's a sure fire sign that you're in a situation where you're going in the wrong direction," he said.
INSIDE STORY | What's the psychological cost of the coronavirus (24:48)
04:30 GMT – British Airways labelled 'national disgrace' over job cuts
Legislators labelled British Airways a "national disgrace" for its treatment of employees, adding to pressure on the airline as it juggles job cuts and new quarantine rules.
Britain's Transport Select Committee said that BA and its parent company IAG were trying to take advantage of the coronavirus crisis to cut 12,000 jobs and downgrade the terms and conditions of other employees.
"It is unacceptable that a company would seek to drive this level of change under the cover of a pandemic," Conservative legislator Huw Merriman, who chairs the committee, said in a report published on Saturday.
In response, a spokeswoman for the airline said: "We will do everything in our power to ensure that British Airways can survive and sustain the maximum number of jobs consistent with the new reality of a changed airline industry in a severely weakened global economy."
03:42 GMT – Beijing shuts major market after six more locally transmitted cases
Authorities in Beijing temporarily closed a major wholesale market in the city after the National Health Commission (NHC) reported six more locally transmitted cases in the Chinese capital.
Chinese media said at least two of the infected people had visited the Xinfadi market. Authorities said all workers at the freshfood market were being tested for the virus. They also closed the Jingshen seafood market and ordered testing of food and environmental samples for all of Beijing's wholesale food markets.
Earlier, the city said it was delaying the planned reopening of school Monday for first to third graders because of the new cases.
Beijing reported its first locally transmitted case in more than seven weeks on Friday.
02:50 GMT – France to open borders to non-Schengen countries from July 1  
France will gradually reopen its borders to countries outside the Schengen zone from July 1, the interior and foreign ministers said in a statement.  
Foreign Minister Jean-Yves Le Drian and Interior Minister Christophe Castaner said France's reopening would be in harmony with the rest of the European Union, which has recommended that the bloc reopen to some countries in the Balkans from July 1.
"This opening will be gradual and will vary according to the health situation in each of the third countries, and in accordance with the arrangements that will have been agreed at European level by then," the ministers said.    
Castaner and Le Drian confirmed that France would also lift all border restrictions with other Schengen countries from June 15.
02:42 GMT – South Africa sees biggest one-day rise in cases              
South Africa saw its largest single-day increase in coronavirus cases, recording 3,359 infections on Friday. 
A health ministry update said South Africa now has more than 61,9270 cases, or well over a quarter of the cases across the African continent, including 1,354 deaths.
Nearly two-thirds of South Africa's cases are in the Western Cape province centred on the city of Cape Town, where the World Health Organization's Africa chief has said the trend "seems to be similar to what was happening in Europe and in the US".
02:29 GMT – Mexico prepares to reopen despite record cases
Claudia Sheinbaum, the mayor of Mexico City, said the Mexican capital will lift restrictions on car traffic and public transport next week, and allow 340,000 factory workers to get back on the job under strict sanitary conditions.
Sheinbaum said that street markets, malls, restaurants and churches could reopen a week later, but at reduced capacity.
The announcement came as the health ministry reported a record 5,222 new confirmed coronavirus infections, along with 504 new deaths. Total confirmed cases now number 139,196 and total deaths are at almost 16,450. Both are considered substantial undercounts due to very limited testing.
Inside a Mexican intensive care unit battling COVID-19 (3:42)
Separately, the federal government announced that starting on Monday, half of Mexico's 32 states can start limited reopenings of hotels and restaurants and broader reopenings of markets.
The states to reopen are those that have falling rates of coronavirus hospitalisations, lower rates of infection and acceptable ratios of available hospital beds.
President Andres Manuel Lopez Obrador has been eager to reactivate the economy, which has shed nearly one million formal jobs and is forecast to contract 8.8 percent this year.
"We don't think there are going to be new outbreaks," the president said on Friday. "We have to be careful that this doesn't happen, and open little by little with health measures, health protocols, and if we see a new outbreak somewhere, return to confinement – everything voluntarily."
01:59 GMT – Egypt registers highest daily rise in cases in nearly two weeks
Egypt confirmed 1,577 new coronavirus cases on Friday, the highest daily increase in almost two weeks.
In total, the Arab world's most populous country has registered 41,303 cases including 1,422 deaths, the health ministry said in a statement.
The country is planning to open its seaside resorts to international flights and foreign tourists on July 1. 
01:39 GMT – Brazil court orders JBS meat plant closed for testing
A Brazilian labour court ordered the closure of a chicken-processing plant owned by the world's largest meatpacker, JBS SA, in the southern state of Rio Grande do Sul for 14 days while the company's workforce is tested for COVID-19.
The court upheld an injunction sought by state health authorities ordering all workers to immediately leave the plant located in Trindade do Sul so that they can be in isolation for two weeks and be tested at the company's expense.
JBS did not have any immediate comment on the court order.
01:31 GMT – Masks significantly reduce infection risk, says new study
Requiring the wearing of masks in areas at the epicentre of the global coronavirus pandemic may have prevented tens of thousands of infections, a new study suggests.
Mask-wearing is even more important for preventing the virus's spread and the sometimes deadly COVID-19 illness it causes than social distancing and stay-at-home orders, researchers said, in the study published in PNAS: The Proceedings of the National Academy of Sciences of the United States of America.
Musicians perform a virtual gala in COVID-19 lockdown (2:50)
Infection trends shifted dramatically when mask-wearing rules were implemented on April 6 in northern Italy and April 17 in New York City – at the time among the hardest-hit areas of the world by the health crisis – the study found.
"This protective measure alone significantly reduced the number of infections, that is, by over 78,000 in Italy from April 6 to May 9 and over 66,000 in New York City from April 17 to May 9," researchers calculated.
01:12 GMT – Somalia's al-Shabab sets up virus treatment centre
Somalia's al-Shabab group said they had set up a COVID-19 treatment centre in the country, and said the disease posed a grave threat, citing international health authorities.
"Al-Shabab's corona[virus] prevention and treatment committee has opened a COVID-19 centre," the group said in a broadcast on their radio Andalus, adding the centre had been set up in Jilib, about 380 kilometres (236 miles) south of the capital, Mogadishu.
"International health organisations said COVID-19 is terribly spreading in countries of Africa continent."
For more than a decade, the group has been fighting to topple the Horn of Africa's Western-backed central government and establish its own government based on its own interpretation of Islamic law.
00:18 GMT – Brazil's COVID-19 death toll passes Britain's
Brazil's COVID-19 death toll has overtaken that of the United Kingdom to become the second-highest in the world after the United States, according to numbers released by the Brazilian Health Ministry.
Brazil reported a total of 828,810 confirmed cases of coronavirus, with 25,982 new infections in the last 24 hours, and another 909 fatalities, raising the death toll to 41,828, the health ministry said.
Of the total cases of COVID-19, 365,063 have recovered, the ministry said.
COVID-19 spreading fast among Brazil's Indigenous tribes (2:51)
00:10 GMT – Botswana reinstates strict lockdown in Gaborone
Botswana has brought back a strict coronavirus lockdown in its capital city and surrounding areas after recording 12 new cases of the virus – four imported cases at its borders and eight at a private hospital in Gaborone.
The southern African nation ended a 48-day national coronavirus lockdown late last month, allowing businesses and schools to reopen under controls, but its borders are still closed apart from for returning citizens and imports of essential goods.
Announcing the new lockdown measures, Malaki Tshipayagae, the country's director of health services, said authorities were trying to determine if the Gaborone hospital cases were locally transmitted.
"From midnight today, the greater Gaborone area will revert to extreme social distancing until further notice, where only essential services will be allowed to operate," he said in a televised announcement.
The new cases bring Botswana's cumulative cases to 60. Prior to Friday's cases, Botswana only had one active case of the coronavirus. It has recorded only one coronavirus death.
---
Hello and welcome to Al Jazeera's continuing coverage of the coronavirus pandemic. I'm Zaheena Rasheed in Male, Maldives.
You can find all the developments from yesterday, June 12, here.