Atlanta police chief resigns after Black man killed: Live updates | George Floyd protests News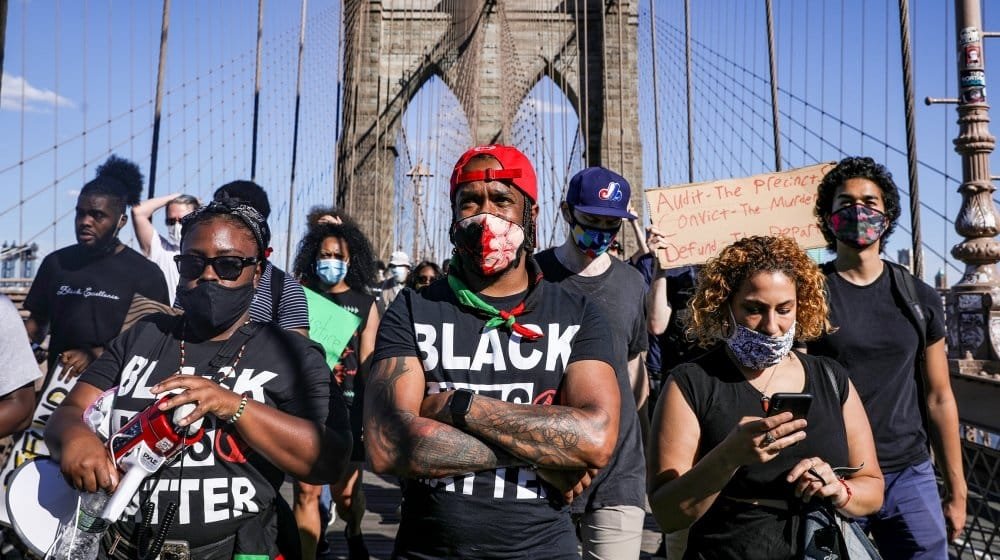 Atlanta's police chief resigned on Saturday hours after the killing of a Black man, who had fallen asleep in his car while waiting in line at a fast food drive-through restaurant. Authorities said Rayshard Brooks resisted arrest and was shot during a struggle.
Garrett Rolfe and Devin Bronsan, the two officers involved in the fatal shooting of Rayshard Brooks, were fired and placed on administrative duty, respectively.
One of the four former Minneapolis police officers who was charged over the death of George Floyd was released on $750,000 bail.
Floyd, a Black man, died on May 25 after a policeman knelt on his neck for nearly nine minutes. His death has sparked nationwide calls for policing reforms and global protests.
Here are the latest updates:
Sunday, June 14
18:20 GMT – Systemic racism slows economic growth: Dallas Fed chief
Systemic racism and high unemployment levels among black and Hispanic Americans create a drag on the US economy, Dallas Federal Reserve President Robert Kaplan has said.
"A more inclusive economy where everyone has an opportunity will mean faster workforce growth, faster productivity growth and will grow faster," Kaplan said on CBS' "Face the Nation."
Kaplan added he agreed with his counterpart at the Atlanta Federal Reserve Bank, Raphael Bostic, the Fed's only African-American policymaker, who on Friday called for an end to racism and laid out ways the US central bank can help.
17:40 GMT – Trump moved Tulsa rally date after learning about Juneteenth                  
President Donald Trump didn't know the significance to black Americans of the date and location he chose for his first campaign rally since the coronavirus pandemic more than three months ago, key Republican supporters of the president in Congress have said.  
Trump had scheduled the rally for June 19, known as Juneteenth because it marks the end of slavery in the United States. Tulsa, Oklahoma, the location for the rally, was the scene in 1921 of one of the most severe white-on-black attacks in American history. 
Black community and political leaders denounced the move  and called on Trump to reschedule. He resisted until late Friday when, in a rare turnabout, Trump tweeted that he had moved the rally to this Saturday, June 20, out of respect for the view of supporters and others who had asked him to.
"The president moving the date by a day once he was informed on what the Juneteenth was, that was a good decision on his part," said Senator Tim Scott, the only black Republican senator, adding he didn't know if Trump's planners knew the significance of the date. 
Can U.S. and Europe learn from each other on racism? | Inside Story
17:00 GMT – At least seven Minneapolis police quit, seven more resigning: Report
At least seven Minneapolis police officers have quit and another seven are in the process of resigning, citing a lack of support from department and city leaders as protests over George Floyd's death escalated.
Current and former officers told The Minneapolis Star Tribune that officers are upset with Mayor Jacob Frey's decision to abandon the Third Precinct station during the protests.
Demonstrators set the building on fire after officers left. Protesters also have hurled bricks and insults at officers, numerous officers and protesters have been injured and the state has launched a civil rights investigation into the department.
16:30 GMT – Vermont governor says Black Lives Matter mural vandalised
A Black Lives Matter painting in front of Vermont's state house has been vandalised in what the governor has described an "an effort to fuel hate and division".
Governor Phil Scott, in a tweet, said the vandalism had been discovered early Sunday morning. He added he had instructed state police to aid local authorities in the investigation. 
"This act of vandalism only reinforces that we're not immune to racism, divisiveness and hate in Vermont," he wrote. We must redouble our efforts to dismantle systemic racism and bigotry, and stay united as Vermonters."
Early this morning, in an effort to fuel hate and division, the Black Lives Matter painting in front of the State House was vandalized. This painting serves as an important reminder to make equity a priority and use this movement to drive real action and long overdue change. 1/3


— Governor Phil Scott (@GovPhilScott) June 14, 2020
15:50 GMT – Lone black Republican Senator says he is open to 'decertification' of bad police
Tim Scott, the only black Republican member of the US Senate, has said he is open to exploring whether to enact a new law that would decertify bad police officers as part of a larger law enforcement reform package.
Speaking on CBS "Face the Nation," Scott said a new policy to decertify police who engage in misconduct could be a compromise as he negotiates with Democrats, who have called more drastic measures such as ending the "qualified immunity" legal doctrine which helps shield officers from liability.
"I think there's a way for us to deal with it," said Scott, who has been tapped by Republican leadership to oversee the drafting of new policing reform legislation. "Decertification would be a path that I would be interested in looking at."
15:20 GMT – Video shows moments before deadly shooting of Rayshard Brooks
Footage released by investigators of the deadly police shooting of Rayshard Brooks shows Brooks telling officers he is not armed and consenting to a pat down before he is killed. 
Brooks had been reported to police for sleeping in the drive-thru of Wendy's restaurant in Atlanta on Friday night. After telling Brooks to pull off to a side of the parking lot, the officers ask him if he is armed. 
"I just have money for gas and that's it," he responds. When asked if they can pat him down, Brooks consents: "Absolutely that's fine".
After checking Brooks for weapons, the officers then administer a sobriety test, which Brooks reportedly failed.
As they attempt to hand cuff him, a scuffle ensues. According to the Georgia Bureau of Investigation, surveillance footage from Wendy's and witnesses cell phone footage "indicate" Brooks took one of the officers' Tasers during the scuffle. At one point, Brooks, as he flees, appears to fire the Taser at officer Garrett Rolfe, who then fires his gun three times at Brooks, fatally hitting him. 
Anger in Atlanta over fatal shooting of Rayshard Brooks
14:50 GMT – Italians deface statue of journalist who had 12-year-old Eritrean bride
Protesters have scrawled ''rapist'' and ''racist'' on the statue of a late Italian journalist who had acknowledged having had a 12-year-old Eritrean bride while stationed in the Italian colony in the 1930s. 
The statue of Indro Montanelli, inside a Milan park that bears his name, has been a flashpoint in Italy's Black Lives Matters protests, which have put renewed focus on Italy's colonial past. Activists are also pushing for Italy to grant automatic citizenship to those born in Italy to parents who are permanent residents. 
Montanelli, who died in 2001 at 92, was one of Italy's most revered journalists, honored by the Vienna-based International Press Institute in 2000 as among the 50 World Press Freedom Heroes.
14:15 GMT – Berlin demonstrators form human chain in message against racism
Demonstrators are forming a planned 9-kilometer (5 ½-mile) chain in Berlin in a message against racism, among a range of other causes.
Organisers of Sunday's "Indivisible" demonstration were told to require participants to wear masks, and protesters were also asked to maintain social distancing.
They were linked by colored ribbons, forming what organizers called a "ribbon of solidarity" that stretched southeast from the Brandenburg Gate to the Neukoelln neighbourhood. Police said people appeared to be keeping up with safety protocols.
Berlin recently lifted coronavirus-related limits on the number of people who can attend demonstrations, though people are still required to keep at least 1.5 meters (5 feet) apart in public.
13:30 GMT – Family seek answers in death of black man found hanging from tree in California
Amid protests against racial mistreatment and injustice across the US, protestors and the family of a 24-year-old black man found hanging from a tree in Palmdale, California have called for answers. 
On Saturday hundreds of people marched in Palmdale following the death of Robert Fuller who was found hanging from a tree near city hall early Wednesday. During the demonstration, Los Angeles Supervisor Kathryn Barger formally called for an investigation into the death by the state's attorney general.
Authorities initially said the death appeared to be a suicide, but are awaiting the results of an autopsy. 
"Everything that they've been telling us has not been right," Fuller's sister, Diamond Alexander, who was among the protestors said, the New York Times reported. "We've been hearing one thing. Then we hear another. And we just want to know the truth."
"My brother was not suicidal. He wasn't," she added.
---
Hello, this is Joseph Stepansky in Doha taking over from my colleague Linah Alsaafin.
---
12:25 GMT – Fox News apologises for running digitally altered images in Seattle protest coverage
Fox News has apologised for running digitally altered and misleading photos on stories about Seattle's Capitol Hill Autonomous Zone (CHAZ).
The zone had been taken over by protesters after Seattle police abandoned the East Precinct. Fox News website ran a photo of a man standing with an assault rifle in front of a smashed retail storefront, but the image was actually a mash-up of photos taken by different photographers from different days.
On Saturday, Fox issued an apology in an editor's note on its website, sayings its home-page photos "did not clearly delineate" the splicing together of multiple images from different locations. "Fox News regrets these errors," the note stated.
12:00 GMT – Tokyo marches in solidarity with George Floyd protests
Holding handmade signs that read "Black Lives Matter", hundreds of people marched peacefully in Tokyo on Sunday, highlighting the outrage over the death of Floyd.
Mitsuaki Shidara, who works for a food maker, was in the crowd at Yoyogi Park, where the march began. He said Japan has plenty of discrimination problems, but they are overlooked.
"We are all human first, but we are divided by nationality, gender, religion, skin colour," Shidara said, "What's happening in the US shows racism is going on, even after 400 years," said Shidara.
11:40 GMT – Fatal shooting of Rayshard Brooks: What we know so far
The killing of Rayshard Brooks, a 27-year-old Black man, late on Friday outside a fast food restaurant in the US city of Atlanta has triggered protests and forced the city's police chief to resign.
Police were called to the Wendy's restaurant after a complaint that Brooks had fallen asleep in his car while waiting in the drive-through line, the Georgia Bureau of Investigation (GBI), which has opened an inquiry into the shooting, said on Saturday.
The GBI said Brooks failed a sobriety test and police attempted to take him into custody. A struggle between Brooks and the officers over a police Taser followed. 
The GBI initially reported that the father of four, who had celebrated the birthday of his eight-year-old daughter earlier on Friday, was shot during the struggle.
Read more here.
10:48 GMT – Police release footage of struggle before Brooks shooting
The Atlanta Police Department on Sunday released body-camera and dashboard camera footage of the attempted arrest and fatal shooting of Rayshard Brooks outside a fast food restaurant in Georgia's capital on Friday.
Officers Garrett Rolfe and Devin Brosnan attempted to arrest Brooks after questioning him and getting him to perform sobriety tests.
Footage showed Rolfe attempting to put handcuffs on Brooks before a struggle begins.
Dash-cam footage showed Brooks, Brosnan and Rolfe on the floor before a Taser is fired at Brooks. Three gunshots are then heard while the three are off-camera.
Brooks's death sparked protests in Atlanta on Saturday night and the restaurant where Brooks was shot being set alight.
09:55 GMT – Police arrest more than 100 after London Black Lives Matter protests
The British police said they have arrested more than 100 people after protesters, including far-right protesters, clashed with officers in London.
Hundreds of far-right protesters turned out on Saturday, many saying they wanted to "protect" monuments targeted recently by anti-racism protesters for links to slavery and colonialism.
The protests, attended by far-right groups including Britain First, turned violent when some scuffled with riot police and others hurled bottles, flares and smoke grenades at officers. Six police officers suffered minor injuries.
More Black Lives Matter protests are planned on Sunday after rallies in at least a dozen British towns and cities on Saturday, including Newcastle, Bristol, Chelmsford, Canterbury and Brighton.
Read more here.
08:35 GMT – Black Lives Matter protests in New Zealand
Thousands of New Zealanders turned out to Black Lives Matter protests in Auckland and Wellington on Sunday.
In Auckland, the protest ended at the US consulate, where protesters took a knee and observed a minute's silence to commemorate George Floyd, who died at the hands of Minneapolis police last month. In Wellington, the capital, protesters marched to the grounds of Parliament, chanting "Black Lives Matter" and holding placards with slogans like "Racism is a pandemic, let's fight it!"
Andrew Little, the country's justice minister, spoke to the crowd outside Parliament, saying politicians and people needed to demand improved outcomes for Indigenous Maori.
08:11 GMT – Australian prime minister apologises over slavery comments
Scott Morrison has apologised for denying his country's history with slavery, saying he was referring to the settlement of the first colony.
His remarks have angered some Indigenous Australians as well as descendants of Pacific Islanders who say their ancestors worked for little or no pay on sugar plantations.
"The comments I was referring to was how the first colony, New South Wales, was first established," he said in a news conference in Canberra.
Dominic O'Sullivan from the Charles Sturt University said many Australians are not aware of their past.
"Australia has a habit of forgetting those bits of its history it doesn't like, that could cause tension or embarrassment," he said.
"While Morrison's initial comment about denying the history of was simply a mistake, the fact that he retracted it so quickly was a sign that he had realised that he really couldn't defend his position because what he said was not true and the evidence that it is not true is compelling."
07:33 GMT – Atlanta officer fired after fatal shooting of Black man
An Atlanta police officer was fired following the fatal shooting of  Rayshard Brooks, a Black man, and another officer was placed on administrative duty, the police department announced early on Sunday.
The moves follow the resignation of Atlanta police chief Erika Shields, who stepped down as the Friday night killing of Brooks, 27, sparked a new wave of protests in Atlanta after turbulent demonstrations that followed the death of George Floyd in Minneapolis had simmered down.
The terminated officer was identified as Garrett Rolfe, who was hired in October 2013, and the officer placed on administrative duty is Devin Bronsan, who was hired in September 2018.
The police department also released body camera and dash-camera footage from both officers.
L Chris Stewart, a lawyer for Brooks's family, said the officer who shot him should be charged for "unjustified use of deadly force, which equals murder".
07:15 GMT – New Orleans protesters pull down bust, throw it in river
Protesters tore down a bust of slave owner John McDonogh – who left part of his fortune to New Orleans' schools – and then took the remains to the Mississippi River and rolled it down the banks into the water.
The destruction is part of a nationwide effort to remove monuments to the Confederacy or with links to slavery as the country grapples with widespread protests against police brutality towards African Americans.
Police said in a statement that demonstrators at Duncan Plaza, which is across the street from City Hall, dragged the bust into the streets, loaded it onto trucks and took it to the Mississippi River where they threw it in.
When he died, McDonogh left a large portion of his money to New Orleans and Baltimore for schools, and many schools in New Orleans are named after him. The McDonogh Day celebration, in which schoolchildren across the city laid flowers at a different monument to McDonogh, was racially segregated and became the subject of boycotts in the 1950s, as African American children would have to wait for hours for white children to lay their flowers first.
06:55 GMT – More than 10,000 demonstrate against racism in Zurich
Demonstrators took to the streets of several Swiss cities to protest against racism, the news agency Keystone-SDA reported.
In Zurich alone, more than 10,000 people demonstrated Keystone-SDA reported, citing city police.
The mostly young protesters held up signs with slogans taken from anti-racism and anti-police brutality rallies in the US including "White silence is violence" and "Black lives matter".
Protesters also met in the capital Bern, Lausanne, and in St Gallen. During the demonstration in Zurich, people knelt several times to commemorate the brutal incident.
Hello, this is Linah Alsaafin taking over the blog in Doha from my colleagues in Kuala Lumpur.
05:35 GMT – US embassy in South Korea displays Black Lives Matter banner
The US embassy in Seoul draped a huge Black Lives Matter banner on its mission building and tweeted a picture of it in support of an anti-racism campaign across America.
"The US Embassy stands in solidarity with fellow Americans grieving and peacefully protesting to demand positive change. Our #BlackLivesMatter banner shows our support for the fight against racial injustice and police brutality as we strive to be a more inclusive just society," the embassy tweeted, along with the picture of the banner in black and white.
US Ambassador to South Korea Harry Harris retweeted the message, adding "USA is a free and diverse nation … from that diversity we gain our strength."
No comment was immediately available from the embassy on Sunday.
I believe in what President JFK said on June 10, 1963 at American University: "If we cannot now end our differences, at least we can help make the world safe for diversity." USA is a free & diverse nation…from that diversity we gain our strength. https://t.co/vpk2NbFoWl


— Harry Harris (@USAmbROK) June 13, 2020
04:14 GMT – Protesters burn down Wendy's in Atlanta where Black man was slain
Protesters have shut down a major highway in the US city of Atlanta and set fire to a Wendy's restaurant where a Black man was shot by police as he tried to escape arrest in an incident caught on video and expected to fuel more nationwide demonstrations.
The unrest broke out after dark in Atlanta where, earlier in the day, Mayor Keisha Lance Bottoms said she had accepted the prompt resignation of police chief Erika Shields over the death on Friday night of 27-year-old Rayshard Brooks at the restaurant.
Images on local television showed the restaurant in flames for more than 45 minutes before fire crews arrived to extinguish the blaze, protected by a line of police officers. By that time, the building had been reduced to charred rubble next to a gas station.
GBI released video that shows the moment Rayshard Brooks was shot and killed by an Atlanta Police officer at a Wendys on University Ave last night. Police say Brooks had taken an officer's taser and pointed it at the officer as he ran. pic.twitter.com/1G8fn03gFV


— Matt Johnson (@MattWSB) June 13, 2020
04:00 GMT – Missouri police chief on leave over inflammatory posts
A rural Missouri police chief has been placed on leave over inflammatory Facebook posts about protests over the death of George Floyd.
Keven Suedmeyer, police chief in Auxvasse, about 56 kilometres (35 miles) northeast of Jefferson City, was placed on administrative leave pending the outcome of an investigation, Mayor Tom Henage said Friday.
"Racism is not condoned or tolerated by the City of Auxvasse," Henage said in a news release. When asked by the Jefferson City News-Tribune if that meant he considered the posts, which were on Suedmeyer's personal Facebook page, to be racist, Henage said he did not.
Suedmeyer's home phone rang unanswered Saturday when The Associated Press tried to call him for comment.
In a May 31 post, Suedmeyer wrote that if someone stands in the street blocking traffic, that person deserves "to be run over. That will help cleanup the gene pool."
When Will Shackelford, a candidate for Callaway County western district commissioner, responded, "Have you come across any road blocks?", Suedmeyer wrote, "Nope (and) I certainly won't stop for them – though if they insist – I'll identify myself – they can back down or get shot."
On June 2, he wrote: "Corona virus coming to rioters everywhere Darwin – work your magic Time to ramp up the funeral industry." A city alderman, Bret Barnes, was among Suedmeyer's friends who hit "like" on the post.