Tunisia increasingly isolated under Saied as US loses interest | News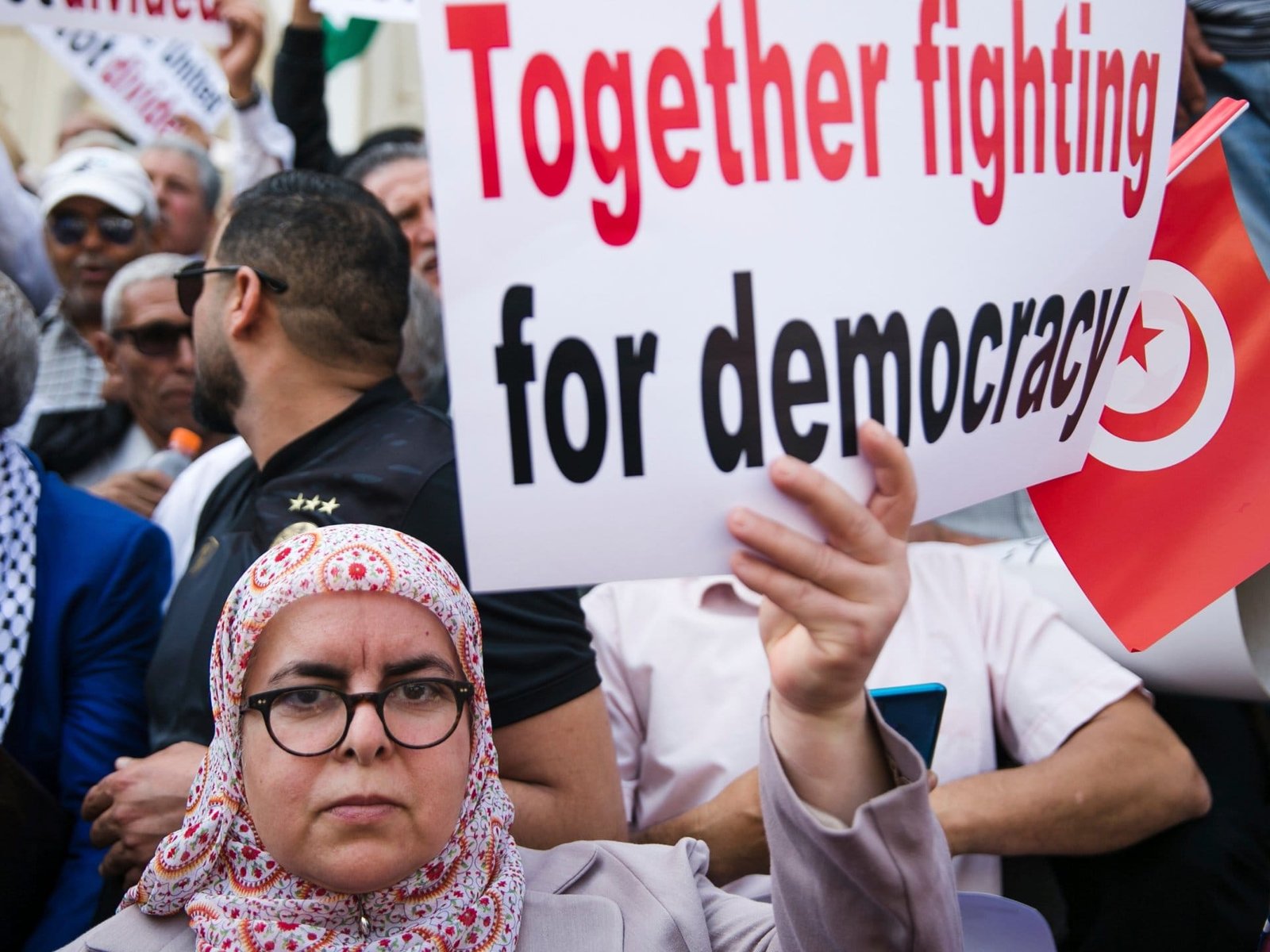 Tunis, Tunisia – The United States has slashed its military and civilian aid to Tunisia. A desperately needed $1.9bn International Monetary Fund loan continues to be delayed with the possibility of a US veto. And an almost $500m grant from the Millennium Challenge Corporation, a US aid agency, is unlikely to proceed.
The main reason, according to analysts: Tunisia's increasingly authoritarian drift under President Kais Saied, which is contributing to the North African country's increased international isolation.
Cash-strapped Tunisia is losing funding at a time when it needs friends to help pull it up from an entrenched economic nosedive.
"The president has spoiled or in some ways has destroyed the image of Tunisia as the one Arab Spring success story," said Kenneth Katzman, senior fellow at the Soufan Centre think tank and recently retired from the US Congressional Research Service. "If you do that, you pay a price."
The reduction in US funding in particular, from $88.9m in 2021 to $55.2m in 2022 and further cuts expected this year, is a big blow to Tunisia, a sign of the shifting winds in international perceptions of the country and Saied's own increasingly precarious position.
Since Tunisia's revolution in 2011, which overthrew long-term leader Zine El Abidine Ben Ali and ushered in what appeared to be the Arab world's strongest democracy, the US has been one of its biggest foreign donors, giving hundreds of millions of dollars.
However, Saied's policies during his presidency have changed US and international attitudes.
Most notable was his decision to suspend parliament and unilaterally dissolve the government in July 2021 before ruling by decree and introducing a new constitution that entrenches power in the president's hands.
Saied's governance choices have effectively killed off chances of the Millennium Challenge Corporation grant being given to Tunisia in the near term despite it being awarded to the country in June 2021. The grant was awarded on the basis of Tunisia adhering to "democratic governance and equitable prosperity".
The funds had been earmarked for development and infrastructure projects such as the digitisation of the port of Rades.
Saied rarely travels but used the opportunity of recent international summits to try to win friends and favour. However, he returned largely empty-handed and arguably even more isolated.
And it is not just the West losing interest. According to Monica Marks, professor of Middle East politics at New York University Abu Dhabi, Saied also failed to secure funding from Saudi Arabia during a visit to Riyadh as part of the Arab-China summit in December.
"Many experts say that Gulf powers would have bailed Saied out post-coup had [the situation] been like [Egyptian President Abdel Fattah] el-Sisi in 2013, but we are not in 2013 any more, and Gulf powers are more cautious with their money," Marks said, comparing Saied's current position with the 2013 coup in Egypt, after which Gulf countries such as Saudi Arabia and the United Arab Emirates stepped in to provide funding for Egypt.
"The problem that Saied has with communication and his utter lack of diplomatic finesse has proven to be a problem," Marks said. "The economy is his Achilles heel, and it's rapidly turning gangrenous."
"Gulf powers are wondering if he is a useful ally or an agent of chaos and want a return on investment," Marks added. "It seems that Saudi has tethered financial support for Saied to an IMF bailout" that may not come because the "IMF wisely does not want to throw cash at a new dictator without some semblance that Tunisia is making its preferred reforms".
Military balancing act
Saied's difficulties were illustrated in the record low turnout for December 17 parliamentary elections. Many Tunisians regard the legislature as impotent after Saied's constitutional changes.
Saied has chosen to respond to that setback by increasingly attacking his political rivals, who he has labelled the "enemies of democracy in Tunisia" and had himself filmed lecturing his cabinet and military chiefs of staff.
But Katzman said not everyone believes that aid to Tunisia should be tied to Saied's political decisions.
"Some Tunisia experts feel that is not the right way to go," he said. "There's a core civil society that is still very active, and if you scale back your assistance to them, you make it [the political situation] worse."
Katzman added that the US was "giving just enough money to keep these things going and not totally cut off everybody that we are working with there, but there is an intent to send a signal to the president that he is a disappointment".
The Tunisian military will still receive a significant amount of US funding, rising to 60 percent of Washington's spending in the country.
The military's reputation as a depoliticised institution increased as a result of the 2011 revolution and its decision not to intervene to prop up Ben Ali.
Since then, foreign funding has flowed in for it.
However, military leaders have been present and sat quietly during Saied's major speeches, including in March when he dissolved parliament, and in December when he referred to his opponents as "enemies of the country" who would face justice.
The military now fears "reprisals" from the public for its tacit support of the president "if Saied's regime falls", according to Chaima Aissa of the opposition National Salvation Front.
But the US Department of Defense still feels compelled to support Tunisia's military.
"The Pentagon, which has been very loud on Tunisia lately in US politics, wants major non-NATO allies to be able to do joint exercises," said William Lawrence, professor of political science and international affairs at American University in Washington and a former diplomat. "They want a partner who is a true partner, but if you cut the military funding too much, the Tunisian army won't be able to function."
Powerful union
In the absence of the IMF bailout loan, Tunisia's Central Bank has implemented financial measures, including raising interest rates to 8 percent, that further diminish the spending power of Tunisians.
The 2023 Finance Law has also been widely criticised with the National Association of Lawyers describing it as "a heavy burden to citizens". The law introduces higher taxes to bring in much needed revenue for the government but at the expense of Tunisians struggling to make ends meet rather than going after those who are evading tax.
With the economy so far showing few signs of improvement and many of the policies implemented by Saied poorly received by many Tunisians, the president is in a precarious position.
The powerful UGTT labour union initially supported Saied's power grab but appears to have turned its back on the president and has taken an increasingly confrontational stance, including national strikes.
Its acquiescence to Saied's agenda is particularly important to the IMF, which would expect the body with more than a million members to buy into the economic reforms it has requested.
But over the past week, the UGTT began talks with the Tunisian Bar Association and the League of Human Rights, both of which have been prominent opponents of Saied.
The union is now planning to participate in demonstrations on Saturday, the anniversary of the 2011 overthrow of Ben Ali.
And with two more days of national transport strikes also expected at the end of January, it is clear that the UGTT is ramping up its opposition to Saied.
"The UGTT have started a process of talks [with opposition groups]," Marks said. "If the UGTT starts a national dialogue, Saied knows that this would tip the balance [against him]."