Sudanese flee to Egypt as Cairo works to avoid 'refugee crisis' | News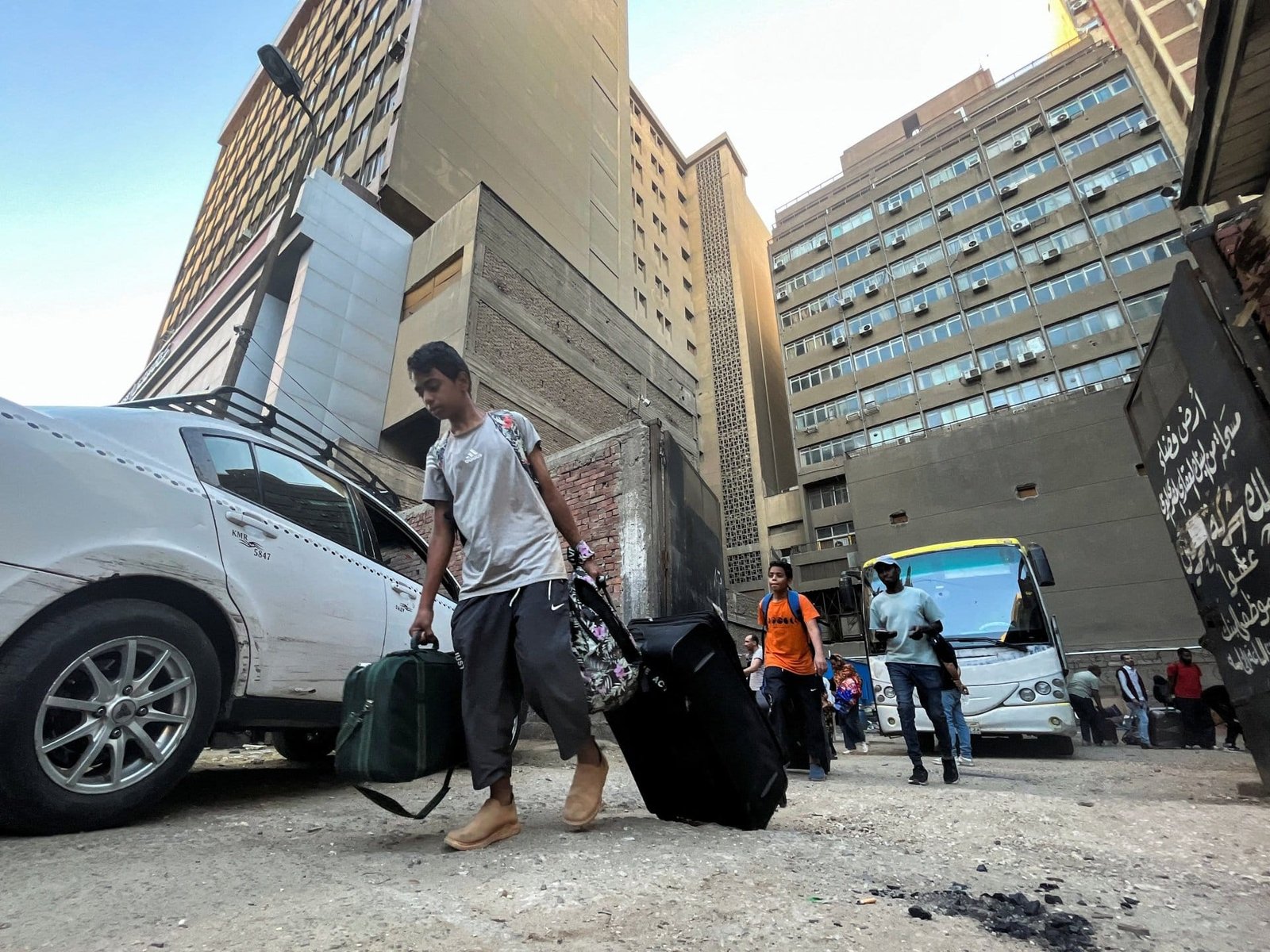 As tens of thousands of Sudanese people stream north over the border into Egypt fleeing violence, stories of days-long delays at the border are emerging, with travellers suffering in the heat without food, water, or shelter.
But, observers say, the mass exodus developing into a refugee crisis for Egypt seems unlikely, for now.
Sudan erupted into violence two weeks ago as the army, led by General Abdel Fattah al-Burhan, and the paramilitary Rapid Support Forces (RSF), spearheaded by General Mohamed Hamdan "Hemedti" Dagalo, attacked each other with helpless civilians caught in the crossfire.
Fighter jets thundered overhead as foreign governments and international organisations evacuated their citizens and foreign staff and Sudanese people began moving to the borders to escape.
Late on Friday, United Nations High Commissioner for Refugees Filippo Grandi tweeted that an estimated 50,000 people had fled Sudan to Egypt, Chad, South Sudan, and the Central African Republic – and the numbers were expected to grow.
UNHCR estimates that more than 50,000 people have now fled Sudan to Chad, Egypt, South Sudan and the Central African Republic — this includes Sudanese nationals and refugees forced to return to their countries by the ongoing fighting.

The outflow will grow unless violence stops.

— Filippo Grandi (@FilippoGrandi) April 28, 2023
Chaos or controlled access?
There are two border crossings into Egypt, Argeen and Qustul-Ashkit in Wadi Halfa, and they are on the west and east banks of Nubia Lake, respectively. All males between the ages of 17 and 49 have been told to go to Halfa to apply for an Egyptian visa at the consulate there.
Women and males younger than 17 and older than 49 can cross at Argeen without visas, meaning many families are separated and have to wait in Argeen for their male relatives to get through.
"We faced a lot of problems because my son was over the age and needed a visa, which took maybe a whole day," Mostafa, who asked to be identified by only first name, told Al Jazeera shortly after he arrived in the southern Egyptian city of Aswan with his wife and four children.
But once that hurdle was cleared, Mostafa and his family did not foresee any issues in Egypt as they could afford to move around there.
The processing on the Egyptian side is slow, with some people waiting for days to hear their names called so they can proceed into the country. An Egyptian journalist, who spoke to Al Jazeera on condition of anonymity, said such slowdowns are an indication that extra caution is being taken to check everyone coming through.
The government has announced the formation of a crisis task force to monitor the situation with members from the ministries of defence, interior and foreign affairs, as well as General Intelligence.
The Sudanese side of the border crossing has no facilities for the travellers and the Egyptian side has only the Egyptian Red Crescent helping people as the government has reportedly not authorised any other bodies to work at the border.
An Egyptian human rights lawyer, who spoke to Al Jazeera on condition of anonymity, said civil society groups were gearing up to help the arrivals but they were waiting for government permission.
There has been no official confirmation, but observers say the UN has concluded consultations with the Egyptian government and is in Aswan to assess needs in the south.
Christine Bishay, UNHCR spokeswoman, said in an email the UN will be supporting "those in need with lifesaving relief items that will be delivered through the Egyptian Red Crescent teams at the borders". Among the relief to be offered are "water and hygiene items, transportation and medical assistance".
Expensive journeys
The travellers who get to Egypt are relatively well-off and can afford the steeply inflated price for their passage north. Al Jazeera was told by a middle-aged Sudanese woman waiting for a train at Aswan station that some bus owners had raised the cost of one ticket from the Sudanese capital, Khartoum, to Aswan from $100 to $400-$600.
After having to pay for herself and three family members to get into Egypt, she was surprised to be dropped off at the Wadi Karkar station, where they had to pay nine times the usual price for tickets to Aswan, 15 minutes away.
The expenses do not end when they arrive in Aswan, as nearly all the arrivals move onwards to the Egyptian capital by train or bus where they have plans to fly to other countries, or have homes or family. While the train station is busy during the departure hours, there are no people left sleeping in the station or on the streets of Aswan overnight and all hotels in the city are at full capacity.
Some hotels in the Nubian village on Aswan's west bank of the Nile have offered sharp discounts for Sudanese travellers out of a sense of Nubian solidarity between the people of southern Egypt and northern Sudan, their management told Al Jazeera.
While some travellers were unwell because they had run out of medication for chronic conditions such as diabetes, they had the financial means to buy them and were soon on the mend.
The journalist said once travellers get past the border crossing, the situation in Egypt is not what is typically expected of a "refugee crisis", nor does the Egyptian government want it to develop in that direction over security concerns.
The government will not want to provide open access for people crossing the border, and it will not be willing to set up camps, the journalist said.
Other than traveller narratives, there is little information coming from the areas south of Aswan and Egyptian journalists have just received permits to go there, but the situation is expected to become clearer over the coming days.