South Korea, Iran summon each other's envoys over 'enemy' comment | Nuclear Weapons News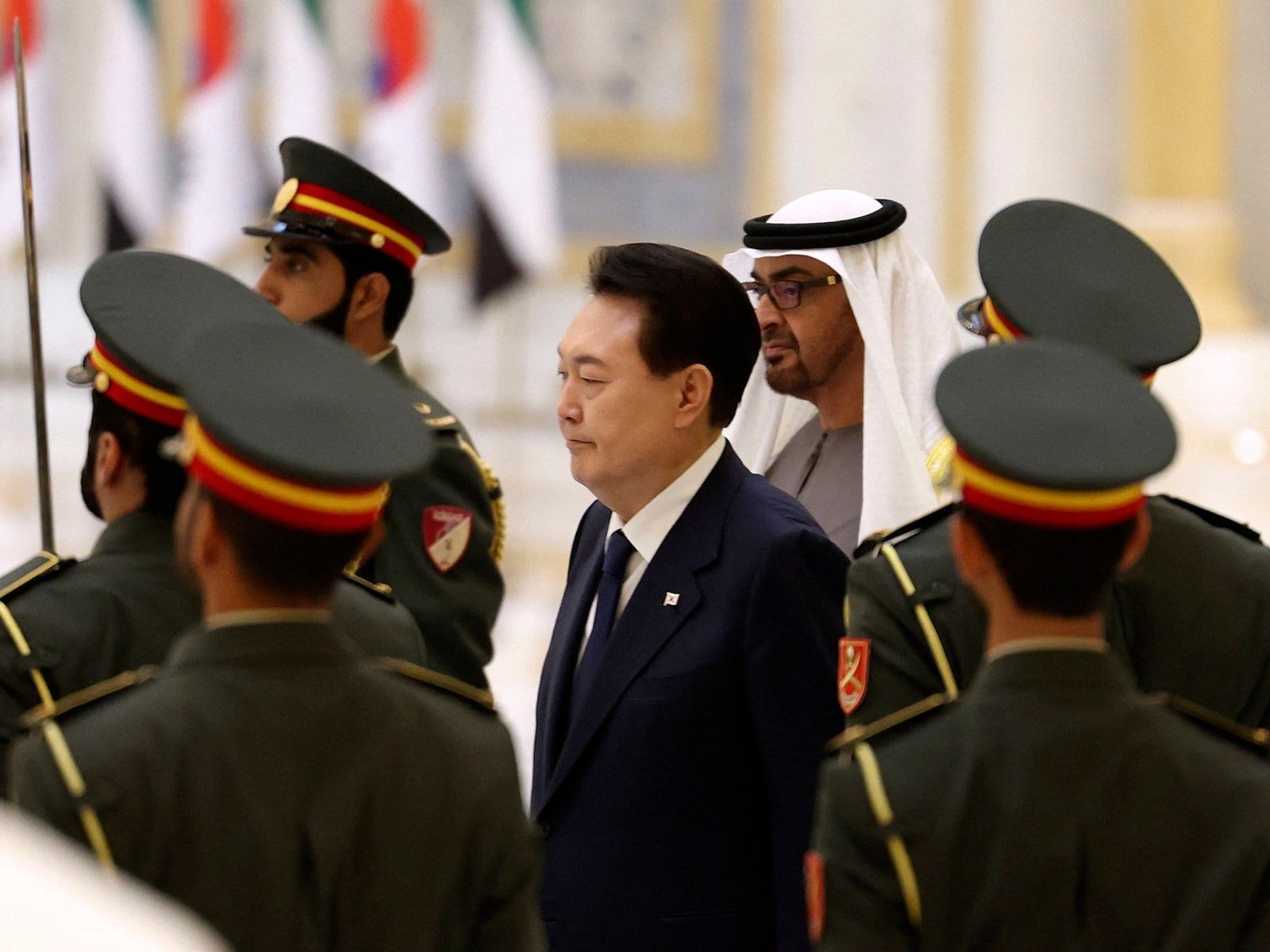 South Korean President Yoon Suk-yeol's description of Iran as an 'enemy' of the United Arab Emirates has angered Tehran.
South Korea and Iran have summoned each other's ambassadors in a diplomatic dispute triggered by South Korean President Yoon Suk-yeol describing Tehran as the "enemy" of the United Arab Emirates and comparable to the threat posed by North Korea.
While visiting South Korean special forces stationed in Abu Dhabi on Monday, Yoon described the UAE as a "brother nation" of South Korea tied by growing economic and military cooperation.
Yoon then compared the threat UAE supposedly faces from Iran to the threat South Korea faces from nuclear-armed North Korea.
"The enemy of the UAE, its most-threatening nation, is Iran, and our enemy is North Korea," Yoon said.
Yoon's remarks triggered a stiff response from Iran's foreign ministry, which said it was investigating Yoon's "interfering statements".
Iran's deputy foreign minister on legal affairs, Reza Najafi, summoned the South Korean ambassador on Wednesday to protest against Yoon's remarks, Iran's official IRNA news agency said.
Najafi also accused Seoul of pursuing an "unfriendly approach" towards Iran, and noted the issue of Iranian funds frozen in South Korean banks. Iran has repeatedly demanded that Seoul release some $7bn of its funds frozen under US sanctions.
On Thursday, South Korea's First Vice Foreign Minister Cho Hyun-dong called in Iranian ambassador Saeed Badamchi Shabestari to explain Seoul's stance "once again", ministry spokesperson Lim Soo-suk said in a briefing.
"As we explained several times, [Yoon's] reported comments were meant to encourage our troops serving their duties in the UAE, and had nothing to do with Iran's foreign relations, including South Korea-Iran relations," Lim said.
"Our government's will to develop relations with Iran remains unchanged," he said.
According to South Korea's Yonhap News Agency, the foreign ministry in Seoul had stressed that Yoon's comments were "irrelevant" to Seoul-Tehran relations, and also urged Iran against "unnecessary overinterpretation".
Described by Yoon's political opponents in South Korea as "diplomatically disastrous", the spat comes as the UAE attempts to manage its relationship with Iran, which is an important business partner.
The UAE is also home to about 3,500 American soldiers and has spent billions of dollars buying South Korean surface-to-air missile systems as a means to protect itself against aerial attacks. Those threats include long-range drone attacks by Yemen's Iran-backed Houthi rebels.
South Korea was once one of Iran's biggest crude buyers in Asia and has now found itself squeezed by the tensions over Iran's collapsed nuclear deal with world powers. Billions of dollars in Iranian funds remain frozen in South Korean banks after Washington reimposed sanctions on Tehran in 2018.
Iran held a South Korean oil tanker for months in 2021 amid the dispute. Both sides have been in talks over ways to unfreeze the funds and resume the oil trade.