Saudi foreign minister arrives in Tehran amid warming ties | Politics News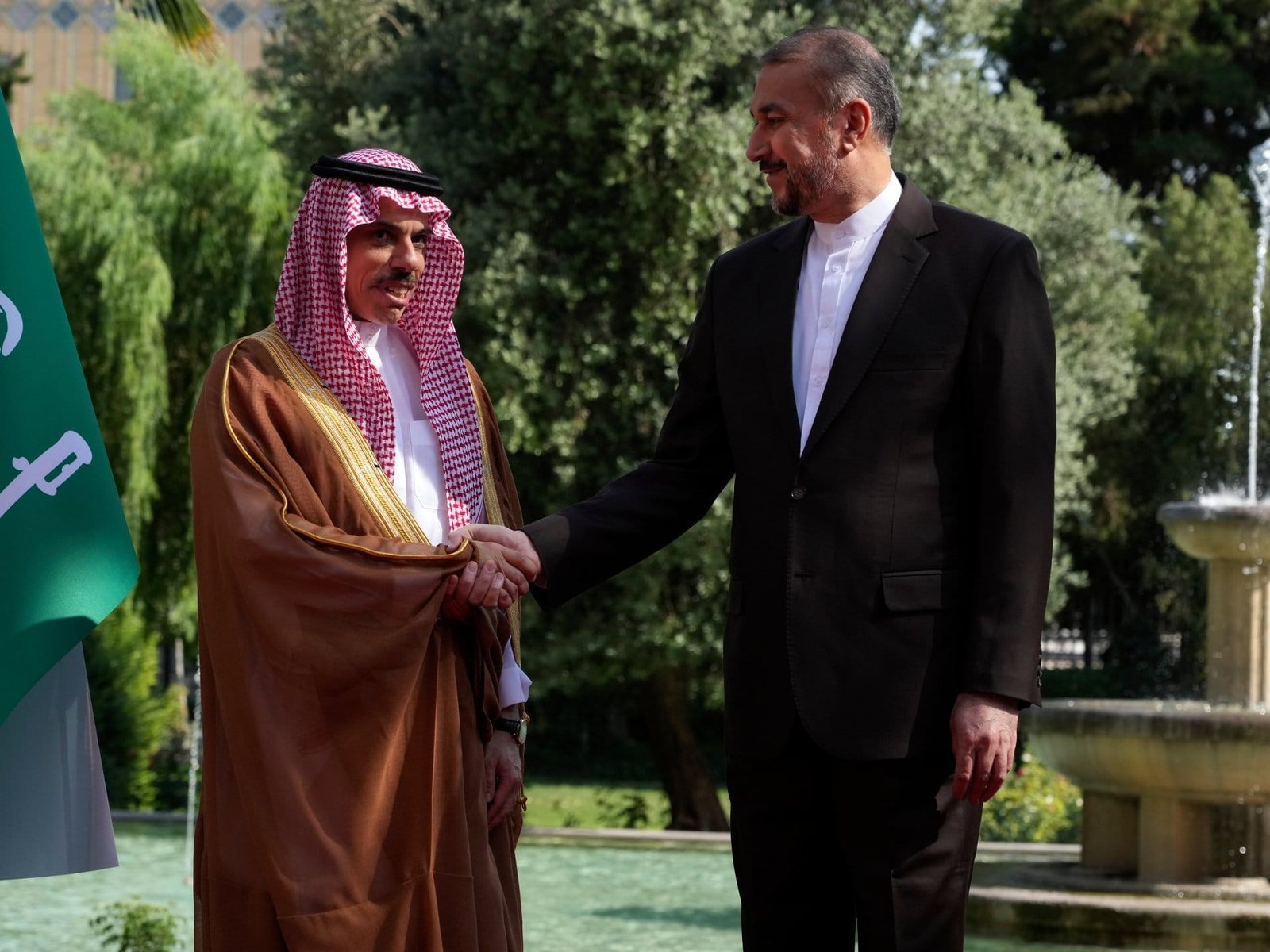 This is the first visit by a Saudi official to Tehran in more than seven years.
Tehran, Iran – Saudi Foreign Minister Prince Faisal bin Farhan Al Saud has arrived in Tehran as Iran and the kingdom continue to develop their relations after restoring formal diplomatic ties in March.
Iranian Foreign Minister Hossein Amirabdollahian welcomed his Saudi counterpart ahead of bilateral talks and a press conference scheduled for later on Saturday.
The Saudi minister may reportedly also have a meeting with Iranian President Ebrahim Raisi, who has just finished a tour of Latin America.
Amirabdollahian and bin Farhan had last met in early June in South Africa on the sidelines of a meeting of BRICS, the economic bloc consisting of Brazil, Russia, India, China and South Africa.
But this is the first visit by a Saudi official to Iran since 2016, when Riyadh broke diplomatic relations after its diplomatic missions in Tehran and Mashhad were attacked after it executed a Shia religious leader in Saudi Arabia.
Tehran and Riyadh had agreed to reopen their embassies within two months as part of a China-brokered deal signed in Beijing on March 10, but while diplomatic relations have been restored, reopening the embassy buildings has proved more challenging.
Iran reopened its embassy in Riyadh on June 6, followed by its consulate general in Jeddah and its mission to the Organisation of Islamic Cooperation (OIC) a day later.
Tehran has reportedly selected Alireza Enayati, a former envoy to Kuwait and a foreign ministry deputy for regional affairs, as its ambassador to the kingdom. But Enayati was absent at the reopening ceremony, and Iran has not confirmed that he has started work at the embassy in Riyadh.
The Iranian embassy was inaugurated by Alireza Bigdeli, a deputy foreign minister for consular affairs, who said "We are witnessing the opening of a new chapter in bilateral and regional relations."
Meanwhile, it is unclear when the Saudi embassy will be reopened. Amirabdollahian had previously said Saudi Arabia has selected an ambassador to Tehran, but the kingdom has yet to publicly confirm his identity.
Unconfirmed reports indicate a Saudi team has been operating out of a luxury hotel in the Iranian capital for weeks as both sides work on officially reopening the embassy buildings.
The Saudi foreign minister's visit to Tehran comes a week after United States Secretary of State Antony Blinken travelled to Riyadh for high-level talks.
Shortly after, it was confirmed that Iraq has been able to repay a considerable $2.7bn of its debts to Iran incurred from importing natural gas.
The US had previously blocked the money based on the sanctions it unilaterally imposed on Iran after President Donald Trump's 2018 withdrawal from the 2015 nuclear deal. Washington has said the funds can only be used "for humanitarian and other non-sanctionable transactions".
Part of the money was allocated for the expenses of Iranian pilgrims attending the Hajj in Saudi Arabia, while 80 million euros ($87m) was reportedly sent to the Iranian mission at the Jeddah-based Islamic Development Bank.
Meanwhile, media reports indicate Iran and the US have been holding indirect talks in Oman aimed at reducing tensions, which could potentially lead to results on Tehran's nuclear programme, an exchange of prisoners and the release of frozen Iranian funds.
At the same time, the agreement between Iran and Saudi Arabia has begun decreasing tensions across the region, including in Yemen where the two had backed opposing sides in the devastating war. Syrian President Bashar al-Assad, who was backed by Tehran, was welcomed back into the Arab League last month. Saudi Arabia, along with several other Arab states, had thrown their weight behind the opposition in Syria.