QC Chairman attends signing of a Qatari-Turkish partnership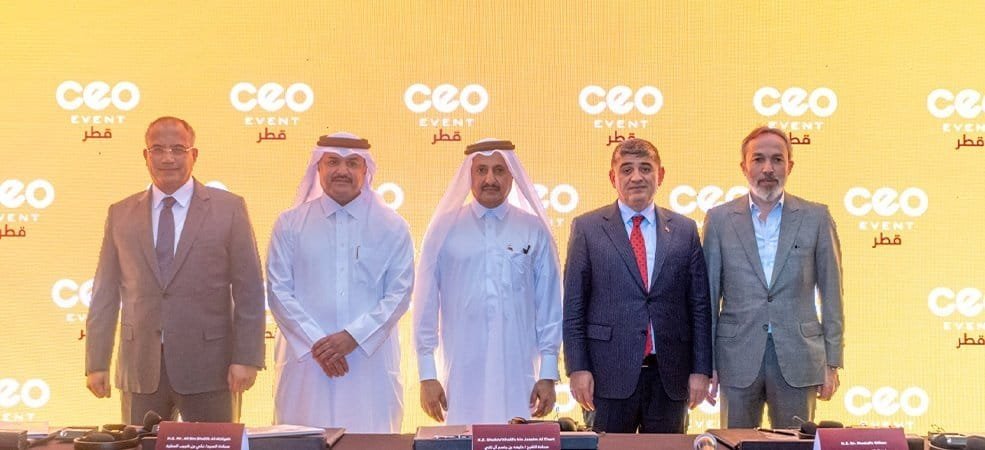 Qatar Chamber Chairman HE Sheikh Khalifa bin Jassim Al Thani and HE Ambassador of the Republic of Turkey to Qatar Dr Mustafa Goksu recently attended the signing ceremony of the establishment of a Qatari-Turkish partnership under the name CEO Event Qatar company, which is specialized in managing events and conferences.
The agreement was signed by Ali bin Shabib Al-Attiyah, a Qatari businessman, and from the Turkish side, Cevat Olcok, President of the Board of CEO Event Turkey Co.
The ceremony was also attended by Dr. Mourad Aly, an expert and consultant in strategic management and media campaign management, alongside with several businessmen from both sides.
Commenting on the agreement, HE Sheikh Khalifa praised the new partnership, stressing the Qatar Chamber's support for such alliances between Qatari and Turkish firms.
HE also noted that relations between Qatar and Turkey have witnessed great development over the recent years, which reflected on the cooperation between both countries' business sectors.
QC Chairman expressed his hope that the new company constitutes a new addition to the Qatari market, indicating that there are hundreds of Turkish-Qatari companies that have been established in Qatar within the past few years, stressing the vital role they perform in the economic activity.
On his part, Ali Al-Attiyah said that we are very happy to sign the founding contract of CEO Event, the global Turkish company specialized in managing events and conferences, which seeks to enter the Qatari market and benefit from its expertise, especially since Qatar is coming. To organize several events in the country and the upcoming World Cup and what awaits the world of various and impressive events.
Al-Attiyah added: " We are confident of signing this partnership and that the Qatari market needs Turkish expertise in this field, noting that this agreement is an important step in the context of our journey to organize and supervise special events with the start of the 2022 World Cup in Qatar, which requires building talents and capabilities to Global level, cooperating in all operational areas with global talents that we will see on the field."
Al-Attiyah explained that the partnerships we are building today aim to support our efforts to build a legacy that will contribute to supporting social and economic development in Qatar, especially in the field of event management in a new way, and this is what we seek in our strategy in the coming period.
For his part, Cevat Olcok said: "We had executed many successful events in Turkey and abroad for many years, when we want to extend our experience outside the country, our brother country Qatar step up as the first choice. We are happy to open and establish a new partnership in Qatar. We strive to provide a new addition in the Qatari market, especially since Qatar is a huge and large market in the world of events and conferences."
He also noted that the new company will provide all expertise in the field of event management, including various areas of sports management and the organization of major events such as governance, planning, financing, marketing and communication, media, and professional practice.
In turn, Dr. Mourad Aly said that the Qatari market needs the presence of international companies such as CEO Event in managing events and conferences, noting that the presence of Turkish companies in Qatar would contribute to the state's economic diversification.
It is worth noting that CEO Event was established in 2006 by an experienced team who wanted to transfer their expertise in the field of advertising and political communication to the field of event management. CEO Event redefined the concept of "events" in Turkey through its performance since its inception. It has enjoyed an international reputation in event management in the world. Where it has gained several clients in the world in addition to establishing a new concept away from traditional concepts.
CEO Event has managed to organize several international and international events and conferences, the World Humanitarian Summit (the biggest conference held by UN outside USA), NATO Foreign Ministers Meeting,  World Energy Congress, Extraordinary session of the Islamic Summit Conference of the Organization of Islamic Cooperation and Conference on Mediation in Istanbul.