Natural Cork Crossbody Bag, Boshiho Women Vegan Handbag Cork Clutch Wallet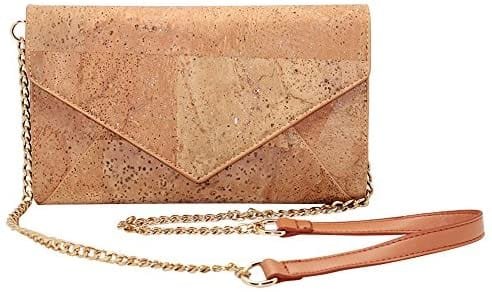 Price: $39.99
(as of Sep 10, 2021 15:09:40 UTC – Details)
Product Description
Boshiho Cork Crossbody Handbag Vegan Clutch Bag

Features: Boshiho Womens Cork Crossbody Handbag is a cool and stylish handbag to carry around and receive great positive comments. Made from natural vegan material – Cork (leather free), No animal products used, 100% animal free. Eye catching material. Soft, flexible and durable. Magnetic buckle closure designed for the safety of your property. Detachable gold chain. Light weight, perfect for travel Dimension approx.: 10.2 x 5.9 x 1.6 inch / 26 x 15 x 4cm
CROSSBODY BAG – TWO COLORS
Popular styles and individuality, suitable for daily-use, such as shopping, dating, party nights and so on.
NATURAL CORK MATERIAL
It is made from cork harvested from oak trees by using the shavings meaning the tree is not cut down and therefore a great sustainable resource. Cork is flexible but sturdy whilst durable.
STRUCTURE
One main pocket for wallet, cell phone and small stuffs, an inside pocket and one interior zipper pocket
Gift Idea for Vegan and Vegetarians

FAQ'S OF THE CORK MATERIAL (Frequently asked questions)

1 – Cork? Is it real cork?
Yes, it is real cork, it is cork fabric, it feels like leather but it comes from the cork oak tree instead of an animal
2 – How DURABLE are cork products? Cork products will last very long, we can compare them to a great quality leather goods
3 – How does it FEEL like? It's cork, is it like wood? Cork comes from the tree but cork fabric is very soft, silky touch and very comfortable to use/wear, yet with a rustic and amazing look
4 – Are Boshiho products GREEN? Yes, they are. They are handmade with cork fabric. Cork is natural, renewable and a sustainable raw material
5 – Is it suitable for VEGANS? Yes, it is suitable for vegans and vegetarians. It is 100% leather-free, no animal products are used
6 – I'm looking for a UNIQUE gift. Is it ONE-OF-A-KIND? Yes, it certainly is one-of-a-kind gift. Due to nature of cork, every single product is different and unique, grain and color may slightly differ from one to another
Is Discontinued By Manufacturer‏:‎No
Package Dimensions‏:‎12.09 x 8.82 x 2.09 inches; 1.05 Pounds
Item model number‏:‎BOSHIHO-CORK-HANDBAG-0254
Department‏:‎Womens
Date First Available‏:‎May 16, 2017
ASIN‏:‎B071LD25KD
100% Cork
Eco-friendly material, made from soft, flexible and durable cork. Ideal gift for vegan and vegetarians
One main pocket for wallet, cell phone and small stuffs, an inside pocket and one interior zipper pocket
Magnetic buckle closure designed for the safety of your property, with Gold tone detachable chain strap
Light weight, perfect for travel, easy to clean with cloth and water
Dimension approx.: 10.2 x 5.9 x 1.6 inch