Kozhikode Pravassi Association Qatar (KPAQ) organises medical camp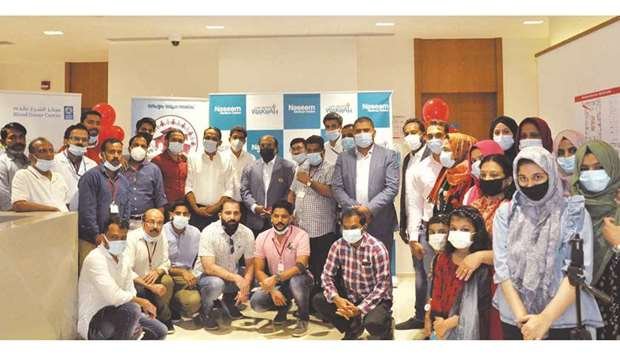 A blood donation and medical camp was recently organised by Kozhikode Pravassi Association Qatar (KPAQ) in collaboration with Naseem Al Rabeeh Healthcare and Hamad Medical Corporation at the Naseem Al Rabeeh Al Wakrah branch.
The camp was organised with the aim of providing relief to those suffering from various health problems during the coronavirus period. It included examinations by ENT, dental, paediatric, internal medicine and eye specialists. Participants were given free medicine and a discounted health card as part of the medical camp, along with cholesterol, diabetic tests and flu vaccine. As many as 75 people donated blood at the camp.
ICBF president P N Babu Raj and KPAQ president Vasu Vanimel officially inaugurated the camp. General secretary Gafoor Calicut delivered the welcome address. Mohamed Arif from Naseem Al Rabeh Healthcare and social worker Rauf Kondotty also spoke on the occasion.
During the ceremony, women's wing convener Femi Gafoor handed over the KPAQ premier membership to Dr Reena and Vasu Vanimel handed over the membership to Dr Somasundaram.
Naseem Healthcare's memento was handed over to corporation relations manager Mohamed Arif, Hamad Medical Corporation Blood in-charge Dr Mohamed Russell, Dr Somasundaram, Vasu Vanimel, Wakrah branch manager Riyaz Khan and P N Babu Raj.