Guinea President invites Qatari businessmen to invest in his country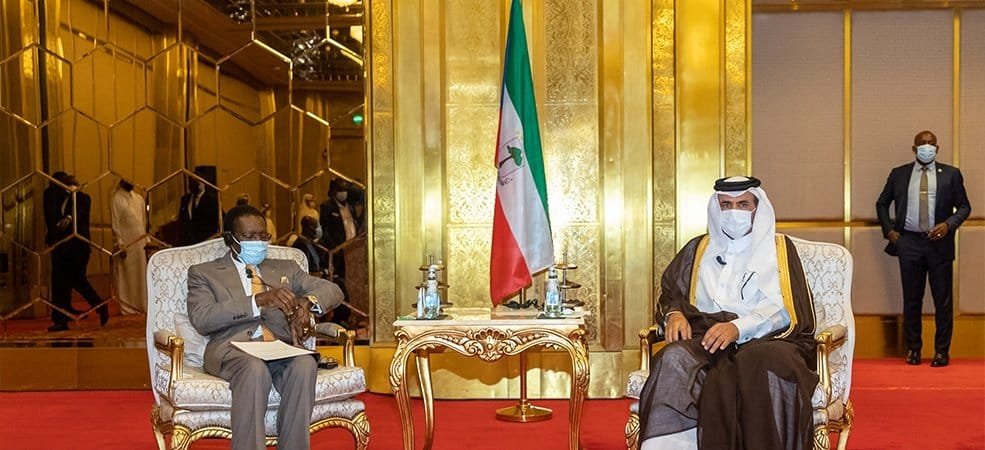 31-05-2021
President of the Republic of Equatorial Guinea Teodoro Obiang Nguema Mbasogo has met on Sunday with members of Qatar Chamber and a number of Qatari businessmen at Sheraton Hotel.
The meeting touched on ways of enhancing trade relations between both countries and exploring the investment opportunities available in Equatorial Guinea.
The meeting was attended by QC's First Vice-Chairman HE Mohamed bin Ahmed bin Twar Al Kuwari and Second Vice-Chairman HE Rashid bin Hamad Al Athba, as well as QC board members HE Eng. Ali bin Abdullatif Al Misnad and H.E Mr. Nasser Bin Sulaiman Al Haidar, alongside with several Qatari businessmen.
Addressing the meeting, President of the Republic of Equatorial Guinea said that his country depends more on oil, while there are other sectors such as agriculture, noting that Guinea has vast areas that can be used for food security projects.
Mbasogo also stressed that his country offers a lot of investment opportunities that attract Qatari businessmen, especially in fisheries which is a very promising sector.
The Guinean President invited Qatari investors to invest in his country and set up joint enterprises with Guinean companies, affirming that it a secure destination for investments.
Mbasogo reviewed investment climate in his country, noting that Guinea established an investment system for encouraging foreign investments, as well as it set up plans for economic diversification and single window for setting up new companies.
HE also said that Guinea is seeking to benefit from Qatar's experiment in economic diversification.
In turn, HE Mohmed bin Twar Al Kuwari said that the forum offers a good opportunity for identifying the promising opportunities available in the Republic of Equatorial Guinea.
He stressed the common interest of both countries to boosting their cooperation links, affirming that this is best illustrated by singing a joint statement to establish diplomatic relations between both countries last month.
Al Kuwari also pointed out that this step stressed the importance Qatar attaches to the Africa continent and its concern to increasing its investments in Africa, which has tremendous economic potential and offers rewarding opportunities for investments.
Underscoring the importance of this step, he indicated that Qatar's private sector is hopeful that this step would enhance the two countries' economic and commercial cooperation, especially that their trade exchange is still below aspirations despite the huge potential they own and the availability of fields of cooperation between them.
Al Kuwari also said that the State of Qatar is attaching great interest to enhancing the food security by developing more agricultural and industrial projects that support this sector, assuring that this sector offers plenty of opportunities for both sides to cooperate in, alongside other sectors such as oil and infrastructure.
"Qatar Chamber supports and encourages Qatari business owners and investors to learn about the investment opportunities available in Guinea. We are ready to help and guide Guinean businessmen and investors seeking to establish businesses in Qatar." he added.
On his part, HE Eng Ali El Misnad said that the Qatari private sector is hopeful this visit would develop more cooperation in line with the aspirations of both countries' leaderships.
He emphasized that the Qatari side is ready to share its successful experiments with its Guinean counterpart, pointing to the importance of signing a memorandum of understanding between chambers of both countries to further enhance cooperation between the private sectors in both parties.