Extensive meetings for Qatar Chamber at SPIEF 2021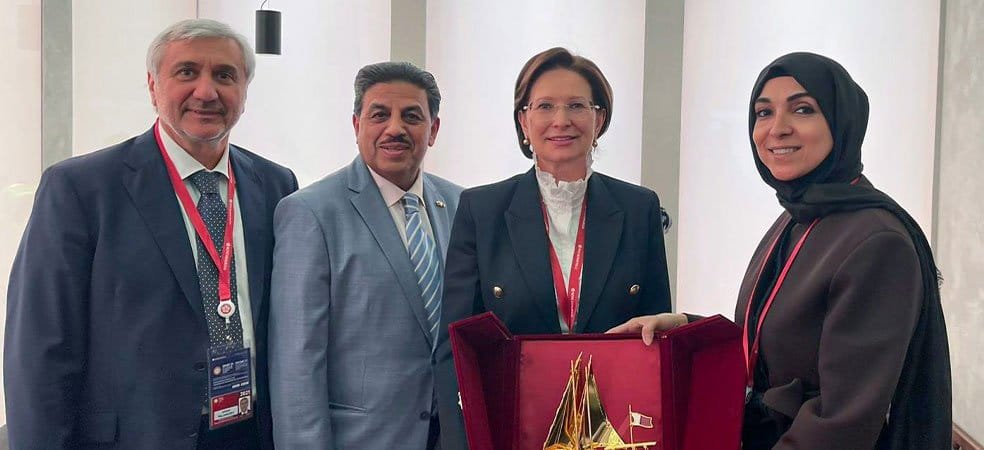 Qatar Chamber has recently participated in the activities of St Petersburg International Economic Forum (SPIEF 2021) which took place from June 2-5 in the Russian Federation.
The Chamber's participation came in the framework of the State of Qatar's pavilion which aimed to shed light on the Qatari economy and its leading position at the regional and international levels and to introduce the attractive investment environment that the State of Qatar provides to businessmen and investors from all over the world. It also aimed to showcase the most prominent incentives, advantages and initiatives launched in order to support the private sector and enhance the competitiveness and diversification of the Qatari economy in line with the Qatar National Vision 2030.
The Chamber's delegation included board members Mrs. Ibtihaj al-Ahmadani and Abdulrahman bin Abdulla al-Ansari, alongside with a number of Qatari businessmen and representatives of Qatari companies.
The participating delegation attended the opening of Qatar's pavilion at the forum as a "guest country" which was inaugurated by H.E. the Deputy Prime Minister and Minister of Foreign Affairs Sheikh Mohammed bin Abdulrahman Al-Thani in the presence of Deputy Prime Minister of the Russian Federation Yury Borisov and representatives of major companies and institutions from Russia and Qatar.
The pavilion hosted several economic and cultural events as well as bilateral meetings between business sectors in Qatar and Russia.
The Chamber's delegation held extensive meetings during the four days of the forum.
It participated in a round table with members of the Saint-Petersburg Chamber of Commerce and Industry to review ways of enhancing cooperation relations between both chambers and businessmen from both parties in investment, financial services, industrial innovations, pharmaceuticals, ports and infrastructure.
It also held a meeting with a number of businessmen from Leningrad Regions to explore areas of cooperation and mutual investments, as well as the investment opportunities available in both countries and the possibility of establishing partnerships and alliances in all sectors.
Further, the Chamber's delegation participated in the Russia-Qatar Business Forum in the presence of many Qatari businessmen such as Abdulaziz Al Dulaimi, from Al Dulaimi Group, and Chairman of Baladna Moutaz Al-Khayyat.
It also participated in a meeting of the Qatar-Russia Business Council which was attended by many businessmen from both countries. The meeting touched on developing cooperation between business sectors in Qatar and Russia, exploring investment climate in both countries and establishing alliances and partnerships between Qatari companies and their Russian counterparts.
It also held a meeting with Chair of the Coordinating Council of the Russian-Arab Business Council Gvilava Tatyana Alexandrovna. The meeting discussed ways of bolstering cooperation relations between Qatari and Russian businesswomen.
During the meeting, Ibtihaj al-Ahmadani reviewed the key role played by the Qatar Chamber and the Chamber's Qatari Businesswomen Forum in developing the Qatari private sector and enabling Qatari companies to cooperate with their counterpart from other countries.