American Soft Linen 6-Piece 100% Turkish Genuine Cotton Premium & Luxury Towel Set for Bathroom & Kitchen, 2 Bath Towels, 2 Hand Towels & 2 Washcloths [Worth $72.95] – Bright White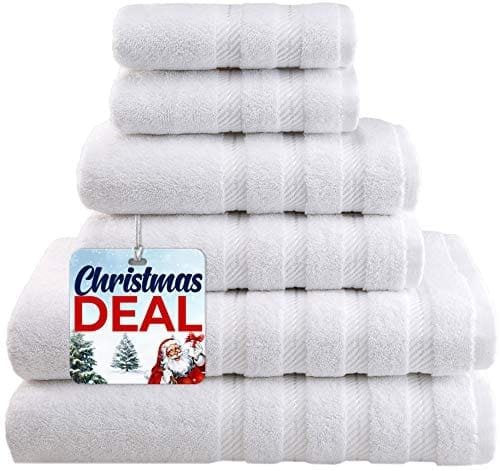 Price: $72.99 - $39.99
(as of Dec 30, 2020 01:24:06 UTC – Details)
Product Description
6 Piece 100% Turkish Genuine Cotton Towel Set
This soft to the touch, 100% Genuine Cotton Turkish towels perfectly fulfills all your needs at one!
Our 605-610 GSM Turkish Towels are made from natural materials and free from any harmful chemicals or synthetic materials which is safe for you and your family.
And by using only %100 Turkish Towels and double-stitching all the hems of the durability is unequaled. Select your favorites out of 14 extraordinary & beautiful colors and make your bathroom look elegant as you expected. Machine washable and easy to use anytime, anywhere. These towels should last you many years!
Dimensions:
· 2 Bath Towels: 27 x 54-inch
· 2 Hand Towels: 16 x 28-inch
· 2 Washcloths: 13 x 13-inch
Turkish Genuine Cotton
Cotton is the most widely produced natural fiber on the planet. It has been a part of our daily lives from the time we dry our faces on a soft cotton towel in the morning till at night. We proud to use 100% Turkish Genuine Cotton for manufacturing soft, luxurious and absorbent towels. 100% Turkish Genuine Cotton is tightly zero twisted the long and short threads together that makes our towels stronger, softer and more absorbent.
Absorbency
The number of loops, the length of the loops, the thickness of threads, type of the cotton, and how strongly the fibers are packed together all affect the absorbency in a towel. The length of the individual loops increases the surface area of the towel, more surface area equals to more absorbency. Greater GSM and heavyweight towels are more absorbent than lightweight towels. Typically a GSM over 450 is a good indication of a quality and absorbent towel, but of course they need longer to dry.
Softness
Softness is one of the requirements or necessities everyone is looking in Towels after stepping out of a bath, therefore we have used 605-610 GSM 100% Genuine Vat dyed Cotton in our towels, which means the dye is infused into the yarns under high pressure and high temperature for 6-12 hours depending upon the color that results to a soft, plush, lavish, sophisticated and luxurious look product. Feel the softness of our luxury towels while drying off your hands, face and body.
Vat Dyed:
Our Turkish Towels are all Vat Dyed which is highly demanded in the market due to the quality, usefulness and the variety of tints. Vat Dyed process results to more durable and strong towels.
Double-Edge Stitch:
In high-quality towels, certain attention is paid to the stitching and finishing of that. So when you're about to choose which product to buy, have a look at the layers and stitches. We certify that all our Turkish Towels are double-stitched along the lengths and layers to hold up excellent throughout multiple washes while following the care instruction guide.
Quantities
1 Bath Towel, 1 Hand Towel, 1 Washcloth
1 Jumbo Bath Sheet
1 Jumbo Bath Sheet
4 Bath Towels
6 Hand Towels
1 Piece
Weight (Pound)
1.89
2.9
2.35
4.79
2.4
2.07
Material
Turkish Genuine Cotton
Genuine Ringspun Cotton
Turkish Genuine Cotton
Turkish Genuine Cotton
Turkish Genuine Cotton
Welsoft Polyester
GSM
605-610
650
650
600
600
330
Available Colors
14
14
14
5
5
4
Durability
High
High
High
High
High
High
Absorbency
Very High
Very High
Very High
Very High
Very High
Very High
Softness
Very High
Very High
Very High
Very High
Very High
Very High
Towel Construction
Zero Twist
Zero Twist
Zero Twist
Zero Twist
Zero Twist
Zero Twist
Premium 100% Turkish Cotton Towel Set add a touch of elegance to any decor, home, hotel, SPA, dorm, & these towels are used by colleges, high schools, gyms, country clubs, hospitals, physical therapy clinics, Home & Kitchen.
A complete set of towel used for your daily cleaning purposes anywhere, anytime.
Proper washing of new towels are extremely important if you are willing to have soft & absorbent towels.
Every new towel should be washed 2-3 times before usage to minimize the lints and the risk of bleeding color to other cloths.
It is advised to wash your towels separately in warm water using no bleach or fabric softeners.
For optimum drying, we recommend tumble drying in small loads on low to medium setting.
While towels are wet, please do not fold or hang them over each other. Do not iron your towels.
Keep your towels dry & in a dry place.
When Gift is the topic, you always imagine of presenting something unique, special and mostly usable staff. Hence, we as an American Soft Linen family present you the soft and luxurious Turkish Cotton Towels for your beloved ones. Giving Turkish Cotton Towels as a gift is appropriate for many occasions such as New Year, Anniversaries, Birthdays, Bridal Showers, Housewarming parties, and even Valentine's Day. Choose your favorite set and desired color from our collections!
100% Turkish Genuine Cotton
Imported – Turkey
Vat Dyed
The Set includes (2-Piece) 27 x 54 inch Bath Towels, (2-Piece) 16 x 28 inch Hand Towels & (2-Piece) 13 x 13 inch Washcloths
6-Piece premium 100% Turkish Genuine Cotton Towel Set adds a touch of elegance to any home décor, hotel, spa & dorm. These Towels are also used by Colleges, High Schools, Gyms, Hospitals & Clinics.
Lightweight towels quickly absorbs moisture. Give your body a delicate touch with our extra soft towels and for a good price, give your bathroom an elegant and sophisticated look.
Avoid contact with skincare products to help minimize towel spotting or bleaching. Always wash your Towels before usage, some lint may be observed in the first few launderings of towels, and will diminish with each subsequent laundering. This does not affect the look, feel or performance of your towels. Please follow the recommended care instructions on the label and keep the lint trap clean on your dryer.
SAME DAY FREE SHIPPING – 30 DAYS MONEY BACK GUARANTEED (No hassle)