600,000 dead as coronavirus rebounds around the world: Live | Coronavirus pandemic News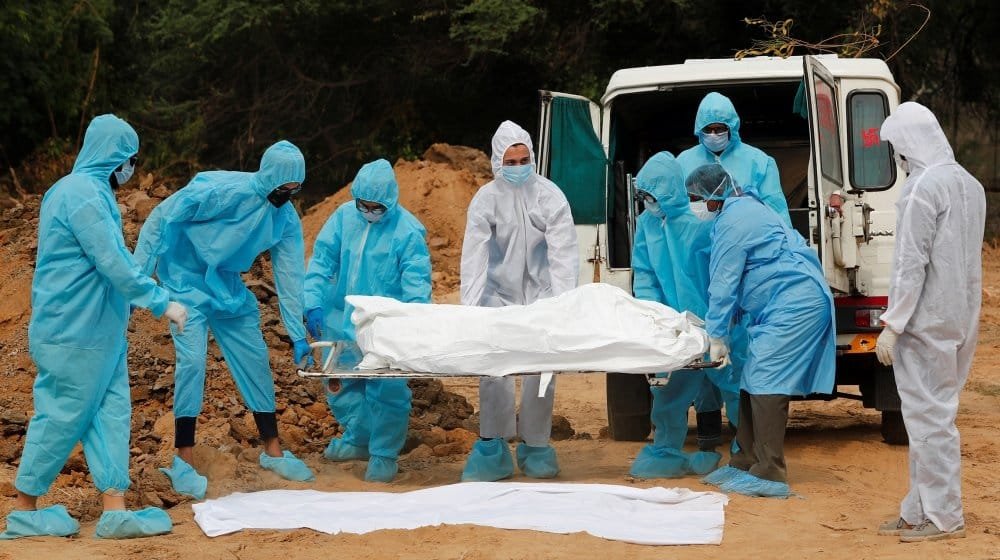 Confirmed global virus deaths surge to 603,000 with the United States topping the list with more than 140,000.

China's western Xinjiang province has declared a "wartime situation" to clamp down on a sudden spike in coronavirus cases.

Iranian health officials played down President Hassan Rouhani's estimate that some 25 million people have been  infected with COVID-19, saying it was based on serological blood tests.
Here are the latest updates.
Sunday, July 19
23:12 GMT – Chile eyes gradual reopening after coronavirus infections slow in some areas
Chilean government officials have presented a plan on Sunday to gradually relax lockdown restrictions after the coronavirus infection rate improved in some regions of the country.
The relaxation willl take place over five weeks according to epidemiological criteria, the capacity of the healthcare system and the ability to trace cases, officials said.
"These five weeks of improvement allow us to start a new stage today … This plan, which will be step by step, cautiously, prudently, will be applied gradually and flexibly," said President Sebastian Pinera in the announcement, adding that 12 regions in the country had improved in recent weeks.
Much of the population remains under lockdown. Chile currently has 330,000 confirmed cases and more than 8,500 deaths.
20:31 GMT – COVID-19 cases near 11,000 in Sudan
Sudan has confirmed 10,992 cases of coronavirus, Sudan's health miinistry said in a statement adding that 230 new cases were reported in the country in the last 24 hours.
Meanwhile,13 people died in the last 24 hours due to the virus bringing the death toll to 693, the statement added.
More than 5,700 people have recovered from COVID-19 in Sudan.
19:47 GMT – EU leaders disagree on size of recovery grants 
There was no agreement between EU leaders on how much in grants to offer member states most affected by the coronavirus pandemic, a diplomatic source said after three full days of fraught talks in Brussels.
The source said 350 billion euros was the maximum acceptable for a camp of thrifty northerners, compared to 400 billion seen as the bare minimum by many others, including Germany and France.
19:08 GMT – Sudan 'urgently' needs $283 million to fight virus: UN
The United Nations made an urgent appeal for $283 million to help Sudan tackle the coronavirus pandemic and its economic consequences, as millions in the country face hunger.
"COVID-19 arrived in Sudan at a time when an increasing part of the population was already struggling to meet their basic needs and the health system was already under extreme stress," said the UN's Sudan humanitarian coordinator Gwi-Yeop Son.
She said the pandemic had worsened an economic crisis, hitting purchasing power, while movement restrictions had restricted people's access to food, health care and basic services.
"Unless we act now, we should be prepared for a series of human tragedies," she said.
18:20 GMT – 600,000 dead: Coronavirus rebounds around the world
The coronavirus pandemic continues to explode around the world as confirmed deaths passed 600,000 and countries from the US to South Africa to India struggle to contain a surge of new infections.
Confirmed global virus deaths rose to 603,000, according to data compiled by Johns Hopkins. The United States tops the list with over 140,000, followed by more than 78,000 in Brazil. Europe as a continent has seen about 200,000 deaths.
Experts believe the pandemic's true toll around the world is much higher because of testing shortages and data collection issues.
The World Health Organization said 259,848 new infections were reported Saturday, its highest one-day increase yet.
17:57 GMT – Sun-seekers defy Barcelona coronavirus stay-at-home advice 
People sunbathed and played in the sea along Barcelona's beaches, ignoring pleas from Catalan authorities for area residents to stay at home as coronavirus cases continued to rise in one of Spain's worst-hit regions.
As police patrolled in masks to ensure social distancing, Barceloneta beach, a favourite with tourists, reached capacity and had to be closed to new bathers on Sunday afternoon. People were queueing to access the beach.
Earlier in the day, authorities urged the more than 96,000 residents of three Catalan towns to stay home as part of a toughened response to the crisis.
On Friday, some four million people, including in Barcelona, were advised to leave their home only for essential trips.
17:10 GMT – EU needs ambitious financial deal more than fast one, says Lagarde
It is better for European Union leaders to agree an ambitious financial aid package for the bloc rather than to have a quick deal at any cost, European Central Bank President Christine Lagarde said.
"Ideally, the leaders' agreement should be ambitious in terms of size and composition of the package, broadly along the lines of what has been proposed by the Commission," Lagarde told Reuters.
"From my perspective, it's better to agree on an ambitious facility along these lines, even if it takes a bit more time. I would hope that the leaders agree on something that's ambitious rather than fast."
16:36 GMT – France introduces fine for failure to wear mask in public indoors
People in France will risk a fine of 135 euros ($154) starting Monday for failure to comply with a new decree to wear a mask in public places indoors, the government announced.
Masks are already required on public transport, punishable with a fine of the same amount, in a country that has lost over 30,150 people to the epidemic.
The health minister had said the new obligation will apply to shops and supermarkets, covered fresh produce markets, banks and other establishments that receive members of the public.
The health department announced contraventions can be punished with a fine of up to 135 euros – almost double the price of a monthly Paris public transport pass.
16:01 GMT – Germany's Bavaria plans free coronavirus tests at airports
The German state of Bavaria will soon start offering free coronavirus tests at airports for people returning from holiday, state premier Markus Soeder.
Germany has fared better than many of its neighbours in suppressing the virus but concerns are mounting that travellers returning from abroad could bring a surge in new COVID-19 cases.
"I think we really need to focus on these returning holidaymakers," Soeder told broadcaster ZDF.
He said local authorities were working on installing testing centres at Bavarian airports "where anyone can be tested for free any time".
15:20 GMT – Nigeria's foreign minister tests positive for coronavirus
Nigerian Foreign Minister Geoffrey Onyeama said he had tested positive for COVID-19, the first member of President Muhammadu Buhari's cabinet to contract the new coronavirus.
Onyeama, 64, said in a tweet he had taken a COVID-19 test because of a throat irritation.
"Did my fourth Covid-19 test yesterday at the first sign of a throat irritation and unfortunately this time it came back positive," he tweeted. "Heading for isolation in a health facility and praying for the best."
14:32 GMT – Florida reports over 10,000 new COVID-19 cases for fifth day in a row
Florida reported over 12,000 new cases of COVID-19, the fifth day in a row the state has announced over 10,000 new infections.
Florida reported 89 new deaths on Sunday. Deaths in the state have risen by over 500, or 78 percent, during the last two weeks compared with the prior two weeks, according to a Reuters analysis.
13:45 GMT – EU virus recovery summit struggles to find accord
An EU summit to agree a huge coronavirus economic rescue package was at risk of collapse without a deal on Sunday as bickering leaders struggled to find compromises on a third day of talks.
The 27 leaders have argued for more than two days over the scale and rules for the package, with the Netherlands leading a band of "frugal" allies in demanding lower budgets and tougher conditions for handouts.
At the start of what she said was probably the "decisive" third day of the extraordinary summit, German Chancellor Angela Merkel said there were still many divisions among the leaders.
"I still can't say whether a solution will be found," she said. "There is a lot of good will … but it may also be that no result will be achieved today."
13:15 GMT – Symptom tracker app reveals six distinct types of COVID-19 infection 
British scientists analysing data from a widely-used COVID-19 symptom-tracking app have found there are six distinct types of the disease, each distinguished by a cluster of symptoms.
A King's College London team found that the six types also correlated with levels of severity of infection, and with the likelihood of a patient needing help with breathing – such as oxygen or ventilator treatment – if they are hospitalised.
The findings could help doctors to predict which COVID-19 patients are most at risk and likely to need hospital care in future waves of the epidemic.
"If you can predict who these people are at Day Five, you have time to give them support and early interventions such as monitoring blood oxygen and sugar levels, and ensuring they are properly hydrated," said Claire Steves, a doctor who co-led the study.
—
This is Arwa Ibrahim in Doha, taking over from my colleague Usaid Siddiqui.
—
India's coronavirus cases surpass one million
12:45 GMT – Pope reassures those struggling with virus
Pope Francis is assuring his closeness to all those grappling with COVID-19 and its "economic and social consequences".
Speaking on Sunday from his studio window overlooking St Peter's Square, Francis said that "the pandemic is showing no sign of stopping".
He said he was thinking in particular about all those whose suffering in the pandemic is worsened by conflicts.
12:26 GMT – China declares Xinjiang coronavirus cluster a 'wartime situation'
Authorities in China's western Xinjiang province have declared a "wartime situation" as the region attempts to clamp down on a sudden spike in coronavirus cases.
Xinjiang authorities reported 17 confirmed cases and 23 asymptomatic infections early on Sunday morning, with 269 people under observation.
A small spike was observed midweek and by Thursday authorities had placed Urumqi, the region's capital, under lockdown. Flights, underground and other train services were quickly suspended.
12:05 GMT – Catalonia urges thousands of people to stay home as coronavirus cases rise
Authorities in Catalonia urged more than 96,000 people in three towns to stay at home, as coronavirus cases continued to rise in one of Spain's worst-hit regions.
This is in addition to some four million people in the region, including in its capital Barcelona, that were on Friday urged to stay at home as regional authorities toughened their response to the crisis.
11:43 GMT – Turkey has suspended flights to Iran amid coronavirus outbreak: Iran aviation official
Turkey has suspended flights to Iran amid a coronavirus outbreak in the Islamic republic, a spokesman for Iran's Civil Aviation Organization, Reza Jafarzadeh, said, according to the official IRNA news agency.
The suspension of flights had begun on Saturday, he said.
11:10 GMT – Philippines records 58 coronavirus deaths, 2,241 new cases
The Philippines' health department reported 58 deaths related to COVID-19 and 2,241 additional infections of the new coronavirus.
Total deaths now stand at 1,831, with 67,456 confirmed cases, it said in a bulletin.
The Philippines recorded 162 COVID-19 deaths a week ago, the highest daily rise in Southeast Asia so far.
Philippines surge: Restrictions reimposed in Manila
10:45 GMT – EU summit: Merkel warns of no deal on coronavirus recovery fund
European Union leaders may not reach a deal on a coronavirus stimulus plan on Sunday, German Chancellor Angela Merkel warned, as marathon negotiations ran into a third day and acrimony mounted over the demands of rich but thrifty countries.
"There is a lot of goodwill, but also many positions. I will make every effort but, it is possible that there is no result," Merkel said in Brussels as she arrived for a third day of talks on Sunday.
Read more here.
10:10 GMT – Iranian health officials play down president's figure of 25 million infections
Iranian health officials played down President Hassan Rouhani's estimate that some 25 million people have been infected with the coronavirus, saying it was based on serological blood tests that measure exposure to the illness and that cannot be relied on to show the current state of disease.
The 25 million figure put forward by Rouhani on Saturday is nearly a third of the population and much higher than the official number of COVID-19 cases.
Officially, the number of cases is 273,788, with 14,188 deaths, Ministry of Health spokeswoman Sima Sadat Lari said.
09:45 GMT – Stranded on ships, 200,000 workers struggle in coronavirus limbo
Indian ship worker Tejasvi Duseja is desperate to go home after months stranded offshore by coronavirus border closures and lockdowns that have left more than 200,000 seafarers in limbo.
From engineers on cargo ships to waiters on luxury cruise liners, ocean-based workers around the world have been caught up in what the United Nations warns is a growing humanitarian crisis that has been blamed for several suicides.
Read more here.
09:18 GMT – Russian ambassador rejects virus vaccine hacking claims
Russia's ambassador to the United Kingdom has rejected allegations that his country's intelligence services sought to steal information about a coronavirus vaccine.
Andrei Kelin said in a BBC interview broadcast on Sunday that there was "no sense" in the allegations made last week by the United States, the UK and Canada.
08:55 GMT – Hungary's Orban says EU leaders determined to get COVID stimulus deal
Hungarian Prime Minister Viktor Orban said there were four broad divisive themes in European Union leaders' talks on a mass economic recovery package but that the gathering was determined to seal a deal on their third day of talks.
"We are aware that we have to make a deal, we are negotiating under the pressure that a deal is a must," Orban told reporters.
He listed the contentious issues as – the size of the new recovery fund; the proportion between free grants and repayable loans as part of that; the scale of rebates on the core EU budget for rich net payers; rule-of-law strings attached to handouts from the bloc.
08:25 GMT – Hong Kong tightens coronavirus restrictions as new cases spike
Non-essential Hong Kong civil servants will work from home starting on Monday as the global financial hub tightens social distancing restrictions further amid an escalating third wave of coronavirus cases, the city's leader Carrie Lam said.
Lam said the city recorded more than 100 cases in the past 24 hours, taking the tally since late January to about 1,800 patients, 12 of whom have died.
07:59 GMT – Cases slow as Pakistan readies anti-polio drive
Pakistani authorities reported 1,579 new COVID-19 cases, the lowest number in more than a month, as health officials plan to resume a much-awaited nationwide anti-polio campaign next week.
Authorities conducted 22,559 tests in the past 24 hours. The additional cases bring to 263,500 the total number of confirmed infections, with a total of 5,568 deaths.
The improvement in infections coincides with Monday's three-day anti-polio drive that aims to reach 800,000 children.
07:38 GMT – Russia reports 6,109 new coronavirus cases
Russia has reported 6,109 new cases and 95 more deaths from the coronavirus.
The nationwide tally of infections has risen to 771,546 cases, Russia's coronavirus crisis response centre said.
07:13 GMT – Germany's Merkel says possible that there is no agreement at EU summit
German Chancellor Angela Merkel said on Sunday it was possible that EU leaders will not reach an agreement on their third day of talks on plans to boost the bloc's economies, which have been ravaged by the coronavirus.
"There is a lot of good will but also many positions. I will make every effort but it is possible that there is no result," she said in Brussels.
06:45 GMT – India reports record nearly 39,000 cases in one day
India recorded its biggest surge in COVID-19 cases to date with 38,902 new cases and 543 deaths in the last 24 hours. 
The country's total infections tally is now 1,077,618 to date, as the total death toll has climbed to 26,816, according to health ministry data.
06:15 GMT – Coronavirus infections in Nigeria top 36,000
Coronavirus cases in Nigeria have risen to 36,107 with 653 new infections, according to official statistics.
Six more deaths were recorded in the West African nation, bringing the total to 778, the Nigeria Centre for Disease Control (NCDC) said.
More than 14,900 people have recovered from the virus in Nigeria.
---
Hello, this is Usaid Siddiqui in Doha taking over from my colleague Ted Regencia.
---
05:25 GMT – Texas coronavirus cases include more than 80 infants
A health official from the US state of Texas said as many as 85 infants have tested positive for the coronavirus. Corpus Christi public health director, Annette Rodriguez, said the infants are younger than one, but offered no other details.
"These babies have not even had their first birthday yet. Please help us to stop the spread of this disease" by staying home except for necessary trips, socially distancing and wearing masks in public, Rodriguez said during a public health update.
According to the Johns Hopkins University tally, cases in the US have hit 3.7 million, while more than 1.1 million patients have recovered. More than 140,000 have died.
05:08 GMT – El Salvador to move to second stage of economic reopening
El Salvador will move to the second phase of reopening its economy, President Nayib Bukele has announced, though cases of the novel coronavirus continue to rise in the Central American country.
Starting on July 21, the manufacturing, footwear, paper and cardboard industries will reopen, as well as public transport, under a plan outlined by the government last month, according to Reuters news agency.
El Salvador has registered 11,508 total cases of coronavirus and 324 deaths.
04:37 GMT – Albania's coronavirus cases at 4,008, total deaths 111
Albania has reported 4,008 confirmed coronavirus cases and 111 total deaths since the pandemic began in the country.
In the last month, daily numbers of new cases have ranged from 50 to 120, at least double compared with the March-May period when the country was in total lockdown.
Health ministry officials say people must wear masks, keep socially distant and wash hands. Masks are mandatory in closed areas and individuals may receive a small fine for not wearing them in public or private places.
04:12 GMT – Australia's Victoria requires masks for Melbourne hit by COVID-19
People in Melbourne must now wear masks when leaving their homes as Victoria, Australia's second-most-populous state, marked two weeks of triple-digit increases in new coronavirus infections on Sunday.
People not wearing face coverings will be fined 200 Australian dollars ($140), said Victoria Premier Daniel Andrews.
Victoria, which has forced nearly five million people into a partial six-week lockdown on July 9, reported 363 new cases of the coronavirus on Sunday, after 217 cases the previous day. Australia has recorded about 11,800 cases.
03:47 GMT – Germany's confirmed cases rise to 201,574
The number of confirmed coronavirus cases in Germany increased by 202 to 201,574, Reuters news agency reported on Sunday quoting data from the Robert Koch Institute (RKI) for infectious diseases.
The reported death toll rose by 1 to 9,084, the tally showed.
03:28 GMT – Brazil reports 28,532 news cases, 921 deaths
Brazil on Saturday reported 28,532 new COVID-19 cases and 921 deaths over the last 24 hours, Reuters reported quoting Brazil's health ministry.
The total cases in the country have mounted to 2,074,860 while 78,722 people have died of COVID-19.
Brazil, the world's second most affected country after the US, has started to resume business in many areas despite mounting cases. 
03:00 GMT – US coronavirus deaths surpass 140,000 as outbreak worsens
US deaths from the novel coronavirus exceeded 140,000 on Saturday as cases continued to rise in 43 out of 50 states over the past two weeks, according to both Johns Hopkins University and Reuters tallies.
Since late June, the US has seen a resurgence in new cases and now, six weeks later, deaths have also begun rising, according to a weekly Reuters analysis of state and county data.
The US is losing about 5,000 people to the virus every week. By contrast, neighbouring Canada has reported 8,800 deaths since the pandemic started.
02:48 GMT – China reports 13 new coronavirus cases in Xinjiang
China on Sunday said 13 new cases of coronavirus have been reported in Xinjiang's city of Urumqi, taking the total in the country's most recent local outbreak to at least 30, the AP news agency reported.
Three new cases were brought into the country from overseas, increasing China's total number of confirmed cases to 83,660, including 4,634 deaths.
Despite the Urumqi outbreak, China has just 251 people remaining in treatment for COVID-19, according to the National Health Commission.
02:28 GMT – Local transmissions outpace imported cases in South Korea
South Korea's new daily virus cases hovered below 40 for the second straight day on Sunday, but the number of local transmissions outpaced that of imported cases for the first time in a week, according to Yonhap news agency.
The country identified 34 new cases, taking the total caseload to 13,745. Of the newly reported cases, 21 were locally transmitted, according to the Korea Centers for Disease Control and Prevention (KCDC).
The latest tally marks a steady decline from 61 new infections reported on Thursday and 60 on Friday, largely due to high numbers of imported cases.
01:43 GMT – Barcelona limits access to public beaches
Police in Barcelona are limiting access to some of the city's beaches because sunbathers are ignoring regulations amid a resurgence of the coronavirus.
Catalan health authorities reported more than 1,200 new cases on Saturday from the preceding 24 hours. The new outbreaks have forced regional officials to announce the prohibition of gatherings of more than 10 people that went into effect on Saturday.
01:15 GMT – Greece reports 19 new coronavirus cases
Greek authorities announced 19 new cases of coronavirus over the past 24 hours, The Associated Press news agency reported.
Total confirmed cases in Greece since the outbreak of the epidemic are 3,983, with 194 deaths.
Despite the relatively low number of cases, authorities are concerned about increasing evidence that social distancing guidelines are not being followed. On Saturday, they extended the requirement to wear masks to supermarket customers – and they are considering expanding the mask requirement further.
00:55 GMT – South Africa now ranks fifth in coronavirus cases worldwide
South Africa now ranks fifth in the world for confirmed coronavirus cases as the African continent faces the pandemic's first wave head-on, according to the Johns Hopkins University tally.
South Africa on Saturday reported 13,285 new confirmed cases for a total of 350,879. That puts the country ahead of Peru, and accounts for roughly half the cases in Africa.
00:18 GMT – Mexico reports 7,615 new cases, 578 more deaths
Mexico's Health Ministry has reported 7,615 new confirmed coronavirus infections and 578 additional deaths, bringing the total in the country to 338,913 cases and 38,888 deaths.
The government has said the real number of infected people is likely significantly higher than the confirmed cases, according to Reuters.
00:01 GMT – EU extends summit after deadlock over COVID-19 recovery plan
Leaders of the European Union have extended until Sunday their summit after failing to agree on a significant stimulus fund to revive their coronavirus-hammered economies after two days of fraught negotiations, Reuters reported.
As the 27 leaders scurried back to their hotels after a late Saturday night, German Chancellor Angela Merkel and French President Emmanuel Macron stayed behind in the EU's headquarters in Brussels to haggle with the Dutch-led camp of thrifty countries demanding cuts to the 1.8 trillion euros ($2.06 trillion) package. Read more here.
_______________________________________________________________
Hello and welcome to Al Jazeera's continuing coverage of the coronavirus pandemic. I'm Ted Regencia in Kuala Lumpur, Malaysia. 
You can find all the key developments from yesterday, July 18, here.