US coronavirus cases may be 10 times higher than data shows: Live | News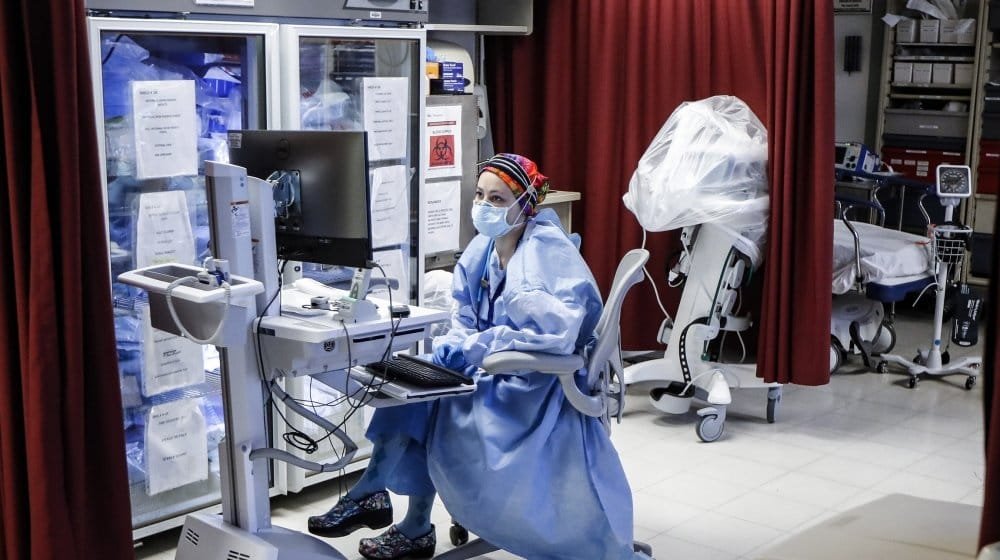 United States health officials believe as many as 20 million Americans have contracted the coronavirus. That's nearly 10 times as many infections as the 2.3 million cases that have been confirmed.

The pandemic is getting worse globally with the number of infections expected to reach 10 million next week, World Health Organization head Tedros Adhanom Ghebreyesus has said.

More than 9.5 million people around the world have been diagnosed with COVID-19, while nearly 4.8 million have recovered, and more than 484,000 have died, according to Johns Hopkins University.
Here are the latest updates:
Thursday, June 25
20:25 GMT – Virus whistle-blower alleges ongoing retaliation
A government whistle-blower ousted from a leading role in battling COVID-19 has alleged that the administration of US President Donald Trump has intensified its campaign to punish him for revealing shortcomings in the US response.
Dr Rick Bright, former director of the Biomedical Advanced Research and Development Authority, said in an amended complaint filed with a federal watchdog agency that he has been relegated to a lesser role in his new assignment at the National Institutes of Health, unable to lend his full expertise to the battle against COVID-19.
19:55 GMT – UAE and Israeli companies to cooperate
Two private companies from the United Arab Emirates will work with two Israeli companies on medical projects, including those to combat the coronavirus, the UAE's state-run news agency WAM has said.
19:19 GMT – Israeli PM announces 'cooperation' with UAE to fight coronavirus
Israeli Prime Minister Benjamin Netanyahu has said that his government and the United Arab Emirates will soon announce a partnership in the fight against the coronavirus, despite the lack of diplomatic ties.
In a speech to graduating Israeli fighter pilots, Netanyahu said an announcement was expected "in a few moments" and came after months of "intense contacts".
"This collaboration will be in the fields of research and development, technology, in areas that will improve the confidence in health throughout the region," he said.
Read more here.
19:10 GMT – Mexico's finance minister tests positive
Mexican Finance Minister Arturo Herrera has said he has tested positive for the coronavirus, but is experiencing only "minor" symptoms.
"From this moment I will be in quarantine, and continue working from my house," Herrera said on Twitter.
18:50 GMT – CDC head warns pregnant women with COVID-19 face greater risks
Pregnant women have increased risk of severe COVID-19 compared to women who are not pregnant, the head of the US Centers for Disease Control and Prevention, Robert Redfield, has told reporters, warning that states with rising coronavirus cases need to take action.
The CDC has found that pregnant women are more likely to be admitted to the intensive care unit and to be put on mechanical ventilators than non-pregnant women, he said.
18:15 GMT – Death toll in France rises by 21 to 29,752
The number of coronavirus-related deaths in France has risen by 21 from the previous day to stand at 29,752, the country's health department has said.
France has the fifth-highest death toll in the world, but the number of casualties has steadily decreased from peaks reached in March and April.
18:10 GMT – California governor declares budget emergency due to pandemic
California Governor Gavin Newsom has declared a budget emergency in the most populous US state, blaming expenses and economic downturn caused by the pandemic.
Declaring a state of emergency allows California to tap into its rainy day fund. The state expects a $54.3bn budget deficit due to costs and a drop in revenue.
17:56 GMT – US cases may be 10 times higher than data shows
United States health officials believe as many as 20 million Americans have contracted the coronavirus. That's nearly 10 times as many infections as the 2.3 million cases that have been confirmed.
Twenty million infections would mean about six percent of the nation's 331 million people have been infected.
Previously, officials at the Centers for Disease Control and Prevention and the nation's top infectious-disease expert, Dr Anthony Fauci, have said that as many as 25 percent of infected people might not have symptoms.
Read about it here.
17:00 GMT – Lufthansa investors back $10bn German government rescue
Lufthansa shareholders have backed a 9 billion euros ($10bn) government bailout, securing the future of Germany's flagship airline after it was brought to the brink of collapse by the pandemic.
The plan, backed by 98 percent of the shareholder capital that cast a vote at the online meeting, will see Berlin take a 20 percent stake in Lufthansa and two board seats.
16:57 GMT – French consortium wins further approval for saliva-based coronavirus test
French technology company Vogo said a saliva-based product it was developing with partners to test for the coronavirus had won "CE marking approval", denoting it meets required health standards set out by regulators.
Vogo and its partners SKILLCELL and the CNRS SYS2DIAG laboratory aim to place their "EasyCov" saliva-based coronavirus testing product on the market.
16:50 GMT – France extending financial aid for sport industry to September
France will extend financial aid measures to help the sport industry deal with the hit to business from the coronavirus through to September, the sport ministry has said.
The sport ministry said the government had so far given about 2.8 billion euros ($3.1bn) in financial aid to the sport sector over the past three months.
16:38 GMT – Portugal brings back some lockdown measures in Lisbon
Portugal will bring back the stay at home rule in several areas of Greater Lisbon to fight a worrying wave of coronavirus cases on the city's outskirts, the government has announced.
Those living in the affected areas – a total of 19 civil parishes that do not include downtown Lisbon – can only leave their homes to buy essential goods, such as food or medication, and to travel to and from work.
16:30 GMT – Texas temporarily halts phased reopening as infections surge
Texas Governor Greg Abbott has said he is temporarily halting the state's phased economic reopening in response to a jump in COVID-19 infections and hospitalisations.
"This temporary pause will help our state corral the spread until we can safely enter the next phase of opening our state for business," Abbott said in a statement.
16:18 GMT – Vaccine not certain, maybe in a year: WHO
It is not certain that scientists will be able to create an effective vaccine against the coronavirus that has caused the COVID-19 pandemic, but it could take a year before one were to be invented, the head of the World Health Organization has said.
Speaking via video conference to deputies from the European Parliament's health committee, Tedros Adhanom Ghebreyesus said if such a vaccine became a reality, it should become a public good available to all.
He said the WHO had already more than 100 candidates for a vaccine of which one was at an advanced stage of development.
"Hoping that there will be a vaccine, the estimate is we may have a vaccine within one year. If accelerated, it could be even less than that, but by a couple of months. That's what scientists are saying," he said.
15:35 GMT – Pandemic getting worse globally: WHO
The pandemic is getting worse globally with the number of infections expected to reach 10 million next week with 500,000 deaths, WHO head Tedros Adhanom Ghebreyesus has said.
Speaking via video conference with members of the European Parliament's health committee, Tedros said once the pandemic was over, the world should not return to its previous state, but build a "new normal" that would be fairer, greener and help prevent climate change.
15:24 GMT – Macy's cuts corporate headcount by 3,900
Macy's has said it is laying off 3,900 corporate staffers, roughly 3 percent of its overall workforce.
The company said in a release that the headcount reduction will save the company $630m a year.
15:10 GMT – US urges Russia, China to give more aid to Venezuela in COVID fight
US Special Representative for Venezuela Elliott Abram has called on Russia and China to provide more humanitarian aid to their ally Venezuela.
"We would like to see them contribute more on the humanitarian side. There have been, I believe, some contribution of goods with respect to COVID-19 by Russia and China," Abram told a diplomatic event organised by the US mission to the UN in Geneva.
"But the scale, the dollar amount of this aid, is really quite low in comparison to the needs."
15:04 GMT – Spain to extend furlough schemes by three months
Spain is set to extend until September 30 national furlough schemes aimed at mitigating the effect of the coronavirus lockdown, under a government agreement with labour unions and the main employers' association, the labour ministry has said.
Hard-hit sectors like hospitality will receive the most support, though other industries not yet able to return to normal activity will also be included.
14:55 GMT – Peruvian government strikes agreement with private clinics
The Peruvian government has said it has struck an agreement with the country's private health clinics on the cost of COVID-19 care after President Martin Vizcarra warned on Wednesday they would be expropriated within 48 hours if negotiations did not progress.
The clinics had for three weeks wrangled with Vizcarra's government over a fair rate for care. The haggling began amid reports of overcharging for the sickest patients, who require mechanical ventilators and intensive care.
Health Minister Victor Zamora said the agreement was finalised on Wednesday evening after a meeting with representatives of the Association of Private Clinics of Peru.
14:37 GMT – Egypt's national carrier to resume flights from July
Egypt's national carrier EgyptAir has said it will resume flights to 24 destinations from the first week of July and will add more in the following weeks.
The airline will operate flights to 13 destinations in Europe, three in Africa, four in the Middle East, three in North America and one in China, it said in a statement on Thursday, as well as domestic flights to the tourist hotspots of Sharm El Sheikh and Hurghada along the Red Sea and Luxor and Aswan along the Nile River.
14:03 GMT – UK death toll rises by 149 to 43,230
The United Kingdom's official death toll from confirmed cases of coronavirus rose by 149 to 43,230, the Department of Health has said.
13:58 GMT – Kazakh health minister resigns
Kazakhstan's health minister has resigned, saying COVID-19 complications prevented him from leading efforts against the coronavirus outbreak as it surges once more.
Yelzhan Birtanov, who had held the post since early 2017 and caught the virus in mid-June, wrote on social media that he had developed pneumonia which required additional treatment.
13:50 GMT – Norway to lift travel curbs on European countries with conditions
Norway will lift travel restrictions to and from European countries that respect certain criteria regarding their coronavirus situation from July 15, public broadcaster NRK and daily Dagens Naeringsliv has reported.
Norwegian Prime Minister Erna Solberg is due to hold a news conference about "the coronavirus situation and travelling" at 14:00 GMT.
Norway currently allows travel to and from Denmark, Finland, Iceland and the Swedish island of Gotland since June 15, but maintains travel restrictions on mainland Sweden due to its higher level of coronavirus cases.
13:19 GMT – Kudlow says he expects some US shutdowns in certain areas
Jump in coronavirus cases in parts of the US will likely trigger closure in certain areas, but there will not be a nationwide shutdown, White House economic adviser Larry Kudlow has said.
Kudlow, in an interview on Fox Business Network, said he still expects to see a "strong V" shaped economic recovery and anticipated a 20 percent growth "snapback" in the third and fourth quarters of 2020.
13:15 GMT
Hello, this is Mersiha Gadzo in Doha taking over the live updates from my colleague Usaid Siddiqui.
12:50 GMT – Market 'disconnect' could worsen virus downturn: IMF
Recent gains in global financial markets despite the coronavirus downturn's "huge" economic uncertainties are a potential threat to the recovery if investors abruptly change their minds, the IMF cautioned on Thursday.
Markets have been cheered by the massive support provided by governments and central banks, and seem to expect a quick recovery even though forecasts and consumer confidence are more pessimistic, the IMF said in its latest Global Financial Stability Report.
But the paper warns of the dangers lurking in the future from the flood of "unconventional" policies that have left the global economy awash in easy money.
12:30 GMT – New coronavirus cluster at Italy courier warehouse: Report
A cluster of new coronavirus cases has emerged at a warehouse in the Italian city of Bologna used by express courier Bartolini, a local newspaper reported.
The company uncovered 44 asymptomatic cases – including two drivers – after testing all workers at the warehouse in central-northern Italy following the discovery of two members of staff with the virus, the Resto del Carlino daily said.
12:10 GMT – Pandemic could lead to more narcotic use: UN
The coronavirus pandemic could see a rise in the use and trafficking of narcotics as well as increased risks for users, the UN drugs and crime agency (UNODC) said.
The virus could lead to an overall increase in drug use with a shift towards cheaper products and injecting, both of which could mean greater danger for users, the agency said in its 2020 World Drug Report.
11:40 GMT – Romania reports record high coronavirus infection numbers
Romania reported its highest number of daily infections with the new coronavirus in two months, as it prepares to assess a new phase of relaxation next week.
President Klaus Iohannis ordered a strict lockdown in early March to help rein in the outbreak and replaced the state of emergency with a softer state of alert in May, that is set to run until mid-July.
11:15 GMT – Germany, France shore up political, financial aid to beleaguered WHO
France and Germany expressed political and financial backing for the World Health Organization in its fight against the coronavirus, with Berlin saying it would contribute a record 500 million euros ($561m) in funding this year.
WHO chief Tedros Adhanom Ghebreyesus, speaking at a news conference in Geneva, said the agency, criticised by the United States for being slow off the mark in tackling the pandemic, was getting the financial and political support it needed.
10:35 GMT – Coronavirus cuts force Indonesia to scale back forest protection
Indonesia has scaled back protection for some of the world's most important tropical forests ahead of the worst season for fires because of budget cuts due to the coronavirus, the environment ministry said.
At risk are forests bigger than any outside the Amazon and Congo and which are home to more than one-tenth of the world's mammal species – including the rare orangutan – and nearly a fifth of its birds.
10:13 GMT – Coronavirus cases past 33,000 in Philippines
The Philippines is witnessing a constant rise in new coronavirus cases, with 778 more reported.
The country's Department of Health said in a statement the new cases pushed the national total to 33,069 while the death toll rose to 1,212 after eight more patients died between June 1 and 21.
09:45 GMT – England COVID-19 test and trace system fails to reach a quarter of positive cases
England's COVID-19 test-and-trace system could not reach a quarter of people who had their cases transferred to the system after a positive test for the new coronavirus, UK's Department of Health said.
Of 6,923 people who had their case transferred to the contact tracing system in its third week of operation, 1,791, or 25.9 percent, could not be reached.
09:20 GMT – Eiffel tower in France reopens
The Eiffel Tower on Thursday welcomed back visitors after the coronavirus outbreak forced the Paris landmark into its longest period out of action since World War II.
Strict hygiene and safety measures are in place for the re-opening.
09:00 GMT – Indonesia's passes 50,000 cases as business resumes
The number of coronavirus infections in Indonesia has surpassed 50,000 as the government allows businesses to reopen amid increasing economic pressure.
A government task force says the spiking case numbers align with the country's increasing testing capacity. But testing is still lower than recommended for a country that has 270 million people.
Indonesia started reopening businesses this month and will gradually reopen more through July.
08:40 GMT – India to survey 29 million New Delhi residents
India says it will carry out a massive survey for the coronavirus, targeting New Delhi's entire population of 29 million.
Officials will go each household to record each resident's health details and administer a test to those who show or report symptoms.
Read more here.
08:16 GMT – Gulf coronavirus infections surpass 400,000: John Hopkins University
The number of novel coronavirus cases in the six Gulf states has doubled in a month to over 400,000, as the region's two biggest economies this week fully lifted curfews imposed to combat the infection.
Regional business hub the United Arab Emirates announced late on Wednesday the lifting of a nightly curfew in place since mid-March as the daily number of infections fell from a peak of some 900 in late May to average between 300 and 400 in recent weeks.
Neighbouring Saudi Arabia, which has the highest regional count at more than 167,200 infections and over 1,380 deaths, fully removed its three-month curfew on Sunday.
07:50 GMT – Russia reports more than 7,000 new coronavirus cases
Russia confirmed 7,113 new cases of the novel coronavirus, pushing its tally to 613,994.
Officials said 92 people had died in the last 24 hours, bringing the official death toll to 8,605.
07:25 GMT – Afghanistan uses green stimulus to hire lockdown jobless, boost Kabul's water supply
Zaker Hussain Zaheri was a cook in Afghanistan's capital who lost his job in March due to the coronavirus pandemic.
Now, he digs trenches to capture rainwater and snowmelt on a mountain on the outskirts of Kabul, as the city grapples with both a water and health crisis.
Lockdown measures to curb the spread of the disease have taken their toll on Afghanistan's economy, so the government is employing more than 40,000 jobless workers to rehabilitate groundwater supplies for its fast-growing capital.
07:05 GMT- US records largest daily rise in coronavirus cases at nearly 39,000
The US has seen a major surge in coronavirus cases, weeks after many areas reopened their economies.
Seven states, mainly in the south and west, and including Texas, California and Arizona, reported record increases on Wednesday, the nationwide tally rising by more than 38,600.
Texas, Florida and California all reported record increases, with 7,100, 5,550 and 5,510 new cases, respectively, over the preceding 24 hours.
06:40 GMT – Senegal president self-quarantines after contact with COVID-19 case
Senegalese President Macky Sall is quarantining for two weeks after coming into contact with someone who has since tested positive for the coronavirus, state television said.
The measure is precautionary as an initial COVID-19 test of Sall has come back negative, it said.
06:15 GMT – Lufthansa shares soar after major shareholder backs bailout plan
Lufthansa shares jumped more than 27 percent in early trade after billionaire investor Heinz Hermann Thiele endorsed a nine-billion-euro ($10.12 billion) government bailout to rescue the carrier hit hard by the coronavirus pandemic.
"I will vote for the proposal," Thiele, who owns a 15.5 percent stake in Lufthansa, told Frankfurter Allgemeine daily on Wednesday.
His endorsement amounted to a respite for the airline after fears had swirled that he might veto the proposed package, which would see Germany buy 20 percent of the company.
Does Trump know what 19 in COVID-19 means?
05:34 GMT – Cases in Pakistan continue to decline
Coronavirus testing numbers in Pakistan – which has one of the highest rates of infection spread – are continuing to drop, with just 21,835 tests conducted on Wednesday.
Of those, 4,044 patients tested positive, according to government data, a test-positive rate of 18.5 percent. Countrywide cases rose on Wednesday to 192,970, according to the data. The country also recorded its second-highest number of deaths in a single day on Wednesday, with 148 patients dying, taking the overall death toll to 3,978.
The drop in testing is led by significant decreases in daily testing in Sindh and Punjab provinces, the country's two most populous regions. In Sindh, officials told Al Jazeera the drop in testing was due to a "shortage of staff" at labs causing a backlog.
---
Hello, this is Usaid Siddiqui in Doha taking over from my colleague Kate Mayberry in Kuala Lumpur.
---
04:45 GMT – Hong Kong announces coronavirus death
A 55-year-old male coronavirus patient (confirmed case No 1180) admitted to hospital in Hong Kong in late May has died early on Thursday morning, a spokesman for the Princess Margaret Hospital said
The hospital said the man had suffered a stroke in the Philippines and was airlifted back to Hong Kong.
Seven people have now died from COVID-19 in the territory.
03:50 GMT – 'We cannot overstate the shame': ASEAN MPs on boat pushbacks
A group of MPs from Southeast Asia are calling on leaders of the Association of Southeast Asian Nations (ASEAN) to do more to help refugees and migrants, particularly Rohingya, taking boats across the Indian Ocean.
The open letter signed by Charles Santiago, chairman of ASEAN Parliamentarians for Human Rights (APHR), urged ASEAN leaders to respect vulnerable communities and curb hateful rhetoric directed at refugees and migrants during the coronavirus epidemic.
Malaysia detained 269 Rohingya on a damaged boat earlier this month, and media reported this week that a boat carrying 300 people had been turned away. APHR said ASEAN countries needed to work with Myanmar to end the Rohingya crisis and "organise urgent collective search and rescue operations for boats carrying Rohingya refugees and to organise for their proper disembarkation.
"We cannot overstate the shame that falls upon us collectively when our governments choose to push people back to die at sea."
03:20 GMT – More Qantas staff to lose jobs as a result of coronavirus
Australian airline Qantas is firing at least 6,000 people – 20 percent of its workforce – as part of a series of drastic measures to deal with the impact of the coronavirus,
Qantas also plans to ground 100 aircraft for as long as 12 months, and some for longer, as well as retire its six remaining Boeing 747 planes immediately, six months ahead of schedule.
You can read more on that story from our business team here.
03:05 GMT – Beijing increases testing capacity to keep on top of cases
Beijing has increased daily nucleic acid testing capacity to more than 300,000 samples a day, compared with about 40,000 previously, according to state media.
Authorities in the Chinese capital stepped up testing after a spike in cases linked to the main wholesale food market.
Mainland China on Thursday confirmed 19 new cases of COVID-19, 13 of them in Beijing.
Beijing increases daily nucleic acid testing capacity to over 300,000 samples to better curb the spread of the novel coronavirus. https://t.co/qdDq1Nw040 pic.twitter.com/pPLau7IwRh


— China Xinhua News (@XHNews) June 25, 2020
03:00 GMT – Disneyland delays reopening after California cases surge
Disneyland in the US state of California, which has been closed since the middle of March, has delayed plans to reopen.
The resort was due to open again on July 17, but Disney officials say they will not have time to prepare since the state government will only release operating guidelines on July 4.
Disneyland is the world's second-most-popular theme park. 
02:10 GMT – Australia posts biggest one-day rise in cases in two months
More on the situation in Australia following the announcement that troops will be sent to Melbourne, the country's second-biggest city and the capital of Victoria state.
The state reported 33 people tested positive for the virus in the past 24 hours, the ninth day of double-digit increases.
The country as a whole has recorded more than 7,500 cases of the disease but, with the outbreak seemingly under control, it had eased most restrictions. It has recorded 104 deaths, the latest an 85-year-old man who died in April but has now been confirmed to have had the disease.
02:05 GMT – South Korea cases ease
South Korea's latest coronavirus data suggests it is getting a grip on the clusters that have emerged in Seoul in recent weeks.
The Korea Centers for Disease Control and Prevention (KCDC) said this morning the country had recorded 28 new cases, 23 of them local infections. That is a decrease from Wednesday's 51 cases and Tuesday's 46.
Most clusters are linked to delivery firms and small churches.

00:30 GMT – Australian troops head to Victoria to tackle outbreak spike
Australia's military is to send 1,000 troops to Melbourne to tackle new coronavirus clusters that have emerged in the capital of Victoria state, which has recorded almost 150 new infections during the past week.
Up to 850 Australian Defence Force personnel will help monitor returned international travellers in hotel quarantine while about 200 others will provide logistical and medical support to COVID-19 testing facilities, she said.
Separately, Victoria premier Dan Andrews said the state was launching a "suburban testing blitz" targeting areas identified as hotspots to get on top of the outbreak.
Statement from the Premier on the Suburban Testing Blitz: pic.twitter.com/83Le7IFeW2


— Dan Andrews (@DanielAndrewsMP) June 25, 2020
00:15 GMT – Japan's izakaya pub culture suffers during COVID
Japanese are being more careful about going out for after-dinner drinks, and that is harming the pubs, known as "izakayas" and known for cheap drinks, tasty food, and a cosy atmosphere. Some are tiny, with only a few seats.
Reuters says izakayas are now facing an "existential crisis" as people work from home and avoid indoor venues.
"If drinking out isn't considered welcome, izakayas will go under," Hitoshi Yaosaka, who owns 10 pubs in Tokyo and has seen business return to only a third of pre-COVID levels. "There's a pretty good chance Japan's izakaya culture will die down."
00:00 GMT – States in northeastern US impose quarantines on travellers from eight states
The governors of New York, New Jersey and Connecticut have ordered travellers from eight other states to quarantine for 14 days on arrival as the epidemic in the US gathers momentum.
The order was "the smart thing to do", New Jersey Governor Phil Murphy told the media.
The quarantine applies to people arriving from Alabama, Arkansas, Arizona, Florida, North Carolina, South Carolina, Texas and Utah, including northeastern residents returning from those areas. It will be enforced with fines that will rise for repeat offenders.
—
Hello and welcome to Al Jazeera's continuing coverage of the coronavirus pandemic. I'm Kate Mayberry in Kuala Lumpur.
Read all the updates from yesterday (June 24) here.