Spain PM urges caution as coronavirus movement limit lifts: Live | News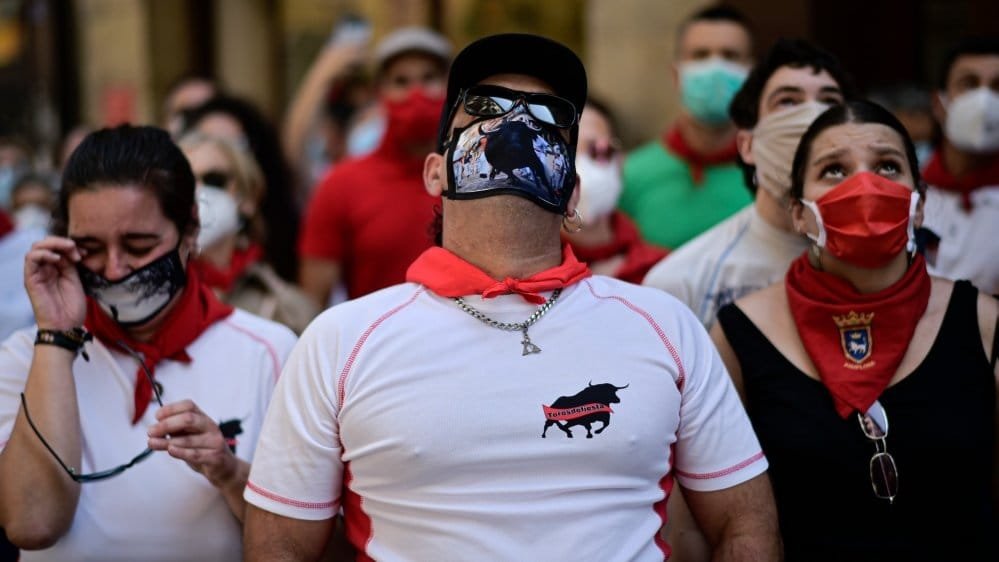 Spain's prime minister has urged caution as limits on movement within the country are lifted. 

Pakistan reported 153 fatalities in a new daily record for coronavirus deaths as infections in the South Asian nation continued to rise.

Brazil has passed one million coronavirus cases and approached 50,000 deaths, making it second only to the United States in both infections and deaths.

German biopharmaceutical company CureVac has started a clinical trial for a vaccine against the novel coronavirus.

More than 458,000 people have died as a result of the new coronavirus, according to data compiled by Johns Hopkins University. At least 8.6 million people have been confirmed to have the coronavirus around the world and more than 4.2 million have recovered.
Here are the latest updates:
Saturday, June 20
17:20 GMT – Spain to allow Britons to visit from Sunday without quarantine
Spanish foreign minister Arancha Gonzalez Laya has said that Spain would open its doors to British tourists from Sunday without the need for them to spend two weeks in quarantine because of the coronavirus.
"We will allow British visitors to enter Spain just like the rest of the European Union or Schengen from 21 June freely and without the need for the quarantine," she told BBC News.
She said Spain is still discussing with UK authorities whether they will offer the same conditions for Spanish visitors to the UK
16:40 GMT – Italy reports 49 new deaths, 262 new cases 
Italy has reported 49 deaths from COVID-19 , compared with 47 a day earlier, the Civil Protection Agency said, while the daily tally of new cases rose to 262 from 251 on Friday.
The country's death toll since the outbreak came to light on February 21 now stands at 34,610, the agency said, the world's fourth-highest after the United States, Brazil and Britain.
The number of confirmed cases amounts to 238,275, the eighth-highest global tally. The agency said a recalculation in the regional count meant two fewer cases were reported in previous days.
How will countries pay off their debt after COVID-19? | Counting the Cost
16:00 GMT – Montenegro calls polls for August despite virus return
Montenegro has scheduled a parliamentary election for August despite a return of the coronavirus two weeks after it had declared the end of the epidemic.
Montenegro declared itself virus-free on June 2 but two weeks later registered a few dozen new infections, with authorities blaming citizens attending a football match in neighbouring Serbia.     
President Milo Djukanovic scheduled the election for August 30 in the Adriatic country of 620,000 people that became independent in 2006 following a split with Serbia.      
So far the country has registered a total of 355 coronavirus cases, including nine deaths.
15:20 GMT – Spain PM urges caution as state lifts remaining restrictions
Spain's Prime Minister Pedro Sanchez has called on the population to continue to take care on Saturday, the last day of the state of alert imposed to contain the coronavirus. 
"The virus can return, and we could face a second wave of infections," Sanchez said in a televised speech."We all need to follow health and hygiene regulations closely." 
Spain, one of the countries worst affected by the pandemic, introduced a strict lockdown in mid-March to contain the virus, which has led to 28,000 deaths. From midnight the lockdown is to be lifted. 
14:40 GMT – Hong Kong records fifth death
A 78-year-old woman has died in Hong Kong from coronavirus, taking the death toll from COVID-19 in the city to five, with 1,129 cases.
Hong Kong has eased social distancing measures aimed at curbing the spread of coronavirus with the latest rules now banning gatherings of 50 people or more. The semi-autonomous region has largely avoided the outbreak of infections in mainland China at the beginning of the pandemic.
14:00 GMT – UK confirmed death toll rises by 128 to 42,589
The death toll from confirmed cases of COVID-19 in the United Kingdom has risen by 128 to 42,589, health officials said on Saturday
Meanwhile, confirmed cases in the UK rose by 1,295, bringing the country total to date 303,110.
13:20 GMT – Saudi Arabia to lift national curfew, resume economic activities as of Sunday
Saudi Arabia will lift a nationwide curfew and resume all economic and commercial activities as of Sunday morning, state news agency SPA has quoted a source in the interior ministry as saying
The curfew will be lifted as of 6 AM on Sunday, while Umra, international flights, entry to kingdom across land borders and social gatherings to more than 50 people remain suspended, the statement said.
---
Hello, this is Joseph Stepansky in Doha taking over from my colleague Usaid Siddiqui.
---
12:30 GMT – Qatar reports 1,026 coronavirus cases
At least 1,026 people have contracted coronavirus in Qatar in the last 24 hours, the country's public health ministry said, taking the total to 86,488.
One person died from the virus, the ministry added, taking the death toll to 94.
11:50 GMT – Pope holds first post-lockdown audience, hails Italy healthcare workers 
Pope Francis held his first audience for a group of people since Italy lifted its coronavirus lockdown, granting it to health workers from the Italian region most affected by the pandemic.
"You were one of the supporting pillars of the entire country," he told doctors and nurses from the Lombardy region gathered in the Vatican's frescoed Clementine Hall, which had not been used for months because of the crisis.
"To those of you here and to your colleagues all across Italy go my esteem and my sincere thanks, and I know very well I am interpreting everyone's sentiments," he said.
Italy returned to relative normality on June 3 when Italians were allowed to move between regions again. But rules such as social distancing in public and wearing masks are still in effect.
Nearly 35,000 people in Italy have died of coronavirus, the fourth highest number in the world after the United States, Brazil and Britain.
10:35 GMT – French stadiums to allow football fans in from July 11 – government
Stadiums in France will re-open to fans on July 11 as the country continues to lift measures imposed to contain the COVID-19 outbreak, the government said.
A maximum of 5,000 fans, however, will be allowed in the arenas – a restriction that could be eased later in the summer with the new season due to start on the weekend of August 22.
The French Cup and League Cup finals could now be played with spectators and fans will also be able to watch their teams play pre-season friendlies.
France tourism looks to reopen as coronavirus restrictions ease
09:55 GMT – US Embassy in Kabul battling COVID-19 infections
The US State Department says COVID-19 infections have been reported at its embassy in the Afghan capital and the staff who are affected include diplomats, contractors and locally employed staff.
The State Department did not say how many were affected. An official at the embassy in Kabul, who could not be identified because of not being authorized to talk to the media, said as many as 20 people were infected, the majority of whom are Nepalese Gurkhas, who provide embassy security.
"The embassy is implementing all appropriate measures to mitigate the spread of COVID-19," the US State department said.
The infected staff are in isolation in the embassy while the remainder on the compound are being tested, said the embassy official, who also said the embassy staff have been told they can expect tighter isolation orders.
09:20 GMT – Kyrgyzstan tightens coronavirus restrictions after increase in new cases
Kyrgyzstan has shut down public transport in the capital Bishkek and the routes between all of its provinces until Monday, Prime Minister Kubatbek Boronov said.
The move came as the number of new coronavirus cases in the Central Asian nation rose by 192.
"We must ensure the country's full readiness for a worsening of the epidemiological situation," Boronov said. "We see daily growth in new COVID-19 cases."
The former Soviet republic of 6.5 million people, which now has 2,981 reported cases of the virus, ended a state of emergency accompanied by curfews and lockdowns in May.
08:55 GMT – Indonesia reports 1,226 new coronavirus infections, 56 deaths – ministry
Indonesia reported 1,226 new coronavirus infections, taking the total number of cases in the South East Asian nation to 45,029.
Health ministry official Achmad Yurianto said there were 56 more deaths reported, with total fatalities now at 2,429, the highest coronavirus death toll in East Asia outside of China.
08:35 GMT – UK to conclude England's 2-metre COVID-19 rule review soon -minister
Britain's government will announce in the coming days whether it will reduce its two-metre social distancing rule for England, a minister said.
Many employers, especially in the hospitality and leisure sectors, have said the rule that people must remain two metres apart will stop them from getting back to speed as the coronavirus lockdown is lifted.
"We have committed to reviewing the two-metre to one-metre rule and we will be concluding on that shortly," culture minister Oliver Dowden told BBC radio late on Friday.
"Within the coming days we will get the outcome," he added.
08:15 GMT – Russia reports just under 8,000 new coronavirus cases
Russia reported 7,889 new cases of the novel coronavirus, pushing its nationwide case tally to 576,952 since the crisis began.
The national coronavirus response centre said 161 people had died in the last 24 hours, bringing the official death toll to 8,002.
07:50 GMT – Limited lockdown begins in Turkey to help curb COVID-19 spread
A limited nationwide lockdown started in Turkey, in an effort to contain the spread of coronavirus during high school entry exams for 1.6 million students, state news agency
Anadolu reported.
The curfew in all the country's 81 cities is in effect from 9 am to 3 pm (0600 to 1200 GMT) to avoid crowds during entrance and exit of the exam.
Anadolu shared footage of students wearing masks and queuing to enter the exam centres under security measures. The students, some of them accompanied by parents, were provided with extra masks and
disinfectant. Security personnel wore protective face shields
07:30 GMT – India registers highest single-day rise in cases
India recorded its highest single-day jump in coronavirus cases with 14,516, bringing the tally to 395,048, according to health officials.
The death toll rose to 12,948 with 375 fatalities in a day. India registered over 10,000 cases for the ninth day in a row.
Coronavirus: Indian hospitals overwhelmed with thousands of cases
07:10 GMT – Aussie rules game postponed after player fails COVID-19 test
The Australian Football League has postponed a game between Essendon and Melbourne because a player who recently returned from Ireland has tested positive for COVID-19.
The Australian rules AFL competition was into the second weekend of matches after restarting in the wake of the shutdown for the coronavirus pandemic.
AFL chief exectuive Gillon McLachlan says Essendon player Conor McKenna tested positive but remained asymptomatic.
06:30 GMT – Australian Victoria state reimposes restrictions
Australia's Victoria state is set to reimpose household restrictions from Monday after recording double-digit increases in COVID-19 cases for a fourth consecutive day.
Victoria Premier Daniel Andrews says household gatherings will be restricted to five guests and outdoor gatherings to 10 people until midnight July 12.
Andrews said Victoria recorded 25 new cases on Saturday, the biggest daily increase in two months.
06:10 GMT – Guatemala replaces health minister mid-pandemic
Guatemala replaced its health minister Friday amid the rising pace of COVID-19 infections and deaths in the Central American country.
President Alejandro Giammattei pushed out Health Minister Hugo Monroy and named Amelia Flores, a former vice minister of health in an earlier administration, as his replacement.
Monroy, who had held the position since January, had been harshly criticized for his management of the pandemic. Federal lawmakers called him in multiple times for questioning and complained that the Health Ministry was spending too little of its budget during the pandemic.
05:50 GMT – Navy upholds firing of carrier captain in virus outbreak
The two senior commanders on a coronavirus-stricken aircraft carrier didn't "do enough, soon enough," to stem the outbreak, the top U.S. Navy officer said Friday, a stunning reversal that upheld the firing of the ship's captain who had pleaded for faster action to protect the crew.
Capt. Brett E. Crozier and Rear Adm. Stuart Baker, commander of the carrier strike group, made serious errors in judgment as they tried to work through an outbreak that sidelined the USS Theodore Roosevelt in Guam for 10 weeks, said Admiral Mike Gilday, the chief of naval operations.
The Crozier decision was a surprise since Gilday had recommended that the captain be restored to his command less than two months ago after an initial inquiry.
The pandemic set off a dramatic series of events that led to Crozier's dismissal, the abrupt resignation of the acting Navy secretary who fired him and the push for a broader review of the Pacific fleet's top commanders and how they handled the virus outbreak.
05:30 GMT – Pakistan to resume international flights
Pakistan resumed international flight operations in the country, after months of a suspension imposed to prevent further spread of the coronavirus.
The government "is pleased to authorize international flight operations to and from Pakistan from all international airports from June 20," Abdul Satttar Khokhar, spokesperson for the Civil Aviation Authority said in a statement late Friday.
The permissions may be subject to restrictions from time to time based on the evolving Covid-19 scenario and implementation of health protocols.
---
Hello, this is Usaid Siddiqui taking over from my colleague Zaheen Rasheed in Male.
---
 I'll now be handing over this blog to my colleagues in Doha.
Here's a quick summary of the latest developments: Costa Rica and Mexico are delaying reopening of their economies amid a rise in infections, while a court in the US has rejected a bid to make face masks mandatory at President Donald Trump's upcoming campaign rally in Tulsa, Oklahoma.
China's capital, Beijing, reported a further drop in locally transmitted cases but Pakistan registered a new daily record for deaths. 
04:58 GMT – Pakistan reports highest daily death toll
Pakistan has reported 153 fatalities in a new daily record for COVID-19 deaths as infections across the country continued to spiral. 
The total death toll now stands at 3,382. Hospitals are filling up and in many cities across the country and COVID-19 patients are being turned away as new infections pushed the overall number of confirmed cases to 171,665.
In a country of 220 million people, Pakistan has fewer than 3,000 ICU beds – among the world's lowest number. Ventilators are being distributed to some of the worst-hit areas and the government has sealed more than 800 residential and business areas where clusters of infections have surfaced.
Yet despite urging from medical professionals and the WHO, Pakistan has refused to impose strict lockdowns.
Hospitals struggle as coronavirus cases explode in Pakistan
04:31 GMT – US rejects Chinese airlines' request for additional flights
Washington rejected a request by four Chinese airlines for additional weekly flights between the two countries, but said the decision was not meant to escalate tensions over travel restrictions in the midst of the new coronavirus pandemic.
In a statement, the US Department of Transportation said the decision was made to "maintain the parity" in scheduled passenger services between the two countries, adding it was willing to review the decision if Chinese aviation authorities adjusted their policies affecting US carriers.
Earlier this week, the US and China said they would each allow four weekly flights between the two countries.
How can the aviation industry weather the coronavirus storm? (24:22)
04:21 GMT – US to release Hezbollah financier
The US will release convicted Hezbollah financier Kassim Tajideen three years into his five-year sentence due to his poor health and risks of COVID-19 infection from prison, according to court documents.
On May 28 Washington Federal District Court Judge Reggie Walton granted Tajideen's emergency request for compassionate release, which said his age and "serious health conditions" leave him particularly vulnerable as the coronavirus spread through the US prison system.
Tajideen, 64, could be back in Lebanon within weeks.
According to a June 11 court filing by US Immigration and Customs Enforcement, he was released from the federal prison in Cumberland, Maryland after a two-week coronavirus quarantine and moved to a county detention centre while awaiting departure.  
"At this time, a charter flight to Lebanon has been scheduled for July 2020 and Mr Tajideen is on the manifest," ICE said in a court filing.
04:11 GMT – South Korea logs biggest daily rise in three weeks
South Korea reported its largest 24-hour increase in confirmed coronavirus cases in about three weeks amid an uptick in imported cases.
Officials said the 67 additional cases raise the country's total to 12,373, with 280 deaths.The new figure is the largest daily increase since South Korea reported 79 cases on May 28.
Officials say 31 of the new cases came from outside the country and the other 36 were locally transmitted.
South Korea is seeking to contain a spike in fresh virus transmissions since early May when it eased social distancing rules. The new cases have been linked to nightlife establishments, church services, a big e-commerce warehouse and door-to-door sellers.
03:38 GMT – Novartis halts malaria drug trial amid participant shortfall
Swiss drugmaker Novartis is halting its trial of malaria drug hydroxychloroquine (HCQ) against COVID-19 after struggling to find participants, it said on Friday, as data emerged from other studies raising doubts about the drug's efficacy.
Novartis's trial began in April and sought to test the drug in 440 hospitalised patients. But the project only managed to recruit a handful.
"The recruitment challenge facing our hydroxychloroquine trial has made it unlikely that the clinical team will be able to collect meaningful data in a reasonable time frame to determine the efficacy of hydroxychloroquine in treating patients with COVID-19," Novartis said in a statement.
02:53 GMT – Beijing reports further drop in new cases
China's capital recorded a further drop in new confirmed coronavirus cases as tightened measures to contain the spread remain in place.
Officials reported 22 new cases in Beijing, along with five others elsewhere in the country. No new deaths were reported and 308 people remain hospitalised for treatment for COVID-19.
One of the Beijing cases is a nurse at a hospital in the suburban Changping district. The Peking University International Hospital where she worked is now under tightened restrictions, along with residential communities in the surrounding area.
A total of 205 people have been diagnosed with the virus in Beijing since the outbreak began last week, with at least two of them critically ill and 11 others in serious condition.
02:19 GMT – Pandemic could worsen Haiti's 'already alarming humanitarian situation'
Helen La Lime, the United Nations Special Representative for Haiti, said the coronavirus pandemic is worsening the country's "already alarming humanitarian situation", something that could see an increasing number of citizens flee the island to seek a better life abroad. 
And unless more help was offered to tackle Haiti's economic recession, "a primarily domestic problem could transform into a regional issue," she warned during a virtual meeting of the UN Security Council on Friday. 
She added: "A vicious circle of mistrust, recrimination and ultimately violence, is once again starting to define the dynamics of Haitian politics at a time when the entire society should be unified in its response to the pandemic".
Haiti has a population of 11 million people and has so far recorded 4,900 coronavirus cases and 84 deaths.
01:57 GMT – Mexico City delays reopening as cases continue to surge
Authorities in Mexico City delayed a planned reopening of the economy as new confirmed cases and deaths reported nationwide continued at near-record levels.
Claudia Sheinbaum, mayor of the 11 million strong city, said hospital occupancy and case numbers had not decreased to the point where reopening malls and street markets would be possible. About 70 percent of the city's hospital beds are occupied.
Mexico's Health Department reported 5,030 new confirmed coronavirus cases and 647 more deaths, both numbers down just slightly from Thursday. Total cases now stand at 170,485, with 20,394 fatalities.
01:35 GMT – US court rejects bid for mandatory masks at Trump rally
Oklahoma's Supreme Court rejected an effort to require everyone attending US President Donald Trump's rally in Tulsa this weekend to wear a face mask and maintain social distancing to guard against spreading the coronavirus.
In a concurring opinion, two justices said the local residents asking for precautions at Trump's rally – the US's largest indoor gathering in months – could not establish their legal right to the relief they sought.
The petition was filed by two people described as having compromised immune systems and at particular risk from COVID-19.
The ruling came as Oklahoma reported its second-biggest increase in new infections on Friday, logging 359 cases of COVID-19 and one death. That brings the state's total caseload to 9,706 and number of deaths to 367. 
01:10 GMT – Costa Rica halts reopening
Costa Rica is halting the reopening of its economy after registering on Friday a record 119 new coronavirus infections – a figure that brings the country's total number of confirmed cases to 2,508.
"These are not numbers to think that nothing is wrong and that we can continue with the reopening," Health Minister Daniel Salas told reporters.
"Stores and shopping malls, beaches, churches and other activities will have to wait until we have a sustained decrease in cases," he said, adding that the country's national soccer league is also suspended "until further notice".
At least 12 people have died from COVID-19 in Costa Rica.
00:23 GMT – Brazil surpasses one million coronavirus cases
Brazil passed one million coronavirus cases and approached 50,000 deaths in a new nadir for the world's second-worst-hit country.
The country's health ministry reported 1,032,913 confirmed cases on Friday, with 1,206 new deaths that took the total official death toll to 48,954.
Friday also saw a new record daily number of cases, with 54,771 infections, a jump the health ministry said was largely due to "instability" in its reporting system, which meant some states were reporting figures from multiple days.
Brazil is likely to surpass 50,000 deaths on Saturday, although weekend reporting can be lower.
Read more here.
00:16 GMT – Zimbabwe health minister arrested over coronavirus supplies scandal
Zimbabwe's health minister Obadiah Moyo was arrested on Friday for alleged corruption related to the supply of medical materials to combat the coronavirus pandemic, the country's anti-graft agency said.
He was being held at a Harare police station and is likely to appear in court on Saturday.
"I can confirm that the minister of health and child welfare has been arrested and is being detained at Rhodesville police station," John Makamure, spokesman for the Zimbabwe Anti-Corruption Commission, told the AFP news agency.
"It's to do with the procurement of COVID-19 materials," he added.
The government did not immediately comment on the arrest, which came a day after the country's main opposition condemned alleged corruption following suspicions about a two-million-dollar payment to a medical company contracted to provide anti-coronavirus equipment.  
Harare has come under fire for granting two-month-old company Drax Consult SAGL a contract to supply $20m worth of drugs, personal protective equipment and COVID-19 test kits.
The deal was allegedly signed without the consent of Zimbabwe's procurement registration authority.
---
Hello and welcome to Al Jazeera's continuing coverage of the coronavirus pandemic. I'm Zaheena Rasheed in Male, Maldives. 
You can find all the key developments from yesterday, June 19, here.