Qatar announces 2020 budget, its biggest in five years
The newly announced budget includes money for a major infrastructure project and facilities for the 2022 World Cup.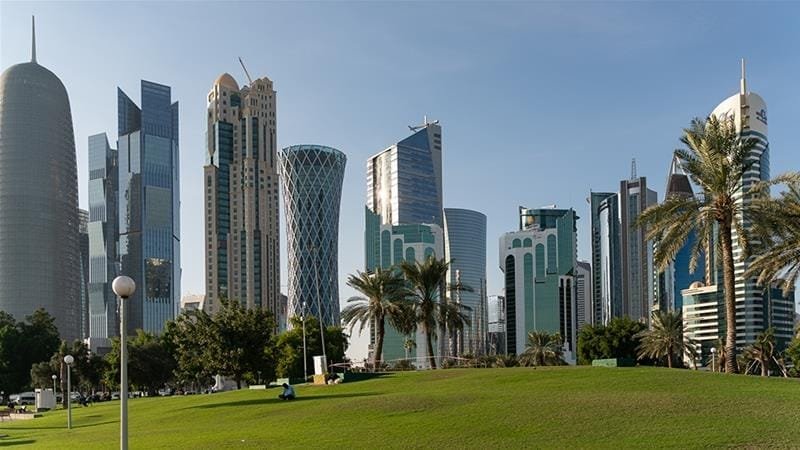 Qatar said on Monday that it plans to spend 1.9 percent more in 2020 than in 2019, outlining a 210.5 billion Qatari riyal ($58bn) budget to complete infrastructure projects including facilities for the 2022 football World Cup.
It was the gas-rich Gulf state's biggest budget in five fiscal years and follows years of heavy spending on infrastructure projects.
More:
Qatar was hit hard in mid-2017 by a boycott imposed on it by neighbouring countries amid a row over security issues. But it has used some of its vast financial reserves to protect its banks and boost economic growth.
"The 2020 budget is designed to achieve efficiency in the current expenditure while maintaining the allocations required for the completion of major approved projects," the finance ministry said in a statement on Monday.
Revenues in 2020 are expected to stay unchanged at 211 billion riyals ($58bn), based on an oil price assumption of 200 riyals ($55) per barrel.
As a result, the country expects a surplus of 500 million riyals ($137m) next year compared with a surplus of 4.4 billion ($1.2m) riyals this year, it said.
Qatar's rift with its neighbours has shattered the Gulf Cooperation Council (GCC) alliance, a bloc of Sunni-ruled Arab monarchies in the Gulf that have close ties with the United States and that host US military bases.
But there has been "small progress" recently in resolving the dispute, Qatar's foreign minister said last week, just days after the country's premier visited Saudi Arabia at an annual GCC summit – Qatar's highest representation since 2017.
Major projects
For next year, the world's biggest liquefied natural gas exporter plans to spend 90 billion riyals ($25bn) on major projects – a 0.6 percent increase and the largest share of the overall budget.
"It highlights the country's commitment to timely complete the projects in leading sectors, including healthcare, education, and transportation, along with those related to the hosting of the FIFA World Cup in 2022," the statement said.
New projects worth 11.5 billion riyals ($3.2bn) will be awarded next year, it said.
Main infrastructure projects include the completion of highways, expansions in the water and electricity networks, and the launch of the Sharq Crossing Project, linking Doha's Ras Abu Aboud area and the West Bay high-rise district, which is expected to be completed within four years.
Spending allocations are expected to increase 3.3 percent to 59 billion riyals ($16.2) for salaries and wages, partly thanks to staff being hired to operate recently completed projects such as the Doha Metro.
"Qatar can easily afford to spend, and now that major 2022 infrastructure projects like the metro are complete, they are looking to revive projects that were postponed to focus on the priority ones," said Rory Fyfe, managing director at MENA Advisors.
Saudi Arabia, the United Arab Emirates, and Bahrain introduced a five percent value-added tax (VAT) over the past two years to reduce their dependence on oil revenues, but Qatar said last year it wanted more time to assess the effects of a VAT.
There was no mention of VAT introduction in Qatar's 2020 budget statement.
The World Bank said in a report this month that Qatar is the only GCC country expected to post a fiscal surplus in the three-year period of 2019-2021.
The report added that Qatar should avoid delaying the introduction of VAT, which is needed to reduce the fiscal impact of oil price volatility.