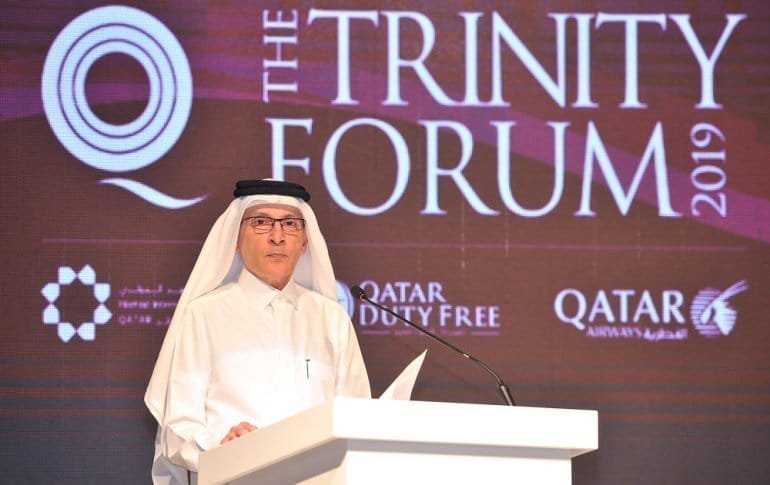 Sachin Kumar | The Peninsula
Hamad International Airport (HIA), Qatar's gateway to the world, is expected to serve over 40 million passengers by the end of this year, compared to 30 million passengers in 2018. The passenger growth rate shows that the airport is back on its pre-blockade growth rate, said Akbar Al Baker, Group Chief Executive, Qatar Airways, yesterday.
"More than 35 million people passed through Hamad International airport last year and this number is set to increase. We estimate that we will cross 40 million passengers by the end of this year," said Akbar Al Baker, addressing the 2019 Trinity Forum, which is jointly hosted by Qatar Airways, HIA and Qatar Duty Free (QDF).
"We are going back to the growth rate that we had before the illegal blockade. With the airport expansion, we will accommodate more than 53 million passengers annually in time and expect more than 70 million capacity soon thereafter for which we plan to start building the final expansion," he added.
HIA had, last week, announced its ambitious expansion plans to meet the growing demand for air travel and enhance its position as the preferred gateway for travel.
Expansion plan includes construction of an indoor tropical garden, a water feature, new cargo terminal, new transfer area to shorten passengers' connection time, landscaped retail and F&B space and other new features.
Akbar Al Baker also announced that Doha International Airport will be used to meet increased passenger demand during 2022 FIFA World Cup.
"We know that there would be huge demand over the two-month period before and after 2022 FIFA World Cup. So, we are already activating Doha International Airport. In the year 2020 and 2021, Doha International Airport will get full refurbishment to make it fully active to spread to the traffic between two airports. We will increase its capacity by another 10 million people," said Akbar Al Baker
He added that refurbishment refers just to cleaning and overhauling of systems as it is a fully functional airport.
"Our neighbours and competitors should be satisfied that we don't intend to compete with them with size, we will always compete with them with quality.  Because HIA will always be the quality airport and the airport that will be sought after by our customers," he added.
HIA has served over 187 million passengers at its state-of-the-art terminal since opening in 2014 to date.
"When we reach 70 million capacity we will stop there because that is the size of the hub my country needs. With capacity growing it is even more important to provide an airport experience like never before to our passengers," he added.
The second phase of expansion of HIA consists of Phase A and B. Phase A of the current expansion will comprise of the central concourse linking concourses D and E. Construction will commence by early 2020 and will increase the airport's capacity to more than 53 million passengers annually by 2022. Phase B, which will be completed after 2022, will extend concourses D and E to further enhance the airport's capacity to more than 60 million passengers annually.