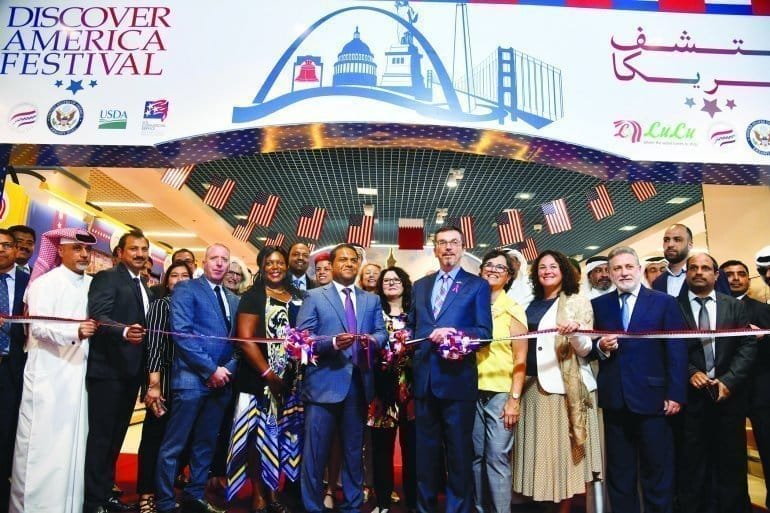 Knowledge is power
The Future Of Possible
Hibs and Ross County fans on final
Tip of the day: That man again
Hibs and Ross County fans on final
Spieth in danger of missing cut
Doha: A major retailer in the region, Lulu Hypermarket Qatar, has unveiled 'Discover America Festival', a week-long showcase of high-quality food products from the United States.
Chargé d' Affaires of the US Embassy, William Grant inaugurated the festival  at Lulu Hypermarket, Al Messila branch on Thursday.
The inaugural ceremony was also attended by distinguished guests from the US Commercial Service, American Chamber of Commerce, USDA Office of Agricultural Affairs, American Women's Association, American School and senior officials including Mohamed Althaf, Director from Lulu Group and many other dignitaries from various American organisations operating in Qatar.
Efforts have been made for showcasing and promoting the best of agricultural produce and food products of America at all Lulu outlets during the ongoing Discover America Week in the region and worldwide.
All that is truly extraordinary within American cuisine are right present on the shelves, with over 100 varieties of US cheese from leading US brands namely Shullsburg, Lifetime, Hoffman and Kraft, 3,000 grocery lines, 750 chilled lines including Chobani, Starbucks Coffee, Califia Farms, Silk  and Nestle ranges, 200 lines in frozen, bakery and US meat; of course, it is a vast array of over 5,000 product lines of US goods.
Compared to last year, Lulu's trade with America has touched new heights this year with addition of new lines including Just Water. The launch of Just Water from Glens Falls watershed with fully sustainable 100 percent recyclable packaging was held during the inaugural ceremony of the festival.
The promotion will also feature popular US brands like Bragg, Ragu, Jiff, Gerber, General Mills, Kellogg's, Nestle, Oreo, Herrs, Cheetos, My-Mo, McCain, Jell-O, Bertolli, Folgers, Smucker's, Quaker, Gatorade, Hershey's, Dole, Heinz, Celeste, Ben & Jerry's, Eggo, Essential Everyday, Rothbury Farms and many more.  Other world class brands of US origin in Health & Beauty and non-food categories are seen on the shelves.
Most importantly, Lulu has emphasized on showcasing the biggest range of 'Free From' worry food products such as organic, gluten-free, lactose free, dairy free, vegan and many other healthy options, that have specially flown-in from the US.  Promotion was made available across all Lulu stores.
The festival was made attractive with in-store promotions, sampling, live demonstrations by renowned American Chef Grant from the STK Steakhouse Marriott Marquis, communication campaigns via social networks and media and through booklet, and specific procurement activities to increase the range of US products offered in Lulu's hypermarkets.
The renowned American Motorcycle with brand name 'Indian Motorcycle', was displayed in store as part of the festival to create a typical ambiance of American heritage.
Lulu Hypermarket has been hosting the festival since 2015 and has been very successful with the overwhelming response received from the customers.  Lulu Hypermarkets treasure long-standing business relations with the US for over a decade; and by organising the festival Lulu aims to further promote US produce and food products through their stores in the region.
The group has invested heavily in the US with a 75,000 square feet state of the art export distribution center in New Jersey, which is working closely with the local supply chains to offer the best ranges possible for the ever-demanding multi-national customers in the region.
Besides export distribution center in the US, Lulu Group has set up many years back a comprehensive and well-established international network of sourcing offices and export distribution centers in 24 countries across the world.
These export distribution centers regularly cater to the requirements of all Lulu outlets.