Bolsonaro tests positive for coronavirus again: Live updates | Coronavirus pandemic News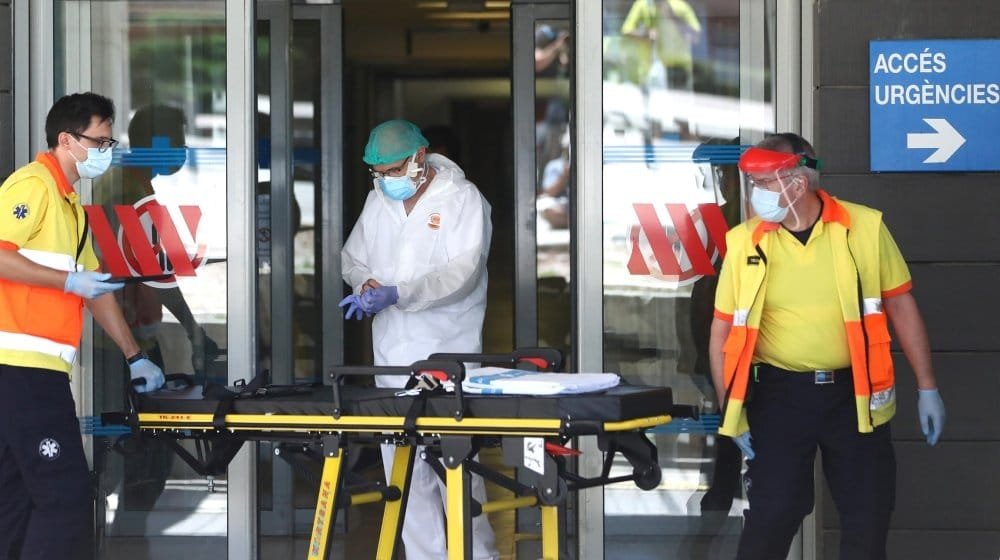 India joins many other countries and cities across the globe in reimposing localised lockdowns following sharp spike in the number of new coronavirus cases in the country.

Researchers in the United States say that the first vaccine tested in the country had worked to boost patients' immune systems and is set for final testing. This is as the number of cases nationwide rose by 65,682 for a total of 3.45 million with at least 919 new deaths added to the tally of around 136,000.

The blood from seriously ill coronavirus patients on ventilators was found by researchers to be highly inflammatory and harmful to the body, the South China Morning Post reported on Wednesday, citing a study by Dutch scientists.

More than 13.3 million people around the world have been diagnosed with COVID-19, 7.4 million have recovered, and more than 579,300 have died, according to data from Johns Hopkins University. The US, Brazil, the United Kingdom, Mexico and Italy have recorded the most deaths.
Here are the latest updates.
Wednesday, July 15
21:30 GMT – Brazil's Bolsonaro tests positive for coronavirus again
Brazilian President Jair Bolsonaro has again tested positive for coronavirus, he told reporters in Brasilia, suggesting he has yet to recover from an infection first diagnosed last week.
Since catching the virus, the president has said he remains in good health and he would resume his normal work schedule if he tested negative this week. On Wednesday he said he would get tested again in a few days.
20:40 GMT – 

South Africa COVID-19 cases cross 300,000: Health ministry

South Africa's coronavirus cases of crossed 300,000, the most in Africa and amongst the top 10 in the world.

Africa's most industrialised nation recorded a rise of 12,757 cases on Wednesday to reach 311,049 confirmed COVID-19 cases, its health ministry said in a late evening statement, a little over four months since the first case was confirmed in the country. 

It has tested 2,278,127 people so far and has seen a total of 160,693 recoveries and 4,453 deaths, the statement said. 
19:30 GMT – Trump administration takes control of COVID-19 data in US
The Trump administration is taking control of data collection on COVID-19 hospitalisations in the United States from the Centers for Disease Control and Prevention (CDC) rising questions about whether the information will be politicised as cases in the US surge and deaths rise.
Patient information will now be sent to a new central database in Washington, DC run by the US Department of Health and Human Services instead of to the CDC, which has been criticised for slow and inconsistent public reporting of the number of cases, available beds and ventilators.
"Today, the CDC still has at least a week lag in reporting hospital data," HHS spokesman Michael Caputo said in a statement issued to US media outlets.
"America requires it in real time. The new, faster and complete data system is what our nation needs to defeat the coronavirus, and the CDC, an operating division of HHS, will certainly participate in this streamlined all-of-government response. They will simply no longer control it," Caputo said.
Read more here.
19:15 GMT – 2021 Rose Parade cancelled due to coronavirus pandemic
Organisers said the 2021 Rose Parade will not take place on January 1 because of the the coronavirus pandemic.
The parade is held on January 1 every year except when New Year's Day falls on a Sunday. 
Since its inception in 1891, the parade has not occurred only three times – during the wartime years of 1942, 1943 and 1945.
18:35 GMT – Fauci calls White House effort to discredit him 'bizarre' 
US infectious disease expert Anthony Fauci said on Wednesday he did not understand the effort by some in the White House to discredit him.
"You know, it is a bit bizarre. I don't really fully understand it," Fauci said in an interview with The Atlantic.  
"I think if you talk to reasonable people in the White House they realise that was a major mistake on their part because it doesn't do anything but reflect poorly on them. And I don't think that was their intention." 
17:50 GMT – Bangladesh arrests hospital owner over fake virus results
A Bangladesh hospital owner accused of issuing thousands of fake negative coronavirus test results to patients at his two clinics was arrested Wednesday while trying to fleeing to India in a burqa, police said.   
The arrest marked the end of a nine-day manhunt for Mohammad Shahed over allegations of giving fake certificates to patients saying they were virus-free without even testing them.     
Shahed, 42, was one of more than a dozen people detained by authorities over the past few days in connection with the scam.        
"He was arrested from the bank of a border river as he was trying to flee to India. He was wearing a burqa," Rapid Action Battalion spokesman Colonel Ashique Billah told AFP.  
"His hospitals carried out 10,500 coronavirus tests, out of which 4,200 were genuine and the rest, 6,300 test reports, were given without conducting tests," Billah added.
17:00 GMT – Florida confirms more than 10,000 new cases
Florida reported 10,181 new coronavirus cases on Wednesday, taking the total number of infections in the state to 301,810. 
The state confirmed 112 deaths, the third time in the last seven days its eclipsed 100. The death toll stands at 4,626. 
As of Tuesday, Florida had the second-highest fatalities in the United States, slightly behind Texas.
Read more here.
16:45 GMT – Oklahoma governor tests positive for COVID-19
Oklahoma Governor Kevin Stitt announced Wednesday that he's the first governor in the United States to test positive for the coronavirus and that he is isolating at home.
Stitt, 48, said he mostly feels fine, although he started feeling "a little achy" on Tuesday and sought a test. He said his wife and children were also tested Tuesday and that none of them has tested positive.
"We respect people's rights … to not wear a mask," Stitt said during Wednesday's news conference, which was held virtually. "You just open up a big can of worms."
There has been a dramatic increase in the number of people testing positive for COVID-19 in Oklahoma, with nearly 22,000 confirmed cases and 428 deaths.
16:30 GMT – LA teachers demand better technology ahead of remote school year
After being told to return to remote education in the fall (autumn), Los Angeles teachers are demanding greater technology support to avoid the chaos they say they faced when the COVID-19 pandemic forced schools to abruptly switch to online learning in March.
The nation's second-largest school district and the union representing its 30,000 teachers were due to open negotiations on Thursday to hammer out work rules governing instruction for some 700,000 children at home.
The Los Angeles Unified School District (LAUSD) and United Teachers Los Angeles have so far spoken only in broad terms about how they aim to improve an online instruction formula that Grace Regullano, the union's research director, called "crisis learning".
"What happened in the spring is not what's going to be happening in the fall," Regullano said, recounting the myriad problems the district encountered making the transition to distance learning "at a day's notice" in mid-March.
Read more here.
16:15 GMT – Walmart to require US customers to wear face masks
Walmart will require shoppers to wear face masks, joining an increasing number of businesses in the US mandating face coverings.  
The world's biggest retailer, which had previously encouraged masks on consumers but not required them, said the mandate would take effect July 20.      
"While we're certainly not the first business to require face coverings, we know this is a simple step everyone can take for their safety and the safety of others in our facilities," said a memo by two executives at Walmart, US Chief Operating Officer Dacona Smith and Lance de la Rosa, chief operating officer at Sam's Club. 
"Because the virus can be spread by people who don't have symptoms and don't know they are infected, it's critically important for everyone to wear a face covering in public and social distance."
16:00 GMT – COVID-19 kills four Kenyan health workers
Coronavirus has killed four Kenyan health workers and infected 450, the health ministry said, as word emerged of a slew of cases in Kenya's biggest maternity hospital.
"Health workers handling patients with confirmed or suspected cases of coronavirus disease face an increased risk of exposure to the virus," Rashid Aman, the chief administrative secretary at the ministry of health, told a news briefing.
At least 41 of the staff at Pumwani maternity hospital in the capital Nairobi have been infected, said Patrick Amoth, the acting director general of health at the health ministry, adding that the cases were mild.
"Nobody has gone to hospital for care, and we are hopeful that they will be able to pull through without developing any symptoms of COVID," Amoth told the private Citizen TV on Tuesday.
Nairobi-based Doreen Lugaliki, who worked at a different Nairobi hospital, became Kenya's first doctor to die of the virus last week.
15:30 GMT – Vaccine alliance says 75 countries keen to join "COVAX" access facility
More than 75 countries have expressed interest in joining the COVAX financing scheme designed to guarantee rapid and equitable access globally to COVID-19 vaccines, the GAVI vaccines alliance said.
The 75 countries, which would finance the vaccines from public budgets, partner with up to 90 poorer countries supported through voluntary donations to GAVI's COVAX Advance Market Commitment (AMC), the alliance said in a statement.
The interest, from governments representing more than 60 percent of the world's population, shows a "vote of confidence" in the effort to secure global access to COVID-19 vaccines, it added. 
15:00 GMT – Senegal resumes international flights after four months
Senegal resumed international flights on Wednesday, four months after severing air links because of the coronavirus pandemic.     
An Air Algerie flight arrived at Dakar's international airport at midnight Tuesday and six other flights were scheduled to depart and arrive throughout the day, according to the Ministry of Air Transport.     
Passengers departing for the West African country are required to present proof from an approved laboratory that they have tested negative for coronavirus within the previous seven days. The certificate has to come from a lab in the country where the trip originated.    
International commercial flights for repatriation had continued to depart and arrive intermittently in Dakar after the closure of air borders in March. Land and sea borders remain closed.    
Senegal lifted its state of emergency and curfew, imposed in March to stem the spread of the virus, at the end of June. The restrictions had triggered violent protests, as seen in several countries in the region. 
14:15 GMT – Amid virus spike, North Macedonia holds national elections
Voters in North Macedonia are donning masks to take part in a general election, following months of delays due to the coronavirus pandemic.
North Macedonia, a former Yugoslav republic with a population of around 2 million, has reported more than 8,200 confirmed cases, including 385 deaths. The small country north of Greece saw new cases rise in recent weeks after infection-control restrictions were lifted.  
Election campaigns were limited by social distancing rules and calmer than in past elections, which produced vitriolic animosity between the two main parties.  
Opinion polls suggest no party will achieve an outright victory Wednesday, leaving the winner to seek a power-sharing deal with parties representing the country's large ethnic Albanian minority. 
The election is being monitored by a team of international observers and final results are expected Thursday. 
13:45 GMT – UK PM Johnson commits to coronavirus inquiry, but not yet
British Prime Minister Boris Johnson committed to holding an inquiry into the country's handling of the coronavirus crisis but said now was not the time as the battle to combat the pandemic was ongoing. 
Opposition lawmakers have been pressing for an inquiry after ministers were criticised for being too slow to lock down, to introduce mass testing and to deliver protective equipment.
Johnson has repeatedly said his government took the right decisions at the right time but also admits that lessons will have to be learned after the pandemic which has left Britain as one of the worst affected countries. 
"We will seek to learn the lessons of this pandemic in the future and certainly we will have an independent inquiry into what happened," he told parliament.
13:20 GMT –
Hello, this is Hamza Mohamed in Doha, Qatar taking over from my colleague Umut Urus.
12:05 GMT – Thousands of Catalans return to lockdown 
Some 160,000 people in the Spanish region of Catalonia went back into confinement as authorities scrambled to control a fresh surge of coronavirus infections in the area, just weeks after a nationwide lockdown was lifted.
But just as a judge approved the regional government's stay-at-home order for residents of the Lleida area, about 180 km (110 miles) west of Barcelona, tensions rose over how to handle an increase in cases in a suburb of the Catalan capital.
Tourism-dependent Spain, one of Europe's hardest-hit countries with more than 28,000 deaths from the pandemic, brought a tough national lockdown to an end on June 21.
Since then, more than 170 clusters have sprung up, prompting regional authorities to impose a patchwork of local restrictions, confusing locals and angering businesses.
11:35 GMT – Austria to lift travel warning for Italian region of Lombardy
Austria will lift its travel warning for Lombardy, the region at the centre of Italy's novel coronavirus outbreak, because of a fall in infections, Austria's Foreign Ministry said.
The relaxation could pave the way for the resumption of flights between Lombardy's capital Milan and Vienna, since such travel warnings come with a ban on direct connections.
It will, however, make little difference for those travelling by land as Austria lifted controls at the shared border a month ago, three months after they were introduced when Italy's outbreak worsened.
11:00 GMT – 

EU urges earlier, broader flu vaccination

The European Commission said the European Union states should launch earlier and broader vaccination campaigns against flu this year to reduce the risk of simultaneous influenza and COVID-19 outbreaks in the autumn.

The EU executive wants to prevent the risk of hospitals being again overwhelmed by a surge of patients, as happened at the peak of the COVID-19 pandemic in Europe in March and April.

"Simultaneous outbreaks of seasonal influenza and COVID-19, would place a considerable strain on health systems," it said in a document which lists actions needed to prepare for a possible large second wave of COVID-19 in the autumn.
10:20 GMT – Philippines confirms 11 new
 coronavirus 
deaths, 1,392 cases
The Philippines' health ministry reported 11 new coronavirus deaths and 1,392 additional infections.
In a bulletin, the ministry said total deaths had risen to 1,614, while confirmed infections reached 58,850.
Philippine President Rodrigo Duterte is due to decide whether or not to maintain partial restrictions in the capital, set to expire on Wednesday, to slow the spread of the virus as some hospitals reach critical care capacity.
09:50 GMT – DR Congo gives mines month to end COVID restrictions
The Democratic Republic of Congo has given copper and cobalt mining companies a month to stop confining workers on site away from their families as part of COVID-19 restrictions and return to normal operations, the labour minister said in an open letter.
Workers have been told by managers to either stay and work or lose their jobs, civil society organisations said last month, citing miners and union representatives and demanding an end to the approach.
"All mining companies that have confined workers to the operating site are granted a one-month moratorium to return to normal operation," Labour Minister Nene Ilunga Nkula said in the letter, dated July 13, which she shared on Twitter on Tuesday.
09:25 GMT – Hong

 Kong 

reports 19 new

 coronavirus 

cases
Hong Kong reported 19 new coronavirus cases, including 14 that were locally transmitted, as new social distancing measures came into force and as authorities warned that the risk of a large-scale outbreak remained high.
Wednesday's toll dropped substantially from Tuesday's 48 new cases. The city had registered a sharp increase in the number of cases in the past week with the majority of cases transmitted locally.
Since late January, the global financial hub has reported more than 1,500 cases and eight deaths. 
09:00 GMT – South Korean city seeks pre-arrival

 coronavirus 

tests for US soldiers
A South Korean city that is home to the largest US overseas military base has asked for coronavirus tests on American soldiers before they arrive, amid concerns over a recent spike in imported cases, officials said.
US Forces Korea (USFK) has reported at least 25 virus infections among its troops and employees in the past two weeks, including 11 on Monday. All were confirmed upon arrival or while spending two weeks in mandatory quarantine.
The surge has prompted Pyeongtaek, home to the sprawling Camp Humphreys south of Seoul, to ask the government to request a pre-departure test for incoming US soldiers, a city official told the Reuters news agency.
08:30 GMT – Asian Tour cancels Taiwan Masters golf tournament 
The Asian Tour said September's Taiwan Masters golf tournament has been cancelled due to the COVID-19 pandemic.
"The decision to cancel Taiwan Masters was based on health and safety concerns as well as international travel restrictions on players …" the Asian Tour said in a statement.
"The tournament will now be staged in 2021 in its traditional time slot."
The tournament had been due to be held at the Taiwan Golf and Country Club from September 17-20. 
08:00 GMT – Russia reports more than 6,400 new coronavirus cases
Russia  reported 6,422 new coronavirus cases, pushing its confirmed national tally to 746,369, the fourth highest in the world.
Officials said 156 people had died of the virus in the last 24 hours, bringing the official death toll to 11,770.
07:40 GMT – UK health minister says will not be recommending masks in office
British Health Minister Matt Hancock said that the government would not recommend that office workers wear face masks while at work.
"We will not be recommending masks in the office," Hancock told Sky News on Wednesday.
07:15 GMT – India IT hub, other towns reimpose lockdown amid COVID-19 surge
Nearly a dozen Indian states have imposed a partial lockdown in high-risk areas after spikes in coronavirus cases, with the country's infections topping 900,000 just three days after crossing the 800,000 mark.
India joins a number of countries and cities across the globe in reimposing localised lockdowns and other restrictions in the face of new outbreaks of the disease that has infected more than 13 million worldwide.
In all, India has more than 936,000 cases of the novel coronavirus, with 28,498 new infections reported on Tuesday, according to data from the federal health ministry, the third-highest total in the world behind Brazil and the United States.
Read more here.
06:50 GMT – Australia weighs further coronavirus curbs as outbreak grows
Australia's most populous states will impose harsher restrictions on movement if a COVID-19 outbreak is not quickly bought under control, state premiers said.
The country has been heralded as a global leader in containing COVID-19, but in the last week it has seen a surge in new cases.
Desperate to contain the outbreak, Victoria state last week forced about five million people into a six-week lockdown. Still, Victoria said it has found another 238 cases in the last 24 hours.
Nationally, Australia has now recorded about 10,500 cases, while the death toll rose to 111 on Wednesday after a woman in her 90s died from the virus. 
06:15 GMT – New Zealand must prepare for new outbreaks: PM
New Zealand must prepare for new coronavirus outbreaks as the pandemic spreads globally but will not drop its elimination strategy if community transmission was discovered, Prime Minister Jacinda Ardern said.
Ardern said the epidemic was now "exploding" outside New Zealand and countries that had been models in the fight against COVID-19 had now experienced further community outbreaks.
The South Pacific nation last reported a case of community transmission two-and-a-half months ago. It has recorded 22 deaths from nearly 1,200 confirmed cases as of Wednesday.
05:45 GMT – US base on Japan's Okinawa confirms 36 more cases: report 
Authorities have confirmed 36 more coronavirus infections at Camp Hansen on Japan's Okinawa, taking to 136 the tally at US military bases on the island, Kyodo News said.
The outbreak emerged at the weekend, provoking the anger of the prefecture's governor, who has called into question the US military's virus prevention measures.
---
Hello, this is Umut Uras in Doha taking over from my colleague Ted Regencia.
---
05:03 GMT – Hong Kong reimposes restrictions amid COVID-19 resurgence
Renewed restrictions took effect in Hong Kong on Wednesday, with restaurants limited to takeout after 6 pm, as the Asian financial center battles a resurgence of the coronavirus, Reuters news agency reported.
Mask-wearing has been made compulsory on public transport for the first time, with fines of up to 5,000 Hong Kong dollars ($650). Public gatherings are once again restricted to four people, after the limit was eased last month to allow up to 50.
The semi-autonomous Chinese territory has seen a return of locally transmitted cases in the past 10 days after a long spell without them. About 300 new cases have been reported since July 6, including more than 220 non-imported ones.
The city reversed plans to allow major public events, postponing a highly popular annual book fair slated to open Wednesday. Hong Kong Disneyland, which had reopened last month, shuttered again in accordance with the renewed restrictions.
The city of 7.5 million people has recorded 1,569 confirmed cases and eight deaths since the outbreak began.
04:50 GMT – Germany's confirmed coronavirus cases rise by 351 to 199,726
The number of confirmed coronavirus cases in Germany increased by 351 to 199,726, Reuters news agency reported on Wednesday citing the latest data from the Robert Koch Institute (RKI) for infectious diseases.
The reported death toll rose by three to 9,071, the tally showed.
04:45 GMT – US bases on Japan's Okinawa confirm 36 more coronavirus cases
Authorities have confirmed 36 more coronavirus infections at Camp Hansen on Japan's Okinawa, taking to 136 the tally at US military bases on the island, Reuters reported on Wendesday citing Kyodo News.
The outbreak emerged at the weekend, provoking the anger of the prefecture's governor, who has called into question the US military's virus prevention measures.
04:25 GMT – China to ease restrictions on domestic tourism
China is further easing restrictions on domestic tourism after reporting no new local cases of COVID-19 in nine days, Associated Press news agency reported on Wednesday.
A directive from the Ministry of Culture and Tourism dated Tuesday said that tourist sites should allow 50 percent of their daily visitor capacity, up from 30 percent, and that interprovince group tours should be resumed.
The National Health Commission said that six new cases were recorded as of the end of Tuesday, all in people who had arrived from overseas. It has not reported any domestic cases since an outbreak in Beijing that infected more than 330 people before it faded early this month.
China has reported 83,611 confirmed cases and 4,634 deaths since the outbreak began. It does not include people who test positive but show no symptoms in its case count.
04:05 GMT – China reports six confirmed COVID-19 cases
Chinese health authority said Wednesday that it received reports of six new confirmed COVID-19 cases on the Chinese mainland as of the end of Tuesday, and all of them were imported.
No new suspected cases or deaths related to the disease were reported Tuesday, the National Health Commission said in its daily report, quoted by Reuters news agency.
Of the six imported cases, three were reported in Shanghai and the other three were reported in Shanxi, Chongqing and Yunnan respectively.
As of Tuesday, the overall confirmed cases on the mainland had reached 83,611, including 284 patients who were still being treated, with three in severe condition. Altogether 78,693 people had been discharged after recovery, and 4,634 had died of the disease, the commission said.
03:40 GMT – Venezuela reports new cases surpass 10,000
Venezuelan officials say new coronavirus cases have surpassed 10,000 nationwide, with an alarming number of recent illnesses found in the capital of Caracas.
President Nicolás Maduro on Tuesday ordered strict enforcement of quarantine measures in Caracas where most of the 303 new daily cases were diagnosed.
Venezuela has been in a nationwide quarantine for 121 days starting shortly after the first cases were diagnosed in mid-March. Officials report fewer than 100 deaths.
The South American nation has not been overrun by the virus like neighbouring Brazil and Ecuador, which experts attribute to the Venezuela's isolation after years of economic and social crisis.
Maduro does not consider Caracas a focal point, but he says the recent surge in the capital and neighbouring state of Miranda has "set off an alarm."
03:15 GMT – Mexico reports 7,051 new cases of coronavirus, 836 more deaths
Mexico's Health Ministry has reported 7,051 new confirmed coronavirus infections and 836 additional fatalities, bringing the total in the country to 311,486 cases and 36,327 deaths, according to Reuters news agency.
The government has said the real number of infected people is likely significantly higher than the confirmed cases.
02:58 GMT – New coronavirus cases in South Korea below 40 for second day
South Korea's new coronavirus cases stayed below 40 for the second day in a row on Wednesday, but imported cases continued to rise, hampering the country's efforts to contain the disease, according to Yonhap state news agency.
The country added 39 cases, including 11 local infections, raising the total caseload to 13,551, according to the Korea Centers for Disease Control and Prevention (KCDC).
Meanwhile, of the 28 additional imported cases reported, 23 were detected at quarantine checkpoints of airports and sea ports. 
No additional fatalities were reported and the country's death toll stayed at 289.
02:45 GMT – Schools partially reopen in Malaysia
After almost four months of absence, some students from the secondary and primary levels have returned to school in Malaysia, as the country's coronavirus cases have significantly dropped.
During the lockdown in mid-March, students were forced to study at home as part of the effort to contain the spread of the deadly disease that infected more than 8,700 people, and claimed the lives of 122 others. More than 8,500 of the patients have recovered.
State news agency Bernama quoted Senior Education Minister Mohd Radzi Md Jidin as saying that the decision to re-open "is seen as timely to motivate students to follow the learning process in schools", given the constraints students and teachers face with online classes.
Schools and students are required to follow some safety protocols at school to help avoid the spread of the disease, the education ministry said.
02:25 GMT – Maternity ward workers test positive of coronavirus in Kenya
Some 41 workers at Kenya's largest maternity hospital have tested positive for the coronavirus, according to the Associated Press news agency.
Ministry of health Director General Dr Patrick Amoth said 19 cases involve health care workers and 22 are hospital support staff.
He says those infected are asymptomatic and undergoing medical care under home-based isolation. Three mothers at the facility also tested positive for COVID-19, but Amoth says no babies have been affected.
He says services at the hospital will continue and measures have been put in place to protect the health workers and the public visiting the hospital.
Nurses Association of Kenya President Alfred Obengo says infection control prevention measures at the hospital weren't followed.
The first doctor in Kenya to die of COVID-19 was buried Monday, amid calls by health professionals for better insurance coverage and compensation. Kenya has recorded 10,791 coronavirus cases and 202 confirmed deaths.
02:05 GMT – More than 300 students, tutors test positive at Ghana high schools
More than 300 students and tutors have tested positive for coronavirus at high schools in the West African nation of Ghana, AP news agency reported.
Health officials confirm the Accra Girls Senior High School has been hardest hit, with 55 students and staff contracting the virus. Its campus remains under quarantine. Parents have thronged the school protesting the government's refusal to grant them access to their children, the report said.
Classes resumed June 22 for senior high school students, and education officials maintain infection rates at schools are still comparable to those for the general population.
Ghana has 139 confirmed deaths from COVID-19 and confirmed more than 25,000 total infections since the pandemic began.
01:50 GMT – Trump calls COVID school closures a 'terrible decision' as deaths rise
US President Donald Trump has criticised the state of California's two largest school districts for making students learn from home for the upcoming term in the face of the resurgent coronavirus pandemic.
The Republican president, in an interview with CBS News, said it was a mistake for the Los Angeles and San Diego school districts to provide only on-line education for the academic year beginning in August.
"I would tell parents and teachers that you should find yourself a new person, whoever's in charge of that decision, because it's a terrible decision," Trump said.
Trump made the comment as the number of cases surge by over 10,700 in one day, bringing the state's total to more than 346,000, with 137 new deaths added to the tally of over 7,000. 
01:30 GMT – Cyprus to double random tests at two main airports
Cyprus is doubling the number of random coronavirus tests that will be carried out on arriving passengers at its two main airports each day, AP news agency reported.
The Cypriot government said in a statement that 600 random tests will be performed on passengers arriving from a total 39 countries whose citizens are not required to undergo a 14-day quarantine.
Travelers arriving from 17 of those countries are required to obtain health certificates declaring them coronavirus-free 72 hours prior to boarding a flight.
The Transport Ministry says approximately 5,500 passengers currently fly in and out of the east Mediterranean island nation's airports daily.
Tourism is a key industry for Cyprus, directly accounting for 13 percent of the economy. Officials are projecting that this year, the country will receive less than a quarter of 2019's tourist arrivals.
01:15 GMT – France aims to reopen schools amid lingering COVID-19 concerns
France is aiming to reopen all schools for the new academic year under as "normal" conditions as possible, President Emmanuel Macron announced Tuesday, despite lingering virus concerns from some parents and teachers.
France gradually reopened schools in May and June as the country emerged from virus lockdown, and most children returned to class. While new infections prompted a few schools to close again, the vast majority stayed open until the school year wrapped up earlier this month.
"We have learned a lot" from that period, Macron said. "We developed a new way of teaching" to take the virus into account.
France's school reopening was driven by concerns about getting parents back to work to restart the economy, as well as widespread worries about disadvantaged children who couldn't access online classes, who need special help or whose families depend on subsidized school lunches.
Schools adjusted schedules to keep children from mingling freely and kept students in one classroom instead of having them move around for different subjects. They were required to air out classrooms regularly, and masks were necessary for middle and high school students.
01:00 GMT – Tokyo to lift coronavirus alert to highest level – report
Tokyo will lift its alert level for coronavirus infections to the highest of four levels on Wednesday, Reuters news agency reported quoting Asahi newspaper, after a recent spike in cases to record levels in the Japanese capital.
Daily coronavirus cases exceeded 200 in four of the last six days, touching an all-time high of 243 cases last Friday as testing among workers in the metropolis's red-light districts turned up infections among young people in their 20s and 30s.
The highest alert level suggests that "coronavirus infections are likely spreading", the Asahi newspaper said.
00:26 GMT – Coronavirus antibodies 'highly inflammatory' – Dutch scientists
The blood from seriously ill coronavirus patients on ventilators was found by researchers to be highly inflammatory and harmful to the body, the South China Morning Post reported on Wednesday, citing a study by Dutch scientists.
The scientists, led by Professor Menno de Winther from the University of Amsterdam in the Netherlands, found that the blood from COVID-19 patients struggling for their life on ventilators was highly inflammatory.
They observed during a series of experiments that this could trigger an overreaction of the immune system, destroy crucial barriers in tissues and cause water and blood to spill over in the lungs, the South China Morning Post report said.
00:16 GMT – COVID-19 vaccine test moves forward in the US
The first COVID-19 vaccine tested in the United States revved up people's immune systems just the way scientists had hoped, researchers reported – as the shots are poised to begin key final testing.
"No matter how you slice this, this is good news," Dr Anthony Fauci, the US government's top infectious disease expert, told The Associated Press news agency.
The experimental vaccine, developed by Fauci's colleagues at the National Institutes of Health in partnership with Moderna Inc, will start its most important step around July 27: a 30,000-person study to prove if the shots really are strong enough to protect against the coronavirus.
But Tuesday, researchers reported anxiously awaited findings from the first 45 volunteers who rolled up their sleeves back in March. Sure enough, the vaccine provided a hoped-for immune boost.
Those early volunteers developed what are called neutralising antibodies in their bloodstream – molecules key to blocking infection – at levels comparable to those found in people who survived COVID-19, the research team reported in the New England Journal of Medicine.
00:01 GMT – US state of Nevada reports record high cases in one day
Officials of the US state of Nevada say a record high in the daily number of positive COVID-19 tests in the state may be the result of people failing to wear masks and keep distances apart during the Fourth of July Independence Day holiday, AP news agency reported.
State coronavirus response chief Caleb Cage said Tuesday that a resurgence in hospitalisations continues less than a week after Governor Steve Sisolak cited a spike in cases and again closed bars and restaurants in the Las Vegas and Reno areas.
The more than 1,100 new cases reported statewide on Tuesday brings the total to nearly 30,000. Cage blamed the Fourth of July weekend. The US has 3.4 million cases and over 136,000 deaths.
________________________________________________________________
Hello and welcome to Al Jazeera's continuing coverage of the coronavirus pandemic. I'm Ted Regencia in Kuala Lumpur, Malaysia.
Read all the updates from yesterday (July 14) here.