At least eight dead in north Italy floods; Grand Prix postponed | Weather News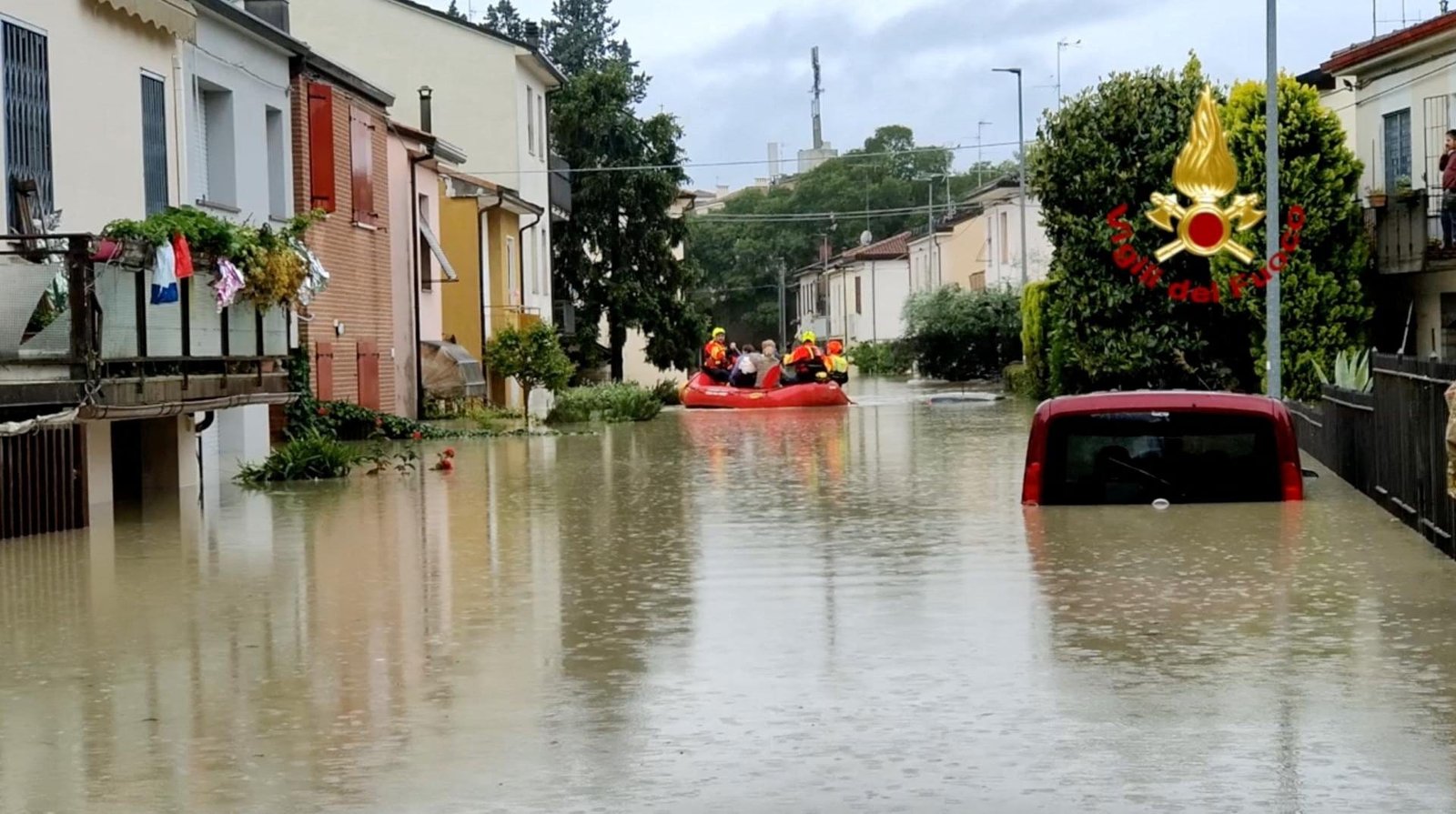 At least eight people have died and thousands have been evacuated as torrential rains battered northern Italy's Emilia-Romagna region, triggering widespread floods, officials say.
Wednesday's flooding caused the cancellation of the Formula One Emilia Romagna Grand Prix, which had been due to take place on Sunday in Imola.
Civil Protection Minister Nello Musumeci said some areas had received half their average annual rainfall in 36 hours, causing rivers to burst their banks, sending water cascading through towns and submerging thousands of hectares of farmland.
Musumeci said about 50,000 people were without electricity.
Eight bodies have been retrieved around the flood zone, the vice president of Emilia-Romagna, Irene Priolo, told reporters, adding that the rains were easing but river levels were still rising.
"The city is on its knees, devastated and in pain," said Gian Luca Zattini, the mayor of Forli, a city near Bologna where three people have died. "It's the end of the world."
Prime Minister Giorgia Meloni, on her way to the G7 summit in Japan, tweeted her support for those affected and said the government was "ready to intervene with the necessary aid".
Formula One race postponed
This weekend's Formula One race in Imola, which is close to many of the worst-hit areas, was called off after the government said emergency services had to concentrate on the rescue operations.
"The decision has been taken because it is not possible to safely hold the event for our fans, the teams and our personnel," the organisers said in a statement.
Muddy water flowed through the streets of Faenza, Cesena and Forli just to the south of Imola, washing over the roofs of parked cars, submerging some stores and forcing locals to flee to the top stories of their homes.
"Do not go near the rivers," the president of the Emilia-Romagna region, Stefano Bonaccini, said on Facebook. "Those who live in areas close to watercourses should move to higher floors."
Road and rail links were blocked in numerous locations, and the mayors of many towns and cities, including Bologna, urged residents not to leave their homes.
'The worst night'
The northern city of Ravenna, famed for its early Christian heritage sites, was also badly affected.
"It's probably been the worst night in the history of Romagna," Ravenna Mayor Michele de Pascale told RAI public radio, saying 5,000 people had been evacuated from his city alone overnight. "Ravenna is unrecognisable for the damage it has suffered."
"We're scared. This time, we're scared," said Simona Matassoni, the owner of Hotel Savio in Cesena, which has so far escaped flooding.
"I was born here, I've seen lots of full rivers, but never anything like this," she told the Agence France-Presse news agency by telephone, adding that it was still raining.
"At the moment, we're crossing our fingers, … but another flood is expected, so who knows [what will happen]," she said.
Previous flooding
It was the second time this month that Emilia-Romagna, which is one of Italy's richest regions, has been battered by bad weather. At least two people died during storms at the beginning of May.
Musumeci said 200mm (7.8 inches) to 500mm (19.6 inches) of rain fell in some parts of the region in a day and a half, compared with an average annual rainfall of 1,000mm (39.3 inches).
Venice, further north, has not been affected.
The torrential rains followed months of drought, which dried out the land, reducing its capacity to absorb water and worsening the impact of the floods, meteorologists said.