Qatar participates in 113th Session of Permanent Council of Francophonie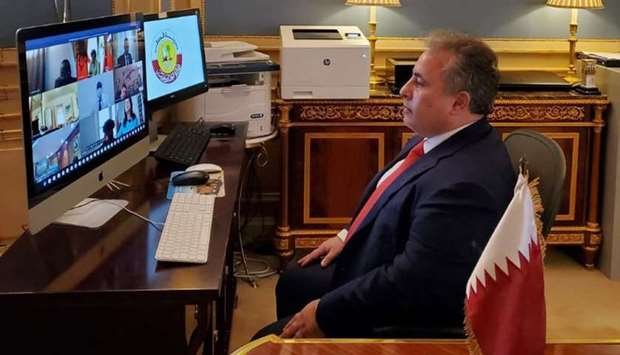 Qatar participated in the 113th extraordinary Session of the Permanent Council of the Francophonie (CPF), which was held in Paris via videoconference and chaired by Secretary-General of the International Organisation of La Francophonie Louise Mushikiwabo.
Qatar was represented at the session by HE Ambassador of the State of Qatar to the French Republic and Qatar's representative to the International Organisation of La Francophonie Sheikh Ali bin Jassim Al-Thani.
The meeting was an opportunity to discuss ways to enhance cooperation and coordination in the Francophone space, especially through the initiatives that the organization is promoting in order to ensure the fair provision of the vaccine against Covid-19.
The meeting also discussed internal administrative and financial issues, as the CPF adopted the regulations for the relationship between the International Organisation of La Francophonie and international organizations and non-governmental organizations.
The representatives of the member states also agreed to appoint Geoffroi Montpetit as the new administrator of the Organization, and adopted the decision to carry forward the surplus funds for the year 2020 to the fiscal year 2021.
HE Sheikh Ali bin Jassim Al-Thani's participation in the 113th extraordinary session of the Permanent Council of the Francophonie comes to affirm the State of Qatar's keenness to participate in the various meetings held by the organization at all levels, in compliance with the values of the Francophonie, as the State of Qatar looks forward to participating in the next Francophone summit in Tunisia next November. (QNA)